Hi, I'm New! Exploring 101
Hi, I'm New!
A beginner's guide to anything outdoors
Hello newcomers!
Welcome to "Hi, I'm New," Wasatch Magazine's newest column! My name is Annie and I'm definitely new. We've all been the new kid on the block, metaphorically or not, and it's perfectly normal to feel nervous when it comes to anything outside of what you already know. With the elements at our fingertips, there's an infinite amount of activities, hobbies and sports that an individual can try in Utah. That's where you and I come in. I'm here to show you the "dos and don'ts", the "tips and tricks" and the "101's" of anything you ask for when it comes to outdoor Utah adventures. Whether it's something simple like camping 101 or budgeting for your next wild adventure, I'm your girl. With that being said…
WARNING: DANGER AHEAD
Basic knowledge to keep you out of trouble when venturing
Trying new things cannot only be somewhat nerve-racking, but may also be dangerous if you don't know what you're doing. So here's a few things that you need to consider when heading out into the glorious unknown of nature.
Gear
Hiking or camping? Climbing mountains? Skiing or Snowboarding? Whatever the activity is, you'll need to make sure that you have safe, functioning and appropriate clothing and gear for success. Be sure that all of your equipment has been tested and ready to go before you reach your destination. Any doubts you have about the safety and functionality of an item probably means that you shouldn't use it. If you're like me, I tend to be over-prepared or severely under-prepared, so it's best to have some sort of backpack or package with essentials for grab and go purposes. This pack should include:
First Aid Kit
Light source (head lamp, flashlight)
Snacks (Granola bars, trail mix, etc)
Water
Maps/GPS
Lightweight & waterproof layer (rain jacket, poncho)
Sunscreen
These items can easily be kept in your car and/or backpack. They will keep you out of trouble for the most part.
Clothing
Please raise your hand if you've been personally victimized by the weather. Whether you're freezing your butt off, soaked from a "surprise" rainstorm or baking in the sun, it's important to be prepared. Obviously, wearing flip flops on a hike with uneven terrain can result in rolled ankles and broken toes. Low traction shoes can lead to tripping and possibly falling to your death. No thank you. I like to use the "head, shoulders, knees and toes" technique as a checklist. Let's begin.
While we are very fortunate to have four glorious seasons, temperature is a big factor in how well you and your body can perform.
Head:
Hat: Grab your favorite dad hat to reflect light and heat away from your head while shading your face. (Sun damage can lead to wrinkles! Pack sunscreen.) Beanies are a necessity in cold weather; bring an extra just in case one gets wet.
Sunglasses: Want to keep seeing gorgeous nature for years to come? Protect your eyes from harmful UV rays and the elements while still looking rad.
Hair elastics: Out of sight, out of mind. Your hair is going to be a mangled mess by the end anyways.
Shoulders (Upper body):
Hot weather: A light and breathable top is recommended to help you stay cool. Athletic wear and exercise clothing work best to wick (soak up and evaporate) any sweat off of your skin. I also like to wear clothing that can be easily taken off (loose fitting t-shirts/tanks) and store layers in my backpack.
Cold weather: Hypothermia? Frostbitten fingers and toes? No thanks. Layering properly is essential for cold weather adventures. You'll need at least three layers to stay warm: a base layer (no cotton), a middle insulating layer (retains body heat) and an outer layer (protects you from the wind and rain). Waterproof gloves and wool socks will keep your fingers and toes toasty. Hand warmers are your best friends (stick them in your boots too)!
Knees (Lower body):
Hot weather: Sun's out, buns out! Am I right? The shorter the shorts, the better. Just kidding. Whether you wear shorts or pants, choose at your own discretion.
Cold weather: If you don't own long underwear, it's time to buy a pair. Don't be embarrassed, no one will see them anyways. Don't forget about the three-layer rule listed in the "Shoulder" section above.
Toes (Footwear):
Hiking and camping:
Boot-like structure for ankle support. No one wants to roll an ankle.
Closed toe (Prevent stubbed or broken toes)
Healthy amount of tread (That's the rubber grooves on the bottom of your shoes that give you grip and traction)
Chacos & Tevas: Hike, camp and play at your toes' risk!
Winter Sports:
Hiking and camping: Waterproof, insulated hiking boots with wool socks are your best bet (make sure to pack extra socks just in case they get soggy). Note: Snowshoes are accessories that clip onto existing shoes so you'll need proper boots prior to snowshoeing (rentals typically include snow/waterproof slipovers if you do not have waterproof hiking boots).
Skiing and snowboarding: There are specific boots made for skiis and snowboards. When renting or borrowing gear, make sure that they're the correct size a fit before hitting the slopes.
Other winter sports (ice climbing, etc) will require very specific footwear and will normally be provided if you go through rental or touring businesses.
Water Recreation:
Chacos & Tevas: Great choices for warm weather activities while protecting the bottom of your feet from unknown terrain when in the water.
Closed toed sandals are also available to prevent the damage or loss of toes.
Weather
Utah weather can be a little unpredictable depending on where you are in the state. If you have the capability to check the weather, do it. While checking weather forecasts works for short-term activities like a two hour hike or a day of kayaking or canoeing, you'll need to be more attentive to the weather for adventures lasting more than just a day. Admit it, we've all left for some sort of adventure and the weather goes from perfect to wild in a blink of an eye. Pay attention to clouds that are building or rolling in. If they begin to darken, the humidity might increase and you may even be caught in a thunder or lightning storm. During the summer season, lightning can cause dangerous wildfires. Find shelter during severe storms to keep you safe. As for the winter, snowstorms can reduce visibility and mobility. Find shelter or turn back before you get lost.
Animals
I think one of my worst fears in life is running into a bear in the wilderness. Google what kinds of animals are in the areas you're preparing to explore. While most animals are afraid of human activity and are mostly active at night, it's still common to stumble upon wild creatures while venturing around. Posted signs, animal droppings and sounds are pretty good (and obvious) indicators that you should try to avoid such animals (and areas). If you do encounter an animal, don't be an idiot and use your common sense. Startling the animal will cause the animal to react unpredictably. Move away from it in a cautious (but normal) manner. Running away may result in it deciding to chase you. Do not feed or approach the animal. This may cause a fight, resulting in both you and the animal getting injured. Bear spray is readily available at any outdoor retailer if you plan to adventure in areas known for its large dangerous animals. Long story short, avoid animals to keep you and the creatures safe.
Questions? Comments? Ideas?
Please submit! Share your new adventures and get featured on Hi, I'm New! Want to try something new but have no idea where to start? Well, I'm your girl. Whether it's basic questions about camping, hiking or wandering around outside, or you have a sudden urge to try something wild and crazy like standup paddleboard river rafting, I will help a homie out (and maybe even come along with you). Shoot me an email at [email protected]
Leave a Comment
About the Contributor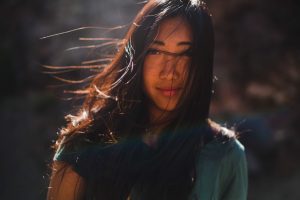 Annie Duong, Writer
Just a girl willing to try new things in hopes of telling the crazy story of it the next day.
Annie
is a major science geek with a love for the outdoors. Majoring in math, the freedom of the outdoors is the only way to escape her studious(?) life.