Hiking the Subway — What You Should Know
We were a motley bunch. Between the five of us we had one broken (and un-casted) wrist, three wetsuit-less fools, and one amateur who had never done so much as a rappel before. I knew the risk was high, and despite my most tremendous efforts, I could not shake the doubt that crept into my dazing mind. A wrong turn, a bad hold, a slipped foot — SCREECH! We stopped. Out the front window I could see the headlights illuminating "Wildcat Canyon Trailhead." We had arrived; we were at the entrance to the Subway.
Immediately the doubt drained away only to be replenished by a surge of adrenaline and excitement. As we placed our first steps on the trail the freezing morning air bit at our bare legs, but with each step I couldn't help but think of all the hurried research I had done the night before and the men who has first set foot on this remote route.
Crossing over the slick rock and continuing to descend toward the beginning of the canyon, I did not once think of a lack of wilderness. In fact, had it not been for our guidebook we almost certainly never would have found the canyon at all. Even with the book our directions sounded like something out of "Treasure Island": "continue fifteen feet across the slick rock until you pass over a large, fallen Ponderosa Pine tree." There was no shortage of "where to now" questions.
Many wrong turns later and we finally were standing at the bottom of the first descent. In front of us was a small trickle of a creek. Little did I know, I would come to fear its icy grasps. Progressing further, we came upon the only possible spot you could really go the wrong way once you enter the canyon. Putting our 90 years of combined knowledge together, we spent a careful fifteen minutes checking directions against compasses and logic. We agreed, the trail had to be left.
An hour later we returned to the junction soaked, freezing, and grumpy. We went the wrong way. If you find yourself at the bottom of the canyon facing your first T-intersection, DO NOT GO left. There is nothing but despair and aggravation hiding around that bend.
On the right track, we began to hit a rhythm. The rappels were handled with ease by all able-bodied participants, and for the hindered, we set up an ATC. The swims, however, were much worse. Without a wetsuit, the water was stingingly cold. Submerging fully meant succumbing to a cold-induced headache comparable only to drinking a liquid nitrogen milkshake.
The day before, picking up our permits at the ranger station, they warned us of this. Our permit was even highlighted and underlined in the section where it details wetsuits as "mandatory but not required." I thought this confusing, and already surpassing my budget for the trip, opted to not invest the $30 for a rental wetsuit. Standing on the other side of the 15-foot swim, slowly regaining brain function, I very much regretted not spending the $30.
The deeper into the canyon we got, the better I felt. The water had not warmed at all, but the sun was high enough to at least provide the illusion of heat. Incredible features appeared before us.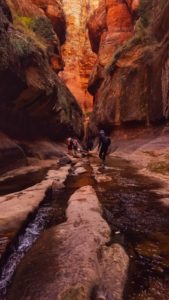 We traversed through slots just narrow enough to brush your shoulders on, rappelled down waterfalls, swam through crystal clear potholes, and even stepped thigh deep into quicksand. It was a true adventure.
As it is, though, all good things come to an end. Taking our classic picture at the actual subway part of the Subway, we said our last goodbyes and started the rather normal, and comparably boring, hike back to the trailhead.
Approaching the car a few hours later I looked around at our group. If we were motley before, we were decrepit now. Full of sand, covered in blisters, soaked to the bone, and smelling absolutely rancid we stood there with the giddiest, most ridiculous smiles on our faces. It took no words to communicate what we all felt. That was gnarly, but we all knew we'd be back to tackle it again as soon as we got the chance.
Follow Our Lead
Trailhead: The trail starts at Wildcat Canyon Trailhead (which appears on Google Maps if typed in) and ends at Left Fork Trailhead (also map-able). If you have two cars it is a good idea to leave one down at Left Fork and shuttle up to Wildcat Canyon. They are on the same road and only about a twenty-minute drive apart.
Trail: The beginning of the trail is very confusing and requires route finding. You can purchase detailed guides in Springdale or Zion itself. It would be impossible to make it into the canyon without one of these. Once in the canyon, there is only one possible place to get lost, otherwise it is a relatively straight shot through. After exiting the canyon, it gets a little more confusing. Follow the river for a good distance until eventually cutting off to the right and scrambling almost straight over the side wall of the canyon.

Permits: Because of its popularity, only a few permits are given out each day for the Subway hike. You can either apply for a regular permit (which must be done three months in advance and costs $5 for the application) or a last minute drawing (which must be applied for a week in advance and is very, very hard to get, also $5). If you're lucky enough to get a permit, you must go to a ranger station the day before to pick it up and pay the additional fee (anywhere from $15-$25 depending on the size of your group). (https://www.nps.gov/zion/planyourvisit/subwaypermits.htm)
Additional: If it is not the middle of summer, or if you are prone to getting cold, you need a wetsuit. The hike is far less grueling and more enjoyable with one. Making the naive mistake to tough it out was idiotic and potentially very dangerous. Do not attempt to do this hike later than August without one. In addition, a 60-foot rope is critical. You will not complete the hike without it. If you are nervous about the hand over hand rappelling, then bring a harness and ATC as well. A dry bag to keep a change of clothes in is also advisable.
Photo courtesy of Reeves Coursey
Leave a Comment
About the Contributor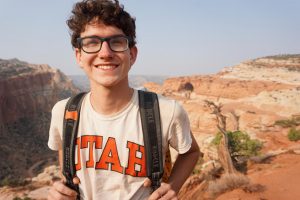 Nick Halberg, Editor
Nick is a senior studying philosophy and economics. He started with Wasatch Mag three years ago, and now is happy to be co-leading the publication as the Print Editor. He is passionate about environmental issues, especially ones regarding resource use. On weekends, he likes to explore new places in the desert.