Camping should be done outdoors. My mother taught me that lesson when I was six years old, loading her three kids with backpacks, having us hike in Point Reyes National Park, trudging through redwood forests, and breathing in salty shores. That's why whenever someone suggested a car camping trip, I'd stick my nose high and say, "That is not camping."
Camping is when you've made peanut butter and banana sandwiches for the fifth time, and the sound of birds wake you up in the morning — not the hum of RVs. But I couldn't have been more wrong. This summer, my friends are swapping tents for camper shells and plywood. With a little ingenuity, cheap travel to remote locations is possible by car, and it's almost as good as the old tent and backpack style.
It's inspiring what people are doing to their cars with such little material and space. These simple upgrades allow you to stay outdoors longer, and it allows you to travel farther in ways backpackers cannot. With a properly equipped car or truck, you can spend weeks exploring the hundreds of climbing routes in Moab, like the infamous roadside climb Wall Street, rather than only days with a backpack. Even better, you can save your campsite money by parking on BLM land. It's there for public use, and you can even use the Green River as a place to rinse off. Behind the Rocks is a popular spot my friends and I use. You can try it yourself if you don't mind traveling down a dirt road for thirty minutes (latitude 38.4360 longitude -109.5034).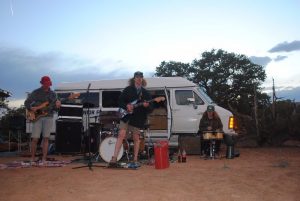 Your 20s are a time when you have little responsibility, and perhaps even a time when you have more freedom. Why not plan a long road trip, and drive through Utah's National Parks? Travel to see the "Mighty Five," enjoy the distinctive, yet seemingly delicate formations of Arches National Park, bask in the sandcastle-like spires of Bryce Canyon, and experience the undulating landscape of Canyon Lands. All you need is a car and some supplies.
Don't get tied down in a job you don't love or wait for a partner to do these trips, just go. One buddy of mine went as far as buying a van from a retirement home, which he now lives out of, for the freedom of travel it provides without restrictions of jobs or partners. He even kept the "Senior Friendship Center" writing on the van.
You, too, can create a living space in the back of your car so you can climb wherever and whenever, or you can load your car up with music equipment so you can jam out with your friends with epic views like the San Rafael Swell. Take that chance, live off the grid, find yourself, discover the world, and find your own "van destiny."
Here's one way to get your car sufficiently ready for such a trip with a camper shell bed:
-Depending on the dimensions of your bed, two sheets of 4×8 3/4" thick cabinet grade plywood (about $50)
-A box of 1.25" wood screws
-A box of 2" wood screws
-Four hinges (about $8, later unused)
-6'5×6'5 roll of carpet (about $16)
-Wood glue
-Staples
–Total: About $80 after tax
Ultimately, all you need is just a few supporter beams and a thick piece of plywood to make it work in any truck, so get creative.
Although Toyota Tacomas in particular work great for this kind of thing, along with most trucks, this doesn't mean you still can't turn your car into a sleeper car. Subarus work just fine, too. All you need to do is take out your back seats, and voilà. Also, don't forget to utilize all the storage space you will have underneath your bed platform. For my 2003 Subaru Outback, I used three plywood supporter beams that were 36" wide and 65" long to make my platform. Always check your car's dimensions first though, because every car year/make/model is a little different.