How I Finally Beat the Heat – Two Years in the Making
My alarm went off at 4:30 in the morning on a Sunday in July. Dawn had yet to break, and the usually busy street outside my house was all but dead. I crawled out of bed and into the running shorts and cotton t-shirt I had laid out the night before, lacing up my new trail runners in the process. Groggily, I cracked open a Starbucks gas station-style coffee and climbed behind the wheel, off to pick up my companions. Two stops later and our party hit the freeway, minds set on the Jacobs Ladder trailhead and eventually Lone Peak. It was one of the last remaining major peaks on the Wasatch front that I hoped to summit and my excitement quickly overcame my tiredness. As we drove, I watched as the sky turned from black to grey to smoky blue. 
In the car, my mind began to wander to the last time I had undertaken a day-hike of this grandeur. It was late in the summer of 2019 and I, along with a few close friends from high school, had decided to leave the house at 1 in the morning, with the intention of reaching the summit of Mount Timpanogos by sunrise. This was prior to entering college, long before the outstretched arms of Covid-19 were to greet me. It was a time of peace in my life, as well as a time of optimism and excitement for whatever lay ahead. Cliché as it sounds, I was beyond ready to begin the college experience that I had heard and seen so much about. We arrived at the trailhead at 2 a.m. and started hiking upwards in the cool summer night, headlamps leading the way. We chatted and hiked and rested and hiked, and soon the sun began to rise. We crested the summit shortly after 6 a.m., sat in the cold within the little shack that greeted us, and watched as the darkness we had enjoyed for hours was reborn into a near-divine landscape — nirvanic. That hike; that beautiful, tranquil, headlamp-lit climb to the summit of Timpanogos, would turn out to be one of the last times I saw those close friends for the next year and a half. They all scattered themselves across the country in the fall, and then, well, you know.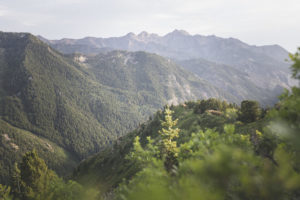 Typical story. I went to college, where my experience was far more similar to a summer camp than a university; that is to say three or four months with brand new people before moving back to your childhood bedroom. I'll be a junior when you read this and I haven't been on campus since halfway through my freshman year. Needless to say, my mind has been racing since the day I packed up all my stuff and moved back to my parents. Summer of 2020 left me feeling stagnant and stuffy; I had fallen into depression, sleeping in way too late to find that the day had largely passed me by. When I did work up the courage to go outside, the brutal Utah summer forced me quickly back into the air-conditioned basement where I felt I may never escape. Desperately, I yearned for ways to beat the heat. Pools were closed and lakes were no fun to go to alone. Late one night that summer, feeling nostalgic, I scrolled through my camera roll at the 15 or so pictures I had taken since the pandemic started—and the more than 15 pictures I had taken prior to it—and stumbled across the crisp August morning spent on the summit of Timpanogos. Then and there, I had an epiphany—a moment of pure clarity, total bliss, and total understanding. 
Well, not really. To my basement-melted brain, it felt that way, but it was far more reminiscent of a reality check. Hell, I thought to myself, I live in the Wasatch. What reason do I have to be spending all day in the basement? None. So, I texted a friend—a member of my small social bubble. "Hey, wanna go for a hike tomorrow?" I asked—a major accomplishment in my mind at the time. We picked a smaller peak in the Wasatch, one our out-of-shape legs could get up and down with enough huffing and puffing. We woke up early, around 9 or 10 a.m., and hit the trail, pulling our buffs over our faces as we passed by fellow go-getters. We flopped back into my car by late afternoon, totally exhausted but far from depressed; a welcome feeling to my weary brain. I went to bed early that night and slept well. 
Now, I know that this story is a bit stale at this point. Boy-goes-for-hike-during-pandemic is even less news now than it was at the time, but bear with me. You see, that little hike in the summer of 2020 was the closest to normal I had felt for months. We had passed rock climbers, said hi to families playing in streams, and pet the dogs of strangers. It was like the mountains were unaffected by the tyranny of the metropolitan virus that lurked a few minutes away and in the back of our minds. As we climbed higher and higher, and the air became cooler and cooler, my mind began to clear, like I was ascending from the dark of the night, through the sunrise, and into the light. 
Phew, okay. Let's return to that smoky blue sky I mentioned earlier and a far more recent adventure. After searching through a labyrinth of roads and housing developments for a while, we found the trailhead, a small parking lot that seemed to be nowhere near our Lone Peak target. Crumpled coffee cans left in the car, we set off into the quickly heating air, the sun still hidden behind the monolith of a mountain that loomed ahead.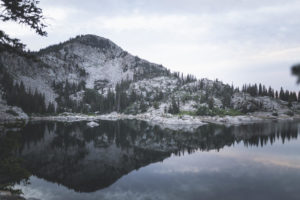 The summer that had proceeded thus far shared way too many similarities to the infamous summer of 2020, like a different season of the same pointless show. This time, however, there was light in sight, hiding behind a ridge. We had all gotten our vaccines and were finally starting to see the results. We were going into grocery stores without masks on and even finding ourselves seated around a table at a restaurant once in a while. My mask fell further and further out of use, out of sight, out of mind. My pessimistic mind still refused to believe that we would return to campus in the fall, but I couldn't help but catch myself feeling excited by the thought. The sun was rising. 
The sun was rising. No, literally this time. We had been hiking for an hour or two when it met us, a blazing force peaking from behind the mountain. Having summited Jacobs Ladder—the toughest stretch of the Lone Peak trail—we stopped for water and a snack and took a picture or two. The landscape that lay before us looked out of place in the grassy and tree-covered Wasatch front, an open cirque of cliffs and boulders dominated at its head by the shockingly vertical wall of Lone Peak's summit. Hidden from the view of the city it presides over, the basin's majesty caught me off guard. It was seductive, inviting, hope-inspiring. High praise for a collection of rocks and trees, I know, but my shadowy mind was left with no alternative when faced with such a view. We hiked on, losing the trail, finding it, and losing it again. We climbed over boulder after boulder, searching for the ever-elusive cairns that would guide our way. Eventually, after several lost paths and knife-edge scrambles, we made our way to the summit. We were greeted there by a total stranger and I gave him a "howdy" in recognition. No masks in sight, we all sat together on the dining-table-sized summit, my three friends, this stranger, and I. He was from France, it turns out, here in Salt Lake to work and hike. He pointed out to us the peaks and trails he had hoped to hike while he was here, and we gave him some names and suggestions.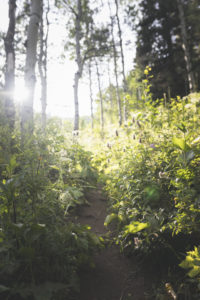 The five of us climbed down together, citing each other as motivation to keep moving. The man from France was a painfully fast hiker, jogging when able to and dragging the rest of us with him. The summit, though still dominant, grew smaller and smaller as we descended, away from the light and into the heat. And damn was it hot. Soaked in sweat and breathing hard, we arrived at the parking lot where we had set out from eight or so hours earlier. The Frenchman, having beat us down by at least 15 minutes, was nowhere to be found, with not so much as a goodbye. Wearily, the four of us piled back into my car in a cloud of dust and shuffled off to the nearest 7-Eleven. Like lost travelers, we furiously grabbed Gatorades and Slurpee's, no masks in sight. We sat in the parking lot for a while, slurping and reflecting on the mountains; drove home in relative silence, half asleep; took showers, and went out for burgers.
So here I sit, typing and typing and reflecting on my own naivety. I spent hours over these past summers convinced that there was no way to beat the heat, to feel normal, to feel accomplished; I felt that the pandemic was this never-ending, all-encompassing monster that thrived on the basements it trapped people in. Little did I know how neatly the monster could render my mind tired and useless, and how easily mountains could solve all, or most, of these problems. All I had to do was wake up in the dark, have a cup of coffee, and drive to beat the sunrise. Because it always does, whether we can see it or not. Through the haze of smoke and smog and sickness, the sun rises over the ridgelines of the Wasatch, and we should climb to meet it. I encourage everyone to climb if they can because if you don't know for yourself, let me be the first to tell you: the air is cooler up there. 
Leave a Comment
About the Contributor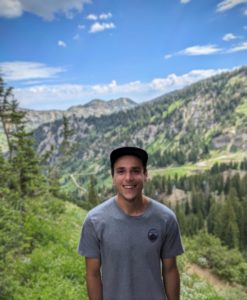 Will Ginsburg, Editor
Will Ginsburg grew up in Salt Lake City, and spent two years as a staff writer for Wasatch before becoming Editor this summer. He will be starting his fourth year at the U this fall, majoring in Writing and Rhetoric Studies. Outside of academics, he is a member of the men's Ultimate Frisbee team and a lover of the outdoors, with his main passions being snowboarding, skiing, and hiking.