After backpacking for miles, any food can taste good. But what would you rather have: chilled, fresh string cheese or a warm stick of cheese? That's what we thought. So, we've made a list of tips and our favorite coolers to keep your food cold and bacteria-free while camping.
-Start cold. Coolers retain temperatures, so dig it out of that hot storage shed and let it cool down for a day before you pack it. A few hours before packing, fill the cooler with a bag of ice to bring the temperature down. Discard this ice and start fresh before adding food.
-Use the layer system. Start with a layer of ice, then add raw meat and other perishable foods. Continue to layer ice and food as you pack. Keep items that don't need much refrigeration (such as condiments and vegetables) near the top. Cover with a top layer of pellet ice.
– Keep your cooler sealed tightly and out of direct sunlight.  Pack drinks in a separate cooler to save on space and stop you from continually opening your cooler throughout the day.
-Prepare your food. It'll stay cold longer if it starts out chilled or frozen. Pre-freeze water bottles and chill drinks. Prepare meats and marinades, then freeze and seal them in Ziploc bags. Freeze or chill as much of your food as you can before packing it into the cooler.
-Ditch the packaging. Seal your food in Ziploc bags so you can pack them tightly. Use space-saving Tupperware to pack fragile items or things that need to stay dry, such as eggs, cheese, and fruit. Prepping meals and cutting up produce beforehand keeps things from getting too bulky and cuts down on cook time.
BEST COOLERS
Hiking and Backpacking:
Norchill air series backpack cooler bag $39.99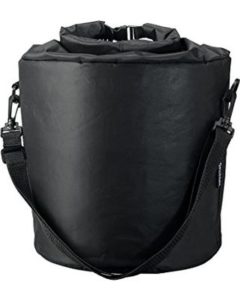 This bag is cleverly designed to turn any backpack into a cooler bag. Its versatility makes it an easy over-the-shoulder bag or an addition to your pack. This lightweight cooler (one pound) has room to hold up to six beverages and the padding inside has double usage. It insulates and provides protection for your gear. The waterproof exterior shell and roll-down top ensure that at the end of your hike, you'll have cold food and a dry pack.
Camping:
Coleman 54 quart steel belted cooler: $149.99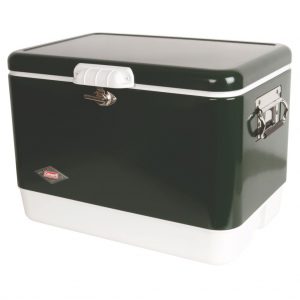 There's nothing better than a classic. This stainless steel cooler from Coleman is a sturdy icebox. Coleman began producing this model in 1954 and it still stands up to hot summer temps and the dead of winter. In 90 degree weather, the cooler has a four-day ice retention rate. Forgot your camping chair? No problem, pull this guy up around the fire and use it as a stool. It can withstand 250 lbs of weight. It's leak proof and large enough to hold upright 2 liter bottles, or 85 beverage cans if you're having a party. With 54 quarts of space, you'll have more than enough room for all your food and drinks.
Boating:
IceMule Pro Cooler:$99.95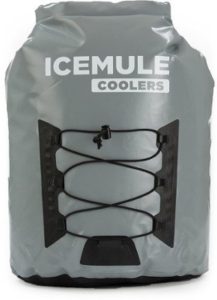 This cooler bag from IceMule is perfect for a day out on the water. The backpack straps make carrying it easy, which comes in handy if you're portaging your canoe. It holds 18 cans plus ice and the double-layered insulation design keeps it waterproof.  Plus, you'll never lose your lunch because this bag floats. You can strap it to your tube and let it trail behind you as you float down the river, or take advantage of its flexibility and store it in your boat or canoe. The bag itself weighs three lbs. and rolls up into a neat package for storage.
Biking:
Local cooler saddlebag pannier: $79.99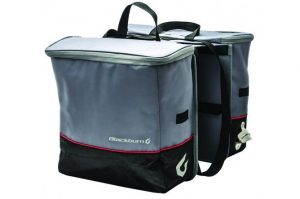 This waterproof insulated pannier is a great addition to your bike accessories. Whether you're heading home from the grocery store or biking across the state, this bag will keep your lunch nice and cool. The pannier is compatible with all standard bike racks, and there are interior mesh pockets inside if you need to bring along any extra utensils or small items. As if this bag isn't cool enough, it also has a bottle opener mounted on the outside.
Fishing:
Yeti Tundra 45 quart cooler: $349.99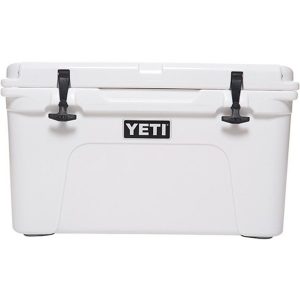 If you're looking for a cooler that means business, look no further than the Yeti Tundra 45. This bear-proof ice box can keep your freshly caught camp dinners nice and cool with a cold retention of five to seven days. There is permafrost insulation, a roto-molded exterior, and anti-condensation features. You're guaranteed to get through a fishing trip without worrying about the temperature of your food.  These coolers are highly recommended for their longevity, so chances are you'll never have to use the lifetime warranty that Yeti offers.
Photo by Esther Aboussou