When Harry Potter is preparing for Hogwarts, the big-ticket item he buys is a wand— an extraordinary instrument that channels his inner magic, transforming it to action. When skiers are preparing for the slopes, the big-ticket item they buy is ski boots— magical instruments that channel their strength and agility, transforming it to smooth turns and beautiful lines. Ski boots are the primary way that skiers connect with their skis and interact with the snow. Choosing a well-fitting ski boot is integral not only to making sure you fly down the hill like a pro, but also to ensure comfort and safety while skiing.
Flex: Ski boots may be measured by flex, or how difficult it is to flex a boot forward. An easier flex is more forgiving and translates strength easily into motion and maneuverability while absorbing jarring impacts. Increasingly stiff flex ratings help heavier, stronger, and more aggressive skiers to communicate with their skis and charge through more challenging terrain at higher speeds.
Based on your skier type, recommended flex values are:
soft flex (60-80 for men, 50-60 for women) for beginning to intermediate skiers.
medium flex (85-100 for men, 65-80 for women) for intermediate to advanced skiers.
stiff flex (110-120 for men, 85-100 for women) for advanced to expert skiers.
very stiff flex (130+ for men, 110+ for women) for expert and racing skiers.
Liners: Different liners will fit your foot in varying degrees of comfort and precision. This depends on if you are riding full days (and may nap wearing them because they are so comfortable) or you are ripping across a pitted traverse and dropping cliffs.
All boot liners will compress over time to better fit your feet, however, more aggressive or racing boots often have thinner liners that will "pack out" less. Thermoformable liners respond to your natural heat to better form to your feet after a couple days of skiing. Custom moldable liners can be artificially heated and worn to form to your feet with the most precision. This can alleviate pain for those with wide feet or ankles and prevent bone spurs from aggravation due to rubbing in ill-fitting boots. Added foot beds can also make a comfortable fit for those with high arches or unique feet.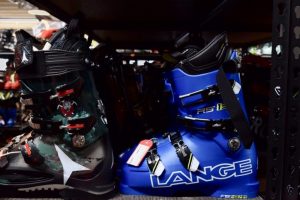 Shell type: Varying boot shells can impact the customizability of your fit and the maneuverability of your skis. Three-piece shells offer a more progressive flex pattern in boots that allows you to evenly flex through your entire range of motion for added smoothness and balance on unpredictable terrain. Still, they do translate less energy into the skis for forward power. Four-piece shells offer a more limited range of flex that can be jarring and stressful on the body in off-piste conditions, but they efficiently transfer power into speed while skiing.
Harry Potter didn't become the most powerful wizard after he got his wand; he had to wave it around quite a bit before he got the hang of it. As you select your ski boots, you will still need to adjust sizing and ski them for at least a couple full days before they start to feel like your own. So, put on your boots and start feeling the magic!
Photos by Claire Simon