How to: sharpen your knives
It's always good to have a sharp knife. The better condition your knife is in, the easier it is to work with. Maintenance of your knife is important to keep you safe and preserve the life of your knife. Here are the three main stages of sharpening a knife.
The first stage is for heavy sharpening: when your blade is very dull or has damaged edges. This is when you use a coarse grit sharpener. Keeping the blade between 13 and 16 degrees, stroke the knife blade first across the grit. Repeat this process on both sides of the blade until the shape becomes a sharp "V." When your blade gets too thick after repeated wear and sharpening, you know it's time to retire that one. A thin blade is better than a thick blade.
The second stage is medium to final sharpening. This is for touching up dull blades. The sharpeners used in this stage can be a diamond sharpener or a natural sharpening stone, either of which can be used wet or dry. The steps to sharpen your knife in this stage are the same as stage one.
The final stage is fine sharpening a shaving edge. Sharpening fluid is a must in this stage. Use light strokes on both sides of the blade to remove any burrs left behind from the previous stages. The knife should be razor sharp after this stage. A razor sharp blade is necessary for the most efficient cutting with a minimum applied force. Remember that a sharp knife is a safe knife. Applying additional force to a dull blade is when injuries can occur.
Photo by Peter Creveling
Leave a Comment
About the Contributor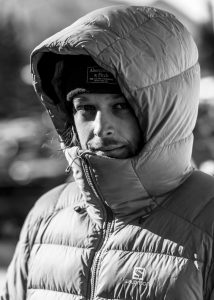 Peter Creveling, Photographer
Peter Creveling is currently a Ph.D. student at the U studying mechanical engineering and has been on the Wasatch team since 2015. His favorite outdoor activities include skiing and rock climbing, and he can be commonly spotted on the slopes of Big and Little Cottonwood Canyon year round