How to Survive (And Enjoy) Utah Hiking
Our beautiful state provides diverse natural environments ideal for every hiker's preference. One of the many joys of living in Utah is being able to travel from the beautiful mountains to the vast desert landscapes in just a few hours. Whether it's a rocky peak and a summit or slot canyons and sand, Utah has it all. As summer and its heat approaches, it's essential to be prepared for whatever environment you intend to hike in. Understanding basic factors like weather forecasts, type of terrain, and the length of your hike will ensure you don't get yourself into trouble while exploring the wilderness. Once you've gathered all the information you need, being able to choose the correct clothing, footwear, and gear will help you hike comfortably and with minimal risk of injury.
Essential supplies like food, water, a first aid kit, and appropriate clothing/equipment is needed for any basic day hike. The National Park Service recommends hikers carry and consume a gallon of water (4 liters) a day along with salty snacks and meals packed with energy. While food and water are necessities, being appropriately clothed can make a big difference. It's quite obvious that an individual should not wear a wool sweater while hiking in the summer heat, but mountainous terrain with forested areas can be five to ten degrees cooler than in the valley. Bringing an extra layer for rain and wind protection (and warmth) is always suggested. While desert hiking, wearing lightweight clothing can help you from overheating. Bring sunglasses, a hat, sunscreen, and cool light colored long sleeves and pants to shield sensitive skin.
First aid kits are another essential item you should always have in your daypack. When heading outdoors, having a prepackaged or DIY kit can save you from hiking with blisters, open cuts, and other injuries.
You can find prepackaged kits of all sorts and sizes at just about any store (they're normally found in the pharmaceutical area). Alternatively, if you already have all the materials lying around, you can create a first aid kit yourself.
When choosing a hike, take into consideration how much time you have, the distance, your fitness level, the time of year, and the weather. It's probably not a good idea to try to finish a multi-day hike in a few hours. Be sure to honestly assess what kind of shape you're in to ensure you have an enjoyable time hiking rather than choosing a hike that is too strenuous on you and your body.
Last but not least, have fun! Enjoy your time away from society and technology. Be respectful of Mother Nature and your surroundings by staying on designated trails and leaving only footprints.
Leave a Comment
About the Contributor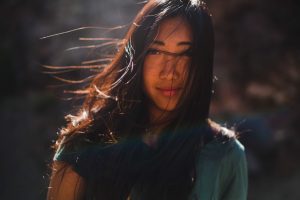 Annie Duong, Writer
Just a girl willing to try new things in hopes of telling the crazy story of it the next day.
Annie
is a major science geek with a love for the outdoors. Majoring in math, the freedom of the outdoors is the only way to escape her studious(?) life.