In Defense of Permits at Angels Landing
There is a reason that Angels Landing is a popular "bucket-list" hike. The tactile chain, dizzying heights, and stunning vistas make it a rewarding and unforgettable experience for many of Zion National Park's visitors. So many in fact, that they have begun a new system that will require timed permits to complete the chained portion of the hike. (Visitors will not need a permit to hike to Scout Lookout or the West Rim Trail.) This permit system has been about three years in the works and just launched on April 1st, with mostly positive feedback.
In addition to requiring permits, Zion has decided to distribute them via a lottery system, rather than on a first-come-first-serve basis. These lottery systems are more equitable and provide people a better chance of actually receiving a permit. They run seasonally as well as day-by-day — so you have multiple chances to apply, even after you plan your trip. Although data is still coming in, thousands apply for the permit and hundreds are still able to do the hike — it really is just you against the odds.
"Why do we need permits to recreate on public land?" you might be asking yourself, and a quick scroll through the comments section of an Angels Landing Instagram post would show hundreds who have similar concerns. But, in many cases, permit requirements are not just a bureaucratic operation keeping in-line with the Wilderness Act but are actively beneficial to the landscape and the people that enjoy them.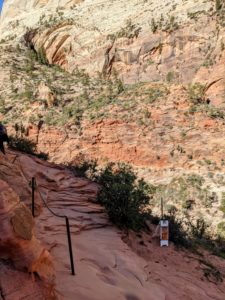 Visitor Experience
Zion National Park reported over 5 million visitors in 2021, edging out both the Grand Canyon and Yellowstone as the second most visited National Park, behind Great Smoky Mountains. Of those millions of visitors, thousands flocked to the Angels Landing hike each day, resulting in hours-long wait lines snaking about three-quarters of a mile down from the hike's peak. Such experiences have caused people to start referring to Zion as the "Disneyland" of National Parks. These experiences can be unexpected for visitors and aren't typically the "wilderness" experience visitors seek when they come to National Parks.
Safety
The more crowded hikes are, the more visitors' safety is at risk — and Angels Landing is considered a strenuous hike. It quickly gains about 1,500 feet in elevation gain over 2.4 miles and can take hours to complete. Several people have directly fallen from Angels Landing due to the inherently dangerous nature of the hike's knife edges; innumerable more have suffered heat-related illnesses and dehydration, which are worsened by long wait lines. The permit system allows people to space out, take their time, plan ahead, and ultimately decrease situations of peril.
Conservation
The reason people flock to these hikes in the first place is also a major reason why permits exist: the breathtaking natural landscapes we love. Simply, the landscape at Angels Landing is not equipped to handle thousands of hikers every day. If we want to experience the same hike in 20 years that we are fortunate to have right now, then it's necessary to try our best to limit our collective impact. Ultimately, we need to remember that Angels Landing isn't a photo op for our social media accounts — it's a complex ecosystem home to important flora and fauna that have evolved to live specifically in unique desert circumstances. Being in these spaces and completing these hikes is a privilege — something that those who are lucky to win the lottery might now better understand, but that all of us should remember.
If you are lucky enough to receive a permit, remember to plan ahead. Print or download your confirmation, add alternates to your permits, wear sturdy shoes, and bring at least several liters of water per person. If you don't get the permit in time for your trip, remember that permits are non-transferrable, required 24/7 on the hike, and are federally illegal if evaded. And always remember to be friendly to the rangers enforcing the permit system who are simply doing their job. If you still want to make the best of your Zion trip, similar views to Angels Landing can be found on the West Rim Trail above Scout Lookout as well as the Canyon Overlook Trail across the canyon to Angels Landing.
Leave a Comment
About the Contributor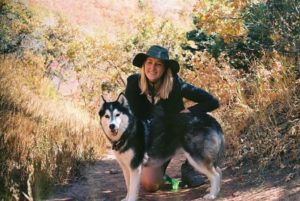 Ashleigh Albrechtsen, Writer
Ashleigh is originally from Ogden, Utah and considers herself lucky to have grown up among the Wasatch Mountains for most of her life. She's currently working on her master's degree in Environmental Humanities at the university. Her favorite activities in the outdoors include hiking, camping, identifying plants, and showing her husky the best places to sniff. Her most beloved place is in the canyons of the Colorado Plateau, surrounded by iron-rich dirt, opuntia cacti, and jet-black ravens.