Into The Pit
On a cabinet in my kitchen, I have a sticker from the band August Burns Red. On it, the sticker says, "Angry music for happy people."  I can't think of a better way to describe the culture surrounding heavy metal music. It's loud, aggressive, theatrical, perhaps even intimidating. Yet after the house lights come on and we begin making our way home, though we may be bruised and half deaf, we're as close to normal as we ever are.
When I was in my first good mosh after I started caving, I was intrigued by how similar a mosh is to a pit in the ground, and how much of what I enjoy about one is found in the other.
In both of these communities, I feel more comfortable than I ever did in my high school or hometown.  Whether we know each other or not, we take care of each other, both inside and outside the pit.
There Are Exceptions
Unfortunately, any group has its bad eggs. So recently after the Astroworld tragedy, it's incredibly tempting to use this as another example of why we, as metalheads, are superior. Every metalhead should know the first law of the pit: when someone falls, you pick them up.
Unfortunately, if everyone knows this, they don't always follow it. At Woodstock '99, Limp Bizkit all but incited a riot. Audience members tore apart parts of the venue, people were hurt. Two years later in Sydney, a member of their audience was killed.
In 2010 at a Lamb of God concert, a 19-year-old suffered a fatal injury.
Judas Priest is still banned from Madison Square Garden because at a show in '84 their fans decided to cut apart the seats at the venue.
These are just a few examples of times the metal crowd have failed to put our best foot forward. As cavers, we have problem children too.
Recently, in a Utah cave, a friend found a piece of survey tape with the words, "[Redacted] will lead you to your death." No one has been in this cave for nearly 20 years, and [redacted] is still an active caver. Many of us are surprised they've survived this long and they still find people to go with.
Some are creeps, some are incarcerated. Others are strong cavers but don't have any concept of how to be part of a team. Overall, we tend to be exceptionally decent people, accustomed to trusting and being trusted in high-stakes environments. We do tend to be a little strange, but we are literal troglodytes.
As Below, so Above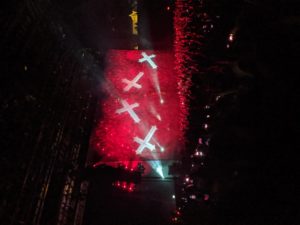 We see each other under some interesting and vulnerable circumstances. Whether that's scared and cold miles from the surface, or after a mosh pit and too many shots, we're not the people our coworkers are used to seeing.
This connection goes beyond the cave or the show. If someone needs help moving, has a stranded car, needs a place to sleep, or needs a friend to listen, we should be there for them.
 We Pick Each Other Up When We Fall
It's probably worth clarifying my experience in mosh pits. I'm not talking about a bunch of people jumping around with their hands in the air at a rave.  These people awoke and chose violence. Glasses will be broken. Keep your tongue back; if it ends up between your teeth, you might have to pick it up from lost and found later.  Those weird pinpoint bruises are from someone else's studded leather jacket.
Now, that being said, in every pit I've been in, there have been moments when I've started to fall. Before I could land, I'm back on my feet and back in the game.  If you do hit the ground, you'll be upright in an instant. If you look like you've had enough, they'll get you out. Otherwise, game on.
Occasionally, someone at a show wants to hurt people. It doesn't matter how large or strong they are, because a large enough group of people can stomp anyone's guts out. And they will, where necessary.
Good cavers know a team is only as strong as its members, so when one person has a problem, we all do. No one is left behind, and we don't carry on until everyone is ready to.
It Doesn't Have To Be Good To Be Fun
A small, less than spectacular cave or show from a band you don't know and don't really love can kinda suck. With the right people, it's the best day ever.
You Choose Your Level of Involvement
If you're at a metal show and there's a mosh pit, nobody makes you go in. Some people aren't involved at all, some stand on the side and keep the crazy where it belongs, and some are the ones being contained. If you need a break, you can leave, and come back if and when you're ready.
At several shows I've seen, there's this young woman who looks like she's about 90 pounds, and goes harder than anyone else. She's launched from one side of the other, having the time of her life.
It's admirable to say no to a caving trip if it sounds like too much, for whatever the reason. If you're on a trip and something scares the hell out of you, a good group will try to talk through and find an alternative. If there isn't a satisfying plan B, you turn back.
Blood Happens
When you enter the Pit, either above ground or below, you accept a certain amount of risk. Things happen. Hopefully you have good health insurance.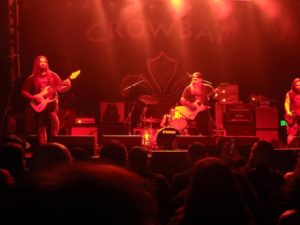 Nonverbal Communication 
There can be a lot of noise and commotion, and speaking to each other doesn't always work. When the 230-pound bearded Viking makes eye contact from across the room and squares up, you can be pretty sure it's fine to crash into him. If the same Viking is avoiding eye contact and looking to the edge of the circle, he's probably trying to leave and you should help him.
You can tell when your friends aren't acting like themselves, even if they can't. Food and water fixes a lot, sometimes something extra is required.
Friendlier Than They Seem 
Many of us seem scruffy, grouchy, and unapproachable. Truthfully, most of us are huge teddy bears, eagerly waiting to introduce new people to what we love. And for those who don't want to deal with new people, we can just ignore them. Or possibly stomp their guts out, if they really need it.
Leave a Comment
About the Contributor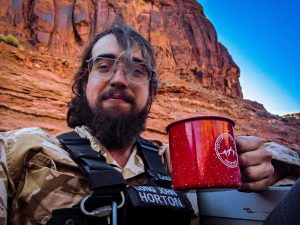 John Horton, Writer
Long John Horton, Pirate of the Colorado Plateau is from Salem, Utah, but now lives in Salt Lake City.  He is entering his fifth year as a Mechanical Engineering major with no obvious end in sight.  In the past few years, he has developed a passion, bordering on obsession, for river rafting, canyoneering, and more recently, caving.  Recently John became certified as an EMT, and volunteers on Salem EMS with his mother.