Is Utah's Body Truly a Temple? The Moab Oil and Gas Drilling Scare
Moab is known as Utah's very own desert heaven here on Earth. Until recently, over 114,000 acres of southern Utah land owned by the Bureau of Land Management was going to be opened up by the Trump Administration and subjected to oil and gas drilling. When I think about oil and gas drilling, I think about the end of "Incredibles" and the beginning of "Incredibles 2," when the Underminer is drilling a machine bigger than a building hundreds of feet into the ground, leaving nothing but destruction in his path. I hate thinking about that happening out in our beautiful deserts.
Our state's finest environmentalists and activists furtively fought against the sale, which was originally scheduled to take place in Sept. 2020. For a long while, though, it appeared our familiar red-rock landscapes near Canyonlands, Capitol Reef and Arches National Parks were going to be in critical danger.
After a lack of cooperation with local leaders, the job of saving the land from an oil drilling scare fell in the hands of the Moab City Council and the Grand County Council.
Reasons locals and environmentalists couldn't back the sale included a higher risk for cancer, increased emissions and worsened air quality — ultimately leading to a growth in the climate crisis — and an uproar in what this could do to the starry desert night skies.
However, 27,000 acres of land will still be up for lease in an auction starting the week of Sept. 28. Counties unable to escape the auction include Duchsene, Emery, Juan, Sanpete, Sevier and Uintah.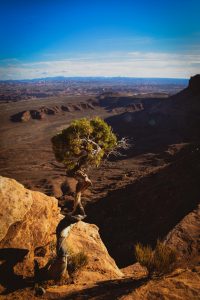 In a press release by the New Utah Bureau of Land Management Director, Greg Sheehan said, "The BLM supports the recreation and tourism industry as an important source of revenue in Utah, while also responsibly leasing and supporting our nation's energy independence."
For those wondering why oil and gas drilling needs to occur at all, it helps to understand that the State of Utah brought in $47,191,791 from oil and gas revenue in the 2019 fiscal year alone. The Spectrum reported that this type of energy revenue benefits Utah's schools and infrastructure projects. So, while it may be impossible to wrap your head around the existence of an oil machine drilling into our beautiful red-rock, at least Utah is paid well for its time.
Ultimately, this oil and gas drilling scare has hit too close to home for residents and frequent visitors of our Utah deserts. Many know that while the BLM and Trump Administration may not have succeeded this time in selling the land, it is constantly under threat. To protect this land in the future, it will take concerned citizens at all levels standing up for our desert home.