Island Biking
Have you ever seen that mountain that seems to sit inside the Great Salt Lake? Ever wondered what it is? Antelope Island, a sagebrush and bison-covered chunk of 42 square miles plopped in the middle of Utah's biggest lake. Conveniently, it's only two hours north of the U and a great place to explore different terrain on your mountain bike.
Each of the trails have varying levels of difficulty.  Split Rock Loop (five miles) and White Rock Loop (6.4 miles) are both on the western end of the island near the bison corral.  The popular Split Rock Loop descends very quickly towards Split Rock near the west shore. Once there, continue on the trail up the mountain to the historical horse corral. White Rook Loop is a nice warm-up that will get the blood flowing in your legs. You will definitely want to do this ride first on the island. If you continue south on the island, do the Elephant Head Spur or Split Rock Loop. On the east side of the island is the Mountain View Trail — an 11.8 mile one-way trail which goes along the edge of the shore from north to south, all the while featuring a backdrop of the Wasatch Front.
The trail to the highest point on Antelope Island, Frary Peak, does not allow cyclists due to the difficulty of the trail, but you can hike to the top if you desire.  The east side of the island is still in the development process of mountain biking trails.
Because of the excess of insects, pack bug repellent and go in early spring or late fall when the insect level is decreasing.
Once you make your way to the island, bison will welcome you. William Glassman and John Dooly introduced bison to the island in the late 1800s. Today, there are nearly 700 bison that call Antelope Island home. Depending on the time you head out to ride your bike, you'll come across these muscular, car-sized beasts grazing in the fields.
To get there, head north on I-15 and take the Antelope Island Dr. exit in Syracuse. Before crossing Farmington Bay, stop at the ranger station and pay the $10 entrance fee.  Head west along the Davis County causeway, the only road accessible to the island.
Leave a Comment
About the Contributor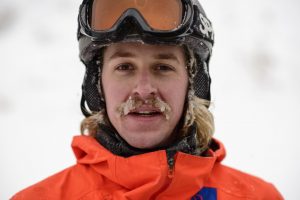 Kiffer Creveling, Photographer
Kiffer Creveling is a PhD student in Mechanical Engineering studying the strength of adhesion between the vitreous and retina of the human eye.  He has been working with the Wasatch Magazine for five years now.   Kiffer's favorite outdoor activity is skiing and snowboarding; whether that is downhill, telemark, snowboarding, or cross country skiing, he just loves the snow.