It's Getting Hot in Here: Backpacking Stove Review
The slow leak of gas, the click of a lighter, and the steady roar of a hot blue flame. After a long cold day in the backcountry these sounds are as relieving as getting your acceptance letter to Hogwarts on your 11th birthday. These sounds mean food is on the way, the only separation being a few cups of boiling water and a little patience.
Backpacking stoves, although not the sexiest or flashiest piece of gear out there, are the beautiful contraptions that provide us with this oh-so-wonderful comfort. However, not all stoves are created equal. Some boil faster, some boil slower. Some boil lots, some boil little. Some even do more than boil water; they can cook real, non-dehydrated food. These have truly become sophisticated pieces of technology.
This sophistication can only happen with lots of little moving pieces, something that often spells disaster. Sometimes a single broken part can trash the stove for your entire trip, leaving you to consider just how edible a pinecone could be. A good stove is as critical to a successful trip as a backpack or water purifier.
Unfortunately, in the sea of tri-sectional windclips, fuel canister stabilizers, and other terms of jargon, it can be difficult to decipher just what constitutes a 'good' stove. Fortunately for you, many nights, hours, and even a set of eyebrows have been sacrificed to find the right stove for your needs.
MSR PocketRocket
Perfect for small cooking, the PocketRocket provides a smart option for your personal kit. At just three ounces (not including gas and cook set), this is by far the smallest and lightest stove of the ones tested. It packs into a convenient plastic case that really could fit in your pocket, so long as you're not wearing skinny jeans. Utilizing this case when packing the stove is vital since its small stature makes it less durable. Its relatively bare-bones design means a separate cook set is needed, but this too can be relatively small and compact. Balancing a pot of water on the little tongs will make you feel like you should join the circus, however, the $40 price makes it hard to be too picky about these relatively trivial issues. If you're looking for a lightweight way to boil water without spending tons, this is your stove.
Jetboil Flash
The ideal system for the non-ultra-lightweight backpacker, Jetboil has taken simplicity and ease of use to the max in their personal cook system design. A spark start removes the need for a lighter, and a built-in measuring cup and stabilizer make boiling water easier than using a stove and kettle at home. Furthermore, the entire stove can be quickly disassembled and stored in the attached cookset for very durable and safe transport. As the name suggests, the Jetboil boasts the fastest boil time of any comparably sized stove on the market (just about a minute for a liter of water). It is significantly heavier and larger than the PocketRocket at twelve ounces, but also resolves many of the issues the former had. A nifty heat dispersing coil near the burner spreads the heat across the cup removing hot spots and a stabilizing stand stabilizing stand removes the issues of balance. The Jetboil is assuredly the easiest stove to use on the market and comes with the most helpful features. However, at $80, you'll pay for it.
MSR WhisperLite
The standard for most group backpacking trips, MSR has succeeded in creating an effective yet tedious cook system. This stove is complex enough to require a certain level of skill to use and, at times, a large degree of problem solving. It is also arguably the most dangerous as it utilizes unguarded white gas in its lighting process. If the intricacies can be worked out, however, this is a reasonable way to cook for a group. A very stable base and large burner allow for multifaceted cooking, not just boiling water. A separate cook set, fuel bottle, and pump to pressurize the bottle are necessary. At 11.5 ounces (without any of the previously mentioned necessities), it isn't terribly heavy. A single stove could easily cook for three or four people at a time, and once it is started it burns hotter and faster than almost every other stove with the exception of the Jetboil. This is a reasonably reliable stove with a decent price of $90.
Photo courtesy of Brian Anderson
Leave a Comment
About the Contributor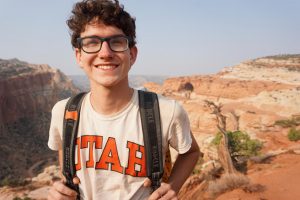 Nick Halberg, Editor
Nick is a senior studying philosophy and economics. He started with Wasatch Mag three years ago, and now is happy to be co-leading the publication as the Print Editor. He is passionate about environmental issues, especially ones regarding resource use. On weekends, he likes to explore new places in the desert.