Journey to 14a with Anna Hazelnutt
This past summer I went to the climbing festival in Lander, Wyoming. One night, they hosted a dyno comp. Dynos are basically a powerful and dynamic move in climbing that generally involves jumping. It is also a move I tend to be pretty bad at. I am normally not one to put myself in competitive situations, but for some reason that night, I decided to enter it. There were four dynos in the competition with increasing difficulty. I remember being one of two people who couldn't do the first one, and my embarrassment in this comp was steadily mounting. Then one girl who had seamlessly done the first dyno turned to me and told me she liked my pants. Just like that, I started talking to Anna Hazelnutt. It was amazing that this charismatic stranger suddenly made me feel comfortable in a situation I was very uncomfortable in.
Anna started climbing right before she turned 16. She began as a boulderer indoors before transitioning outdoors, where she fell head over heels for outdoor climbing. She spent six years traveling and bouldering around California from Bishop to Squamish. Then at 22, she moved across the world to Catalonia, Spain to try her hand at sport climbing primarily at Oliana, a world-class sport-climbing destination. "I showed up and I had my belay tag certifications on my harness. I had all my quickdraws on upside down, and I was like, 'I'm ready. Someone teach me!'". She had a pretty fast learning curve despite being relatively new to sport-climbing. This led to her spending the past summer in Wild Iris where she sent her first 14a.
As a person of color, as well as a member of the queer community, she has faced her own set of obstacles in her climbing career. She started climbing in gyms when she was 16 and looked older than her age, so most of the adversity she faced in climbing came through sexism. "I remember not feeling like I fit the mold of climbing and getting a lot of harassment. I had to overcome a lot of creepy and unwanted interactions consistently at the gym. Just navigating those spaces was really uncomfortable at times and I didn't know how to do it. It's actually a reason why I switched to outdoor climbing because I felt so uncomfortable at gyms."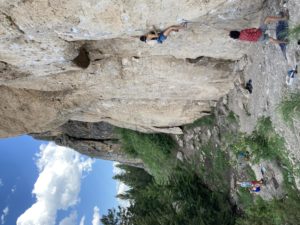 Her journey to Catalonia was one of her trips that led to a lot of climbing and personal development. She really learned how to push past the zone of uncertainty into a place where she found her vulnerability beautiful. She was branching out from bouldering to lead climbing, a sport that came with a whole anthology of things to learn like dealing with fear, gear, etc. "I had to deal with a ton of fear and feeling imposter syndrome because I was strong already from bouldering with a base of climbing. However, I still had to go through all of the things everyone has to go through, no matter what grade, when they start sport climbing. It was humbling to understand where I was mentally and emotionally at the time." This trip was also formative because it helped her to further understand her queerness and reconcile body image issues and changes that occurred as she became a stronger climber. Additionally, she was hearing about the pandemic and the social movements happening in the US an ocean away. At the time, she was dating a trans woman, so every law against the trans community was hitting her hard. Her dirtbag lifestyle as a whole helped her create her own personal idea of femininity and how to express it.
The growth Anna experienced from this trip helped her create a more comfortable environment in Wild Iris this past summer where she felt more willing to push her limits. Getting to 14a had been a far-off goal of hers, but not one she had previously felt was realistic. In Spain and this summer, fear was a large mental block. Anna struggled with both overcoming fears and dealing with the fact she was afraid and choosing to climb despite it. She found it exhausting to always be scared. "It's crazy to say this out loud, but this was the first trip (Wild Iris) where I haven't cried every day because I'm scared of falling. I was terrified of lead climbing, but something changed. This trip I have felt really comfortable because there are a lot of queer and brown folks and solo female travelers like myself. Maybe it was the atmosphere Ten Sleep created for me, but I felt really comfortable to push my limits because I wasn't pushing my limits emotionally in other facets of life." She ended up flashing two 13a's this summer which made her realize that she should be trying harder grades.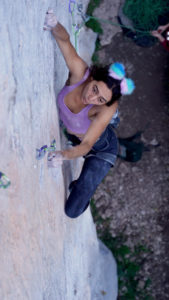 Anna set her sights on Galactic Emperor, a 14a that looked like her style of climbing as it was vertical with small holds. At first, she didn't commit to it because the grade was so daunting. She tried the climb a couple of times after climbing for a couple of days just to test the waters. Soon she realized she needed to give the climb her full attention if she really wanted to send it. She had to try hard while being aware of the potential that her efforts might be fruitless. She started to truly project the route and work through the movements. At the end of her third week of projecting, it went. "I had already tried the climb 5 or 6 times that day, and I was sad because everything lined up that day with my new shoes and a weather window. I rested and decided to try it one more time. I remember climbing the first boulder problem which leads into a second easier boulder problem before you get a rest. I didn't really feel pumped when I got to the first rest. I realized I didn't need to rest that much but did it anyways. I took my time and enjoyed the whole climb. When I got to the top, I felt like I didn't struggle through the climb. I just did it with confidence and strength. It was a really beautiful moment."
Before this summer, Anna had never done a 13d. She credits an aspect of her 14a achievement to the community that surrounded her. Having a good community and feeling safe and comfortable in a climbing space frees your mind to focus on climbing and really unlocking your potential. "I didn't realize it until this trip, but I think this goes along with being BIPOC, queer, a woman, all of these things. When you don't have to worry constantly about all of that, and you feel like you're in a safe environment with welcoming people, it's incredible how many grades I was able to jump. Without all the stress of having to deal constantly with all of these barriers, I felt like I was really able to thrive. I don't think I could have accomplished what I did if I didn't feel safe in this space."
If you're interested in learning more about Anna's journey or are curious about someone in climbing who is actively addressing social issues that tend to get overlooked in the sport, you should check out her YouTube channel. She posts a mix of fun, quirky videos that highlight everything from her climbing achievements, to her personal growth, to messages to climbers who identify with outlying communities, as well as some funny, goofy vlogs.
Leave a Comment
About the Contributor
Aashna Shah, Writer
Aashna is a third year student at the U studying math. The outdoors serves as a very special atmosphere for her because it has provided a platform for personal growth where the value of her accomplishments and experiences are solely intrinsic and absent from comparisons that plague her everyday life. It has provided unique moments of tranquility and joy that she finds herself actively chasing. She acknowledges that outdoor recreation is a privilege not often afforded to both racial and class minorities and is passionate about transforming this from a privilege to a right that can be experienced, valued, and conserved by all people. She is excited to write for Wasatch to use it as a platform to increase awareness of disparities in the outdoors as well as conveying her personal appreciation and passion for conservation.