Keeping Little Cottonwood Clean for Future Generations
Hang on for a minute...we're trying to find some more stories you might like.
Rock climbing is one of those sports where you often get a lot of ridicule and backlash from surrounding communities and local politicians. Rock climbers are often seen as those who have no concern for the surrounding environment as we scale walls. The truth is quite opposite, however. With my many years of rock climbing experience under my belt, I have seen nothing but people who are the most conscious about the preservation of the environment, and more specifically, rock climbing itself. In Salt Lake City, you are bound to find these types of people everywhere you go. It is a blessing when the city of Salt Lake and its inhabitants find a way to give back to the rock climbing community. Recently, the Church of Jesus Christ of Latter-Day Saints has formalized a relationship with the climbing community to secure almost 600 climbing routes and almost 150 boulder problems in Little Cottonwood Canyon, according to The Salt Lake Tribune.
Previously, the area now secured for rock climbers was privately owned by the Church with no access to climbing for almost 60 years when routes were first ascended. The area that has been recently opened is in the Gate Buttress, one of the most popular climbing areas in the canyon, and one of the most popular climbing areas in the state.
Personally, Gate Buttress is one of my favorite crags to climb due to its plethora of crack climbing routes with a wide range of route difficulty. Climbing routes range from anywhere between a rating of 5.7 all the way up to the 5.12 range. There are enough routes to cater to all climbing abilities, from the climber having their first outside experience to the seasoned veteran who knows all the climbs better than the back of their hand.
The best part about this relationship is the security of the area is open to the public for years to come. Future generations will be able to climb these walls just as those did before them for over a half century earlier.
In my years of going to Little Cottonwood, I have seen nothing but respect for the canyon by my fellow climbers. For example, I have seen several groups who have finished a long day of climbing hiking back down with backpacks full of trash to help clean up the area. I know of groups forming together online to meet up on weekends to perform trail maintenance. Keep in mind that this is all purely volunteer work and out of the kindness of their hearts to help see the preservation of the area and the sport. This being said, now that we as a climbing community have been granted the security of this world class climbing from those higher up, it is now our duty to help grant that security for the future.
In my honest opinion, I am not concerned. The climbing community has shown their support for the area, not only in Little Cottonwood Canyon, but also in all areas throughout the state for many decades. I am confident that this support will continue on the road ahead.
About the Writer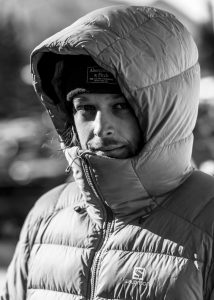 Peter Creveling, Photographer
Peter Creveling is currently a Ph.D. student at the U studying mechanical engineering and has been on the Wasatch team since 2015. His favorite outdoor...