Raise your hand if you've been personally victimized by the ice-cold temperatures while trying to enjoy the great outdoors. Whether you're hiking or camping, staying warm is the only way to have a safe and enjoyable trip. If anyone claims they like being cold, they're lying. Here are a few tips and tricks to staying warm during your winter adventures.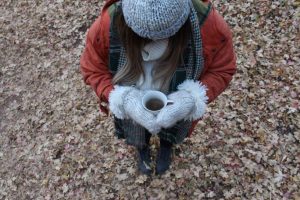 Pack the Hand and Toe Warmers 
Keeping your hands and feet warm is essential to not losing a finger or toe to frostbite. No one wants to go through the trauma of that, so listen to the nagging voice of your parental figure in the back of your mind, and pack some hand/toe warmers, some nice thick socks, and gloves.
Stick to the Three-Layer Rule
This may be common sense but it's important to make sure you have a tight-fitting base layer, a middle layer, and an outer layer. For your base layer, it's best to have a synthetic or wool article of clothing. DO NOT WEAR COTTON. Cotton is very loosely knitted and takes a very long time to dry. Your middle layer should retain heat. Fabrics like merino wool, down and/or fleece are suggested. Finally, your outer layer should protect you from the elements so it should be windproof, waterproof and well ventilated. Just remember the three Ws: wicking, warmth, and weather.
Two Beanies are Better than One
Not only will you be the most stylish individual in your group, but you'll also be the most prepared. If you didn't know, you lose a lot of heat from your head, so it's best to always have a beanie or warm hat. Bringing two can ensure you'll have a dry and comfortable beanie to wear at all times. This goes for clothing, too. Wearing wet clothing will 110 percent make you colder than if your clothes were completely dry, so doubling up is a necessity.
Chug Olive Oil
Apparently chugging things like olive oil, and eating avocados and other foods high in fat content, will help keep you warm. The burning of calories leads to an elevated body temperature, so bottoms up. I'm sure to most people olive oil does not sound appealing to drink, so any alternatives that are high in carbs and fat (like chocolate and/or nuts) will keep your internal furnace well fueled.
Keep Your Butt off the Ground
Never leave the fire or you'll freeze your butt off, and try not to sit directly on the cold ground or on rocks. That goes for sleeping as well. Be sure to sleep on a sleeping pad or a cot to ensure maximum heat insulation. For below freezing temperatures, shoot for at least two or three inches of insulation between you and the ground when sleeping.
Make Yourself a "Crotch Bottle"
Think back to a cold, dreadful night in your tent. Do you remember where your hands were for the majority of the night? Probably in between your thighs, right? There are important arteries in your inner thighs that are essential to regulating body temperature; so don't put away the kettle or jet-boil just yet. Use this to fill that extra water bottle you packed with hot water and get cozy with it in your sleeping bag, placed perfectly between your thighs to keep your body temperature up.
Big Spoon or Little Spoon?
Don't know your tent mate? Suck it up, buttercup. Get your pillow talk ready. It's common knowledge that sharing body heat keeps you warm, why not do it?
Don't Get Trashed
Even though chugging olive oil isn't as appealing as the whiskey you packed, a liquor blanket can only get you so far into the night. I'm sure half the reason you're going camping is to sit around the fire with a beer or bottle, but drinking alcohol makes you dehydrated, and dehydration makes you cold. That warm, fuzzy feeling inside is a trap. You are colder than you think; limit your drinks and make sure those friends of yours who maybe aren't as careful don't pass out in unsafe conditions.
Drink Lots and Lots of Water
If you're like me, being out in the cold doesn't particularly make me thirsty. The truth is though, the cold, dry winter air actually dehydrates you faster than warmer air. Obviously, water keeps you alive and well but sometimes it's an easy need to ignore. As your body is working harder to generate heat under all your layers, water is vital. To keep your water from freezing, use a wool sock, invest in an insulated bottle, or use a DIY foam sleeve.
Splurge on Nice Gear
If you do enough cold weather camping, it may be time to invest in some high-quality gear. This isn't really a tip but you'll definitely feel a difference between that $30 sleeping bag compared to a $300 one. I'm not telling you to go buy the latest and greatest equipment, but it may be time to do a little research and invest.