Kick off the Climbing Season in the Valley of Zion
Ice and snow are sliding off the canyon walls, exposing those projects you've been dreaming about all winter. Rock climbing season is here. It's still March though, an indecisive month that can toss rain, snow, or 65 degree temps at you with a shift of the spring wind. Yes, the Cottonwoods have missed you, but escaping the mountains gives you a better chance of escaping that random snowstorm that will kick you off your project. Switch granite slabs for limestone crags overlooking the expansive Great Salt Lake. Come to the Valley of Zion.
It sounds exotic, but don't worry, the classic, scratch-your-head names climbers give to walls await you. Choose from Blob's Your Aunt, Blob's Your Cousin, Blob's Your Nephew, or Blob's Your Uncle. Most are single-pitch sport routes that are a lot longer than you initially expect. Since the majority of climbs are in the 5.9-5.10b range, it's the perfect confidence booster to launch a new rock climbing season.
Warm up on Blob's Your Uncle, just above and to the left of the parking area. Greg's Bear Hug and Drunk Monkey are some favorites, but there's not a climb here that won't give you varied climbing and some exposure. Just remember to bring a lot of quickdraws, since 10+ bolts are common. The climbs are side by side, making it a great cragging spot with endless views of Stansbury Island and the near-constant lull of trains passing along the salty desert.
Head over to Elysian Fields after you're warm, a four-pitch sport climb classic never exceeding 5.9 difficulty. The views along the way are stunning.
Camp for the night and check out Blob's Your Aunt, another easy crag with a large collection of routes. If you want to try out more difficult, shorter climbs, go to Cannabis Crew Wall. You'll need to check out "Utah's West Desert" by James Garrett for a full list of climbs in the area.
Once you've had your feel of the valley drive back toward Grantsville to explore South Willow Canyon. The West Desert is the perfect weekend climbing spot not too far from Salt Lake, but with different terrain to feel like you went somewhere.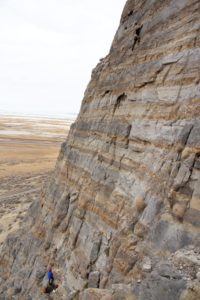 Get here:
Drive west on I-80 past Tooele. Take exit #77 and a side road to the base of the climb. Four-wheel drive required. Hike up a short trail for a quarter mile.
Camping:
From I-80, take exit 84 to get to Stansbury Island. Since the land is owned by the Bureau of Land Management, you can pretty much camp anywhere. Just remember to leave no trace. The sunsets and sunrises over the lake are unreal.
Packing List:
Sport climbing gear (at least 14 quickdraws)
Camping gear
Warm layers (It's the desert — it gets cold)
Fire wood and camping food (fires are permitted on the island)
Photo by Ana Shestakova
Leave a Comment