King's Peak: Summit and Sequel
When I was younger, I remember hearing about a group from my neighborhood taking a trip out to King's Peak, the highest point in Utah. It stayed in my mind, and about a year ago I started talking about going myself. Located in the High Uintas Wilderness, it stands at 13,528 vertical feet in between a series of basins and mountain passes through which it can be approached. At the beginning of July, I decided, on a whim, to use my weekend to visit this area and attempt to summit. We chose the 26 mile round trip starting at Henry's Fork Basin. The group above us in the registration book had left a note after their names that read, "Broken rib on the summit – worked out!" I love a good positive omen. The trail was well established and cut through miles of forest and up into high meadows. The expanses of wildflowers and lakes swept out beneath an immense backdrop of dramatic ridgelines. Having never been to the area before, we ventured a guess that the high point of that ridgeline, an impressive reddish castle, must be King's. In a flurry of excitement and confidence, we had left our map behind, but the navigation was easy. We camped near a small lake close to the base of the cliffs. 
Our summit day began midmorning, and we left our tent and large packs behind as we continued up the trail toward Gunsight Pass. At the top of the pass, we could see the trail dip down and head out into the basin on the other side. We had heard of a 'shortcut,' a way to cut down the mileage on the approach by climbing the scree field rather than following the long and wandering trail. Not wanting to descend the vert we had already gained, we turned right and began to climb a steep field of rocks. They were smaller at first, shifting loosely underfoot, and as we began traversing the backside of the ridge, they became much larger. We quickly discovered that despite their immense size, many were unstable and prone to tipping. As we stepped from one table-sized surface to the next, the rocks wobbled and shifted when we offset their balanced position. This made the progress somewhat slow. After an hour or two of crossing this path full of beautifully colored and precarious boulders, the ridge sloped down into a low point. To the right, the ridgeline continued onto the impressive castles we had seen from camp, and to the left, it sank and then rose up again to another high point at the top of another boulder field. We could see other parties celebrating and moving along the high point to the left, and we realized the peak was not the one we had had our eyes on up to that point. The highest point in Utah had been an undistinguished triangle just barely peeking over the impressive rim of the basin.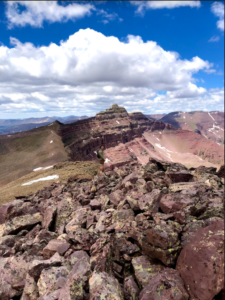 From this point, we had to descend from our ridgeline and cross over into the area at the foot of King's, where we found the trail we had originally dismissed at the top of Gunsight Pass. Following a series of switchbacks and another, much more stable, scree-filled ridgeline brought us to the summit. I find this moment to be somewhat difficult to describe. The climb had been moderate, nothing too extreme or technical, but the summit was absolutely spectacular. In every direction we could look out and see green basins flanked by jutting mountains. I was in love. I must admit I didn't have high expectations for the summit. It truly looks like a big pile of rocks from the back, but from the top, its majesty is readily apparent as you turn in circles, struggling to take in the seemingly endless landscape all around and below you. We descended on the trail that we could have taken before through Painter's Basin, a gorgeous tour of multicolored rocks and flora. The next day we exited Henry's Fork Basin back the way we had come. 
Ever since being on the summit and seeing the surrounding basins, we had been discussing another trip to the same area to explore more fully. Only a week or two later, we were back with a 40 mile loop itinerary starting at the nearby China Meadows trailhead. About eight miles in, I was experiencing an intense muscle strain that made walking painful. We were forced to camp, and I was absolutely heartbroken at the prospect of turning the trip around, unable to continue. The next morning I wanted to keep hiking, even if only to make it to Red Castle and spend one more night in the High Uintas, which had come to fascinate and enthrall me. My pain had subsided to a manageable level, and after a couple of miles we had reached the junction: turn right for Red Castle or turn left to continue with the original and significantly longer loop. Unable to resist, I elected to turn left. As long as we walked slowly and steadily, I could manage it. The day took us through two basins and over two mountain passes, Smith's Fork and Anderson's. Anderson's Pass comes over the saddle directly next to King's Peak. As we approached the pass, I saw an entirely different side of King's, a combination of dramatic cliffs, caves, and rockslides. I appreciated its grandeur from a totally new angle. My association with the peak changed. I thought of it before as the venue of a funny story where we got off route and climbed 1500 extra vert before getting to the summit. It was a big pile of rocks with an epic view at the top. My second visit, however, earned me a new perspective. I was able to see that this mountain was royally spectacular in itself.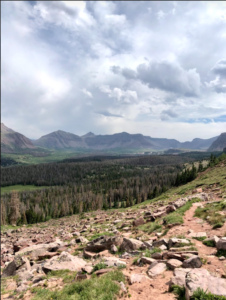 These two trips are each a story of mishap and recovery. Each had its moment of slight panic as unplanned events suddenly threw my objective into uncertainty. In spite of each surprise, both resolved into memorable experiences that will stay with me for a long time. All the beauty of the experience goes hand in hand with the struggle. Rainstorms, fatigue, strain, and navigational failings, all of this is as integral to a journey as the awe-inspiring views, untouched wilderness, and purity of experience. From every struggle, be it in the mountains, desert, or day to day, we come away with more strength and beauty gained.
Leave a Comment
About the Contributor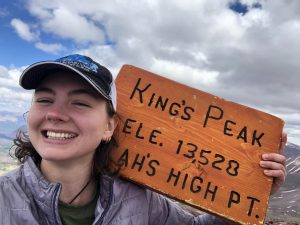 Katie Riley, Assistant Editor
Katie is in her third and final year at the U studying a Bachelor of Arts in English along with her yoga teacher certification. Previously a staff writer, she is now the Assistant Editor for Wasatch Mag. She is a Salt Lake Valley local and passionate about skiing in and out of bounds, as well as a frequent hiker and climber. Katie loves language and especially poetry. Once she completes her degree, she hopes to complete the thru-hiking triple crown in the years to come.