Proposed LCC Transportation Solutions and Their Effect on Climbing
UDOT's plans for transit in Little Cottonwood Canyon will affect climbing along with traffic.
If you've driven in Little Cottonwood Canyon in the past few years, the problems it faces are hard to miss. The narrow road creates traffic backups that can stretch far out of the mouth of the canyon, especially in winter months when snowy conditions compound its problems. Add to this the hundreds of thousands of annual visitors, and it's clear to see why people are calling for an update to transportation up and down Little Cottonwood.
The Utah Department of Transportation has two updates in mind. One is an added shoulder for buses to travel on. The other is a gondola stretching from the mouth of the canyon to the Alta and Snowbird ski resorts. Both proposed solutions aim to improve traffic flow in Little Cottonwood, which is situated near Salt Lake City. But both of UDOT's proposals will also have an irreversible impact on rock climbing in the canyon, and that has activists and community members worried.
"That is potentially the biggest threat to loss of climbing resources and climbing access that we've seen on the Wasatch Front in a couple decades," David Carter said in an interview over Zoom. Carter works on the board of directors for the Salt Lake Climbers Alliance, an advocacy group that aims to protect access to rock climbing in the Wasatch mountain range. He also serves as the chair of the SLCA's policy and conservation committee.
Carter believes the potential road widening and gondola construction come with their own unique impacts on climbing in the canyon. "Widening of the road is certainly the greatest of potential impact," Carter said. "There we're looking at dozens of boulders that could potentially be destroyed, and hundreds of bouldering problems."
Destruction of boulders isn't the only impact that the SLCA is worried about. According to Carter, changes to the overall climbing experience will inevitably be a pitfall of the proposals. "It basically impacts any climbing that happens in that main canyon corridor, because if you're climbing at the Gate Buttress you're going to look over and be level with gondolas running by." Gate Buttress is one of the most popular rock climbing walls in Little Cottonwood.
However, the destruction of climbing resources remains Carter's main concern. "The roadway widening … it's hard to see how that would not result in permanent loss of iconic, world-class bouldering."
These are concerns that UDOT has heard from the SLCA on numerous occasions, as Josh Van Jura, project manager at UDOT, said. "They're obviously very concerned with boulders being removed, as well as the viewshed," Van Jura said in a phone interview. Viewshed refers to an impact on scenery by structures or pollution.
Van Jura explained that UDOT plans to eliminate roadside parking in Little Cottonwood, a move that aims to address safety concerns created by people walking up and down the busy, narrow road. Van Jura said this would also help to prevent road erosion and environmental strain caused by "spider trails," paths created by many people walking to a similar destination from different starting points. To make up for lost parking, UDOT plans to build four new parking areas, which he said would keep the total number of parking spots about the same.
Carter disagrees that the number of spaces is all that matters. He said the SLCA understands the safety concerns created by roadside parking in the canyon, but these changes to parking will inevitably lead to a loss of access to climbing resources. "We've been working in good faith to help improve the safety of the situation and we feel like the needs of climbers and other dispersed recreators haven't been taken into account."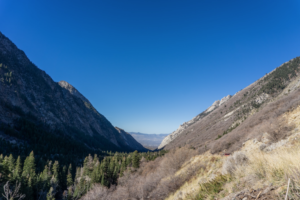 UDOT created an environmental impact statement, or EIS, to analyze the potential effects of the proposed projects. " However, "a no-action alternative is always considered as an alternative," Van Jura said. UDOT also collected public comments about the impact statement in order to make sure their analysis was complete.
"One of the preferred alternatives comes from the last comment summary," John Gleason said in a phone interview. Gleason is the public information officer at UDOT. "We have received over 13,000 comments on the EIS. We will undoubtedly have a better EIS because of it."
The goal of obtaining these comments was to make sure they had conducted a complete analysis. "The goal is not a vote," Van Jura said about the public comment period.
The SLCA has submitted their own public comments to UDOT, in conjunction with their meetings with UDOT officials. While the SLCA agrees that something has to be done to mitigate traffic in Little Cottonwood, Carter said UDOT's two preferred alternatives are going too far, when cheaper and less impactful alternatives have yet to be explored. "Our number one message is, let's not start with very costly, very impactful, permanent infrastructure changes. It's irreversible, it's irresponsible from a policy perspective," Carter said.
Carter said that the SLCA is in favor of more flexible, less impactful traffic mitigation solutions, such as increased busses and tolling. "Why not try those measures to see if you can get that many folks off the road before we go build a gondola or widen the road," Carter said.
Leave a Comment