Contributor story from Vien Voraotsady. Photo credit to Vien Voraotsady. 
We originally planned on doing a photography tour in one of the Antelope Canyon slots, but when everything ended up being sold out, we winged it.
On the way through Kanab, Utah, we found the best coffee shop: Willow Canyon Outdoor. This shop not only fulfilled our coffee craving, but we were able to peruse books, outdoor gear and clothing. It was the perfect opportunity for my wife, Ange, to find a hat that was all her own (one that wasn't mine).
After our stop in Kanab, we made it to our hotel in Page, Arizona, on Friday after driving six hours. Page is a great area to visit with plenty of places to eat. There was also the added bonus of the Horseshoe Bend trailhead being five minutes from our hotel. We enjoyed the rest of our day there, and we watched the sunset from the bend's top.
The next morning, we drove one hour back to Kanab to put our names in The Wave lottery at the Grand Staircase Escalante National Monument Visitor Center. There are two ways to get into the competitive lottery — online or in person. We were taking the latter option, and as we strolled in at 8:30 a.m. to put our names in we were excited, because the parking lot was empty. "We might have a shot!" Then the park ranger reminded us Arizona and Utah are in different time zones in the summer. We missed the drawing by 30 minutes.
The Wave permit lottery happens every morning at 9 a.m. The park rangers start taking names at 8:30. If you're lucky enough to be one of the 10 to have your name drawn — there are upwards of 50-90 people each day depending on the season — you receive your permit for the following day (i.e., Saturday's drawing is for Sunday's permits). Lesson learned: be aware of time changes.
Kicking ourselves for this, we headed back to Arizona for our tour of the Lower Antelope Canyon at noon. This tour cost us $25 per person, and we booked it online the day before. By the time we got to the parking lot, it was windy, and in this sandy area we were quickly covered in grit. I recommend bringing hats, bandanas, desert scarves, and sunglasses to keep sand out of your eyes. You will get sand all over your camera equipment, so make sure you have a filter for your lenses.
There were about 15 people in our group. Our guide, Darren, was knowledgeable, talkative, and funny. We learned a lot about the Navajo Nation's history as we waited our turn to descend the ladders into the slots. The beginning of the tour started with a descent on a steep, steel ladder to get to the slot. As we walked, we gradually climbed ladders up, and we eventually came out of the slot to the topside. It was about a 1 mile hike that took an hour and a half. It was breathtaking. We had plenty of sunlight, and a great tour guide. Along with entertaining and informing us along the way, Darren would help people in our group find the best settings on their camera phones for the best pictures, and he gladly took any photos you wanted. Using my Nikon D750, 90 percent of my pictures turned out great.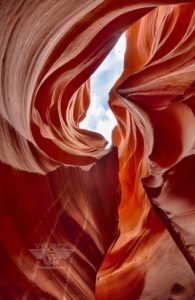 After we went back to our room, we were off to our 5 p.m. Upper Antelope Canyon tour we also reserved online. We met at a parking lot/gift shop in Page where we were shuttled to the site. This tour cost us $52 a person, and there were about 20 people in our tour group. Our guide wasn't as talkative as Darren, but he did point out all the great photo places with a laser pointer. This tour was shorter, and it was an out and back whereas the lower canyon was a full loop. The lighting during this tour wasn't favorable, but that could have been because the sun wasn't over the slots. Using my backup camera, the Nikon D7000, only 10 percent of my pictures were keepers. This tour didn't allow flash or the use of a tripod which was too bad — it had an awesome sand fall in the middle.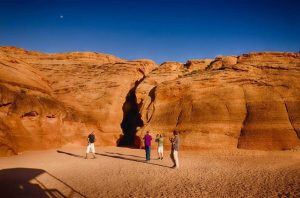 My favorite was the Lower Antelope Canyon tour. I'd like to go back and do the photographer tour in the future.
After that, we went back to Horseshoe Bend to stargaze. Even with our headlamps, we were a little leery of the ledges, but we had fun.
When Sunday came, we were ready for a detox, so we went to the Buckskin Gulch trail. Supposedly, there is a beautiful slot canyon with some water, but we didn't make it since we only had two hours. We parked at the Buckskin Gulch trailhead, hiked for an hour and never found the slot entrance. We later found out it is a 4.4 mile hike to get to the slot canyon. If you want to see it, start at the Wire Pass parking lot. Make sure to bring cash or checkbook to pay the $6 per person permit fee.
Want to see your work here? Send story and photo pitches to [email protected].
SaveSave