Maintaining a bike is similar to the practice of warming your body up for a big race with a proper cool down afterwards, or preparing for an important exam by regularly studying; and it all comes down to proper, regular inspection.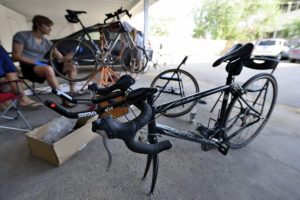 There are four things to check before every ride you make, regardless of if you are a frequent visitor to your bike seat or someone who just decided to brush off the cobwebs of your grandparent's Schwinn.
First: Check the air in your tires. Make sure the tire pressure is optimal as suggested by the manufacturer, and be sure to check that all release levers, tire caps, or thru axles are properly tightened. Be sure nothing is loose before you start to ride.
Second: Inspect your brakes. Squeeze both the front and rear brakes to ensure the pads engage your rims properly and evenly. Good breaks are essential, they can make the difference between having the ride of your life — and the last ride of your life.
Third: Clean your drivetrain. This is essentially the transmission of your bike, so a clean and well lubricated drivetrain will make your ride easier and extend the life of your bike. Take a dry, or damp, rag and run along the chain to clean up any dirt accumulated between the linkages. For very dirty chains, I highly recommend using a chain cleaner that allows for a deep clean between the linkages. These are very easy to use devices that latch onto the chain and are simple enough to use by holding the device in place while you peddle.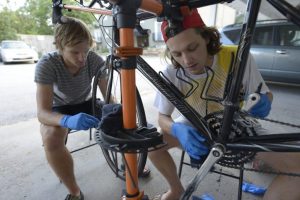 Fourth: Keep all of the parts well lubricated. A well lubricated bike is the equivalent to doing a warm-up lap around the track and stretching before you run the 100 meter dash. Running cold turkey is asking for something to be torn, and the same thing goes for any bicycle! But remember, too much lubrication can lead to a decrease in bike performance, and even damages. This is because lubrication can attract abrasive material that can get in-between parts and decrease their integrity. Give lubrication ample time to soak in, and simply wipe away any excess, before going on that bike ride. Key areas to focus on for lubrication include: breaks, derailleurs, cassettes, chain rings and, of course, the chain. For the breaks and derailleurs, this includes any levers, cables, and their entire assembly.
These are only the basics towards bike maintenance. Supplies you will need include: clean rags, brushes, soap, water, lubricant, degreaser, and a bike stand.
The most important element is to take your time; don't rush your way through this process. Take care of your bike and it will take care of you. Also, don't underestimate the advantage of taking your bike into the shop. These tips will help you keep your bike on the road or on the trail more often, but it's important to get your bike a full checkup every once in a while in addition to these regular efforts.
SaveSave