Hailing from Corner Canyon High School in Draper, UT, the Chargers constitute the largest high school mountain biking team in the country. With 138 active riders in 2016 alone, this fine-tuned trail-carving machine is continually on the rise. Through unassailable devotion and vigor on the behalf of its members and supporting staff—all of which are volunteers, including head coach Whitney Pogue and the nearly 30 adults that facilitate each practice—the Chargers and other teams like it are dissolving boundaries and raising high school sports to dimensions previously inconceivable, off the field and into the outdoors.
More unbelievable still, the Corner Canyon HS Chargers are merely a constituent vessel of an extensive network supporting over 80 racing teams in Utah alone. The Utah High School Cycling League is the fastest growing program in the National Interscholastic Cycling Association (NICA), with 2,400 participating athletes and 856 coaches just last year. To compensate for this colossal turn-out, teams are divided between size-determined Division 1 and Division 2 in tournaments.
Since the Chargers' inception in 2013 (only a single year following NICA's arrival in Utah), it has been among the most contentious teams in the league. Through fervent practice and cooperation, the Chargers reigned victorious at the 2016 State Championship in St. George, where they placed first in Division 1 against fifteen other teams and was later featured in an ad campaign for Trek Bicycle. This achievement is undoubtedly influenced by the momentum accumulated and upheld by their first-place victory in 2015 and second-place victories the preceding two years.
The Chargers train primarily along the extensive trails of local Corner Canyon Regional Park three times a week. "With a group as large as ours, we aren't able to train elsewhere without a major circus to get everyone there," Pogue recounts, "we do pull off the circus weekly during the season when we go to pre-ride race courses, and then bring our army to race venues every other week in the Fall." Despite the team's colossal size, members still manage to grow close through routine informal meetings and team-building exercises. "Our team culture is like one family," Pogue says, "these kids are family."
The Chargers' close-knit family dynamic is tangible and authentic, to say the least. The team sticks out boldly in the school as if a separate tribe, often adorned in their tee-shirts and gear. "Being a part of the MTB team has defined the high school experience for so many of these kids," Pogue says.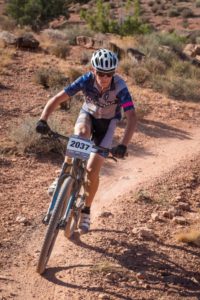 Senior and longtime rider for the CCHS team, Tyler Doman, endearingly reflects, "I don't even know how to describe my love for the mountain bike team.  It has been everything to me in my high school career and it's been really sad to watch it slip away as I completed my last race, and graduation creeps closer." A beginner to the sport when he started at the school, Doman came to embrace mountain biking and the Charger team fully, continually ascending in skill and rank while developing invaluable friendships along the way. "The sport of mountain biking and being on the team has changed my life.  There's nothing that I've been more proud of than being a part of it— I will definitely be biking for the rest of my life, and will remain close to my group of friends that I've made for forever."
Like any family, the CCHS Mountain Bike Team has faced profound challenges along the way, particularly last year when one team member and a classmate tragically died in a roll-over car accident, in the presence of several other team riders in the car. It had a profound effect on the team, but further united them to help one another through the grieving process.
"The kids worked really hard to make some good come from this," Pogue reflects. "They worked hard to put together a service project in December to support local ER's, as many of us spent that night in the ER."
This family is inclusive as well, meaning although there are hefty fees associated with joining, scholarships are available and students can check out "loaner" bikes if they don't have their own equipment. Plus, there are no try-outs and no real parameters aside from the desire and physical ability to participate.
"Our league is founded on five core principles that guide everything we do, every decision we make: Equality, Inclusivity, Strong Mind, Strong Body, and Strong Character," Pogue says. "We are not only trying to make these kids bikers but more importantly, we are striving to help shape them into good people." This outlook of positivity and inclusivity is exemplified by all involved. "The best thing about the team is the people," Doman says. "I've gotten to know some of the most amazing people I've ever met in my life."
Photo courtesy of Whitney Pogue