My high school science teacher had a saying: some things go together like beans and cornbread. As a native son of the California coast, I cannot say that I make such a match with Utah winters. Even after four years of residency in the Beehive State, the weeks between the searing summer heat and cold depths of January pass far too quickly. Having harvested the fruit of a summer full of training, culminating in the survival of my first marathon, I still had some motivation left. Then the cold arrived. Pre-dawn runs now mean contending with icy pavement, frozen skin, and the delicate balance of layering clothes– all without the payoff of a warm sunrise. More often than not, the warm clutches of bed prevailed over my delusions of grandeur. Luckily, a new addition to the household disrupted the onset of my winter hibernation.
On Halloween of 2018, my partner Liz and I adopted our bundle of joy, a one-year-old Australian cattle dog German shorthaired pointer mix who we named Miles. According to the shelter, Miles hails from a reservation in New Mexico. In addition to couch cuddles and an endless supply of funny mannerisms, Miles also brought new responsibility to our lives. My morning exposure to the elements could no longer be limited to the quick dash to the bus stop, timed precisely to the second with the aid of GPS. No amount of good intentions could satisfy Miles' genetic predisposition to run and play for hours on end when the temperatures drop, and the snow falls. It was time for me to get off my butt, cover myself with 600-fill of feathery goodness, and get outside again.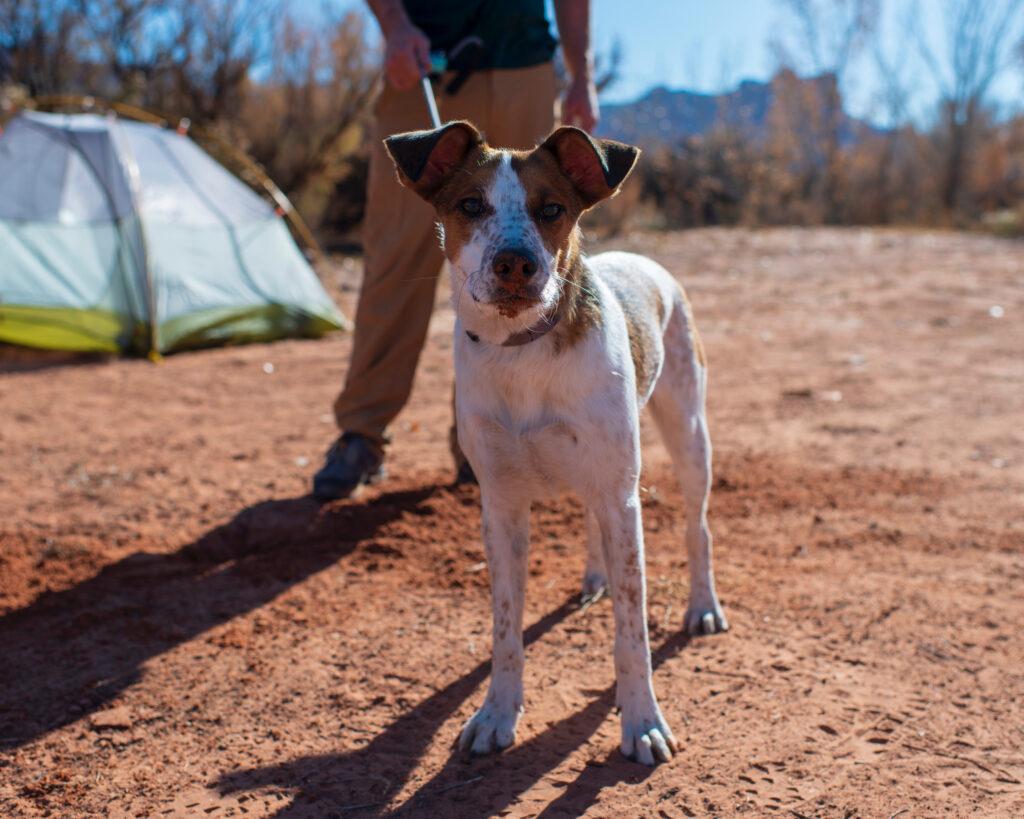 In addition to colder temperatures, living in Salt Lake City presents another challenge to outdoor winter activities for both human and dog: air pollution. While Miles has yet to say no to the snow, the stench of red air, which serves as my after-work excuse to stay indoors, is not to be ignored. Dogs, as it turns out, are just as susceptible to airborne toxins as their two-legged counterparts, and the same air advisories that humans follow should be applied to them as well. For Miles and me, that means no extended cardio on orange days or worse. So, to get Miles the exercise he needs during the smoggy months, we've have settled on three primary strategies: get up, get high, and get out.  
Air pollution levels naturally fluctuate throughout the day. During the winter months, levels typically hit their peak in the afternoon between 3 pm and 5 pm. Air quality slowly improves throughout the night, with the highest quality air lasting into the mid-morning. By getting up early for a morning walk or run with Miles we can stay in the green. Storms also present an excellent opportunity to get out in cleaner air. Although it is often not the best walking weather, Miles really appreciates it when we throw on a ski jacket and get out in the fresh dog-park pow. He has a hilarious habit of diving his head into the snow, using his nose as a plow, and throwing snow into the air as he returns to the surface, a process we have dubbed "snorkeling".
If mornings aren't your thing, another way to avoid the valley haze is to climb high above it. Dog-friendly areas like the Bonneville Shoreline trail and Millcreek Canyon are perfect places to gain some elevation and get above the densest and dirtiest air. Trailheads like the one at the top of Terrace Hill Drive in the Avenues are easy to drive to for a quick after-work jaunt. Miles is especially fond of the softer snow that can be found a few feet off the beaten path.
Finally, as a last resort, you can get out of town. The months between November and March conveniently offer plenty of holiday weekends that are the perfect excuse to head for greener pastures. Utah's national parks and monuments, located in the southern half of the state, often boast warmer temperatures in addition to cleaner air and decreased crowds. This past November, Miles and I made a climbing trip to Indian Creek where I was able to climb some rocks while Miles explored and found the perfect napping spots while blending in with his native habitat.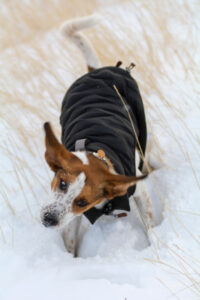 Winter living in the mountain states and the changing of the seasons add a whole new facet to life that often goes unappreciated in warmer climates. The dynamic change in weather requires a few adjustments and considerations, but in the end, result in a richer experience of the passage of time. While we both patiently wait for the beginning of mountain bike season, Miles is busy showing me a new way to enjoy the snow.