Low Pay, Hard Work, and the Time of Your Life
"It's 6am and your alarm wakes you from dreams of hot showers and a real bed. You get yourself ready, eat oatmeal for the umpteenth day in a row and hop in the rig or start hiking to your work site. After an 8-10 hour day of sawing or shoveling or constructing bridges or trails or any other task your project partner assigns to you, you make your way back to camp to cook dinner and climb back into your tent by 8pm. Then ya do it again the next day!" This is the average day in the life of a crew member of a conservation corps. While it may not be glamorous, this summer, after what feels like months of staring at a computer screen, it might be worth considering for those looking to get outside.
Conservation Corps are organizations that employ young people (ages 16-25) in service projects related to conservation and natural or recreational resource management. Members are usually employed for a term ranging anywhere from 3 months (perfect for a summer job!) to a year. As Americorps members, participants receive stipends and education awards that they can apply to tuition or even student loans. Program models vary by organization, but all aim to help participants reap the benefits of hard work outside. Every program offers different types of crews, ranging from fire to saw to trail crews, and individual project assignments can hit everything in between.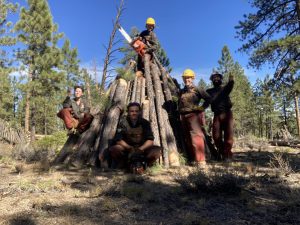 Modern day conservation corps programs are the remnants of the Civilian Conservation Corps (CCC). The CCC was developed in the 1930s by President Franklin D Roosevelt as a part of his New Deal legislation. It was designed as a remedy for unemployment, aimed especially at young men still struggling from the impacts of the Great Depression. Sometimes referred to as "Roosevelt's Tree Army", the CCC employed hundreds of thousands in conservation related projects and is considered one of the largest peacetime mobilizations in US history.
Fast-forward almost a century and the young people of America are continuing to help maintain public lands and outdoor resources with corps programs. The CCC was dissolved as a federal program at the start of World War II, but corps programs with similar formats were adopted at regional, state, and even local levels. Most are non-profits. Particularly in the West, many states have at least one organization that employs young adults in conservation work through Ameri-corps and private-public partnerships.
Last summer I worked for the Idaho Conservation Corps on a forestry focused crew in the Payette National Forest. I spent the summer working alongside Kinsey Warnock, who went on to spend her fall season working for Utah Conservation Corps as well. As somebody with a season more under their belt, I reached out to Kinsey to learn more about her experiences working on a saw crew in Southwestern Utah. 
One of Kinsey's favorite parts of the corps was "The people, as cliche as it is. Getting to that point in the season where you fall into a rhythm and everyone is comfortable with each other and things kind of start getting weird because you spend 8 days in the middle of nowhere with the same 5 people hitch after hitch…. you all start to go a little crazy. But those are some of the most memorable times– moments when everyone is completely themselves". Her other favorite aspect relates to the self growth that many members find while serving: "When you become comfortable and confident in a new skill that you are introduced to, it feels amazing. For me this was running a chainsaw. About 2 weeks into the season, I was finally comfortable (or as comfortable as you can be) running a chainsaw and our crew leads and field bosses were confident in our crews' abilities to do it without having to stare over our shoulders. At that point they let us go, and it was empowering to have someone put that kind of trust in you. It also felt super badass to be able to cut down a 10inch DBH tree, mostly on your own."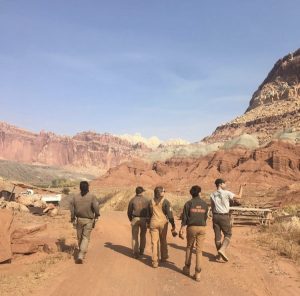 Conservation Corps programs are truly for anybody who is excited about the opportunity to get their hands dirty. They can be especially useful resume-boosters for those interested in environmental science or natural resource management careers. Kinsey felt that " All of the skills you end up using, you learn on the job which makes it a perfect entry into conservation work. You also get to make connections with people in government positions, National Park Service, BLM, Forest Service, and learn about what their jobs are like and the positions that you could hold in the outdoor industry/conservation world."
I tried to pry the worst things about her experience out of Kinsey, to which she responded  that "Sometimes there are just days where you didn't sleep well or you don't feel good or the work is kind of boring and the day just drags on. Moods also tend to be highly contagious on such a small crew. One person's mood can impact everyone on the crew, which makes it even harder to get out of the funk. But these are ultimately the things that I remember the least". The truth at the end of that reply can't be overstated. In reflecting on my own experiences in Idaho, I marvel at how the magnitude of things changes when you're living in the woods, and how distant any problem outside of crew life felt. I long for the days where my biggest problem was wet boots and an angsty coworker. I would encourage–quite literally– anybody to find that feeling for themselves through the conservation corps.
Source:
https://www.history.com/topics/great-depression/civilian-conservation-corps
Leave a Comment
About the Contributor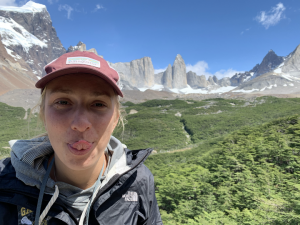 Melissa Paulsen, Writer
Melissa Paulsen, a Reno, NV native, is a senior double-majoring in Environmental Sustainability Studies and Geography. This is her second semester writing for Wasatch and she is stoked to be able to squeeze it into her college experience. The outdoors have provided Melissa with endless space for growth in her life, and she loves to share these experiences with others. Melissa believes that embracing how others find joy in nature is a crucial step in fostering more inclusive outdoor spaces. She is happy doing almost anything when the sun is out, but some of her favorite ways to spend time outside include backpacking, exploring red rock wilderness, skiing, slacklining at the park and gardening.