Make Your Way to Millcreek for Three Great Hikes
Millcreek Canyon is a great place with a number of fun hikes. There are trails for every skill set, from the first-time hiker to the more advanced. And the canyon is open year-round, offering hikes for all seasons close to Salt Lake City.
To get to the canyon, take Interstate-215 to exit 4 on 3900 South. From there, head north on Wasatch Boulevard and turn east on 3800 South towards the bottom of the canyon. There is a $3 fee per vehicle as you leave, but the experience is well worth your money. Depending on the day, the canyon is also dog-friendly and open to mountain bikers.
Desolation Trail
One of my favorite Millcreek Canyon hikes is Desolation Trail. It is the longest trail in the canyon, going up to 14 miles one-way with more than 3,570 ft. of elevation gain. If you are looking for a longer hike, this is definitely worthwhile. It is one of the more difficult hikes with a lot of switchbacks in the beginning, but the views over the Salt Lake Valley are extraordinary. Since camping is allowed within the canyon, I recommend planning this hike as an overnight trip. It is close to home, but you can still get the whole backpacking experience.
Grandeur Peak
A short trail with a fantastic ending is Grandeur Peak. From the Church Fork trailhead within the canyon, the hike is only 5.5 miles with an elevation gain of about 2,400 ft. This is more of a moderate difficulty hike that takes about three to six hours to complete round-trip depending on your experience level. The best part about the trail is the view from the top of the peak. You can see the entire Salt Lake Valley, as well as a great view of Millcreek Canyon. Another nice characteristic of this peak is that it is low enough in elevation that you can reach the top at any time of year; it's not too technical, so it can be accomplished in the winter months, as well.
Pipeline Trail
You can do just sections of the Pipeline Trail depending on how long you want to hike or you can complete the entire trail from the Mount Aire trailhead all the way to Rattlesnake Gulch. The entire length is about 14 miles roundtrip. This is a good place for trail running or mountain biking.
Leave a Comment
About the Contributor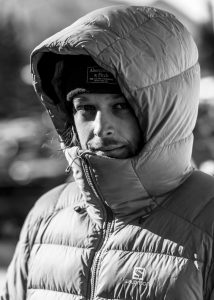 Peter Creveling, Photographer
Peter Creveling is currently a Ph.D. student at the U studying mechanical engineering and has been on the Wasatch team since 2015. His favorite outdoor activities include skiing and rock climbing, and he can be commonly spotted on the slopes of Big and Little Cottonwood Canyon year round