Microadventures and the Catharsis of Camping 
The concept of "microadventures" was popularized by the adventurer Alastair Humphreys to encourage the notion that adventure is possible for everyone, regardless of time, money, age or location. Microadventures are designed to fit into your everyday life, so you don't need to take weeks off work or school in pursuit of a grand expedition. Instead, you can incorporate regular adventures into your regular life so as to maximize both your productivity and your outdoor time. The bottom line: adventure is accessible to all.
During a summer in which outdoor recreation as we know it is not possible, the concept of microadventures is more relevant than ever before. This pandemic has made it unethical to travel down to southern Utah — let alone to other states or countries — for big objectives or long expeditions.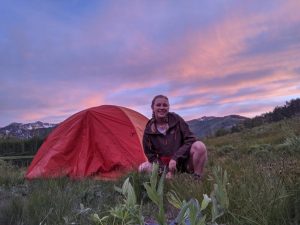 Exploring close to home, however, is still possible. These kinds of smaller adventures force us to think creatively about when and where we can go, which makes them all the more fun. Exploring the areas where we live and seeing them in a new light can be extremely rewarding.
In the spirit of microadventures, I set myself a goal of sleeping outside once a week this summer. Every weekend, I find somewhere near my apartment to camp and dedicate at least one night to just being outside. Scheduling these weekly excursions ensures that time in nature remains a priority, no matter how busy I get with work or school. Whatever stressors I deal with in my daily life, I can depend on spending at least one night a week doing something that makes me happy. In many ways, incorporating small adventures into my weekly life is more rewarding than taking less frequent, longer trips. It feels like a bigger part of my life when I get to experience it more often and in smaller doses, and the regularity of it gives me the joy of knowing that, ironically, adventures can be routine.

Weekly camping trips are a great way to incorporate adventure into your life without dominating your schedule. Quick, one-night excursions don't require much packing or preparation, and because microadventures are designed to fit into your "normal" life while still providing you with your adventure fix, they don't need to take up an exorbitant amount of time. I've been able to camp and make it home before 10 am for Monday morning meetings. All my camping spots have been within a 1.5-hour radius from Salt Lake City, with many much closer. To further reduce cost and increase adventure, I have exclusively been dispersed camping or backpacking. In my closest-to-home adventure, I threw on my pack and marched right out my front door, up through the Avenues and into the foothills to camp for the night. The looks I got from passing cars were worth it.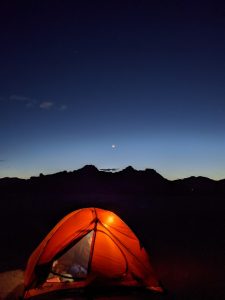 My weekly camping microadventures are consistently the best part of my week. They're rejuvenating — a breath of fresh air amidst a busy schedule. They've forced me to find new places to explore close to home, and they've reaffirmed my love and appreciation for where I live. The unparalleled accessibility of nature along the Wasatch Range makes it one of the best places for embracing the microadventure mindset. In a time when travel risks are high, staying home in Utah feels less like a punishment and more like an opportunity. Camping is one of the most versatile outdoor activities because you can do it any way you want— it can be a solo soul-searching experience or a way to share the stoke with friends; a laid-back evening, or a grind into the depths of the backcountry. Regardless, it almost always delivers a much-needed break from life's stressors, whether you knew you needed it or not. For me, it's provided regular opportunities for adventure, joy and catharsis during an unprecedented and tumultuous time. 
For those eager to embrace the microadventure mindset, free or cheap camping spots are plentiful in and around the Wasatch. In the Cottonwoods, backpacking options of varying ease and length are available, ranging from Willow Lake in Big Cottonwood Canyon to White Pine Lake in Little Cottonwood Canyon. You can also camp in Millcreek Canyon, if you can find a flat spot. For dispersed car camping, head west to the Stansbury mountain range or visit the iconic Bonneville Salt Flats — while camping on the salt flats is prohibited, there is BLM land directly adjacent. For a change of scenery, head east to the Uinta Mountain Range and National Forest. The $6 entry fee is well worth the huge selection of backpacking and car camping spots. If you're tight on time or low on gear, give your backyard a try. Wherever you go, bring your stoke and make it an adventure. Microadventures are all about thinking big in a small amount of time.