Mid-Week MTB Mini Enduro Series at Snowbird: Post Race Photo Epic and Interviews
What is there to do at Snowbird besides Oktoberfest around this time of year? Well, if lederhosen and a few pints don't sound right for you, then maybe the Mid-week enduro series mountain bike race at Snowbird does.
Mid-week MTB is a three-stop tour of 'mini enduro races', sponsored by Bike Utah and Go Ride shops. If you're not familiar with the enduro race format, the races typically contain multiple timed downhill stages, and riders bike themselves up to the top of the stages by their allotted start times. The uphills are not timed, but riders must maintain a decent pace between stages to make it to their next start time. Most enduro races contain three or four stages per day and run on consecutive days, but the mini enduro series by Mid-week MTB contains two stages on one day during the work week.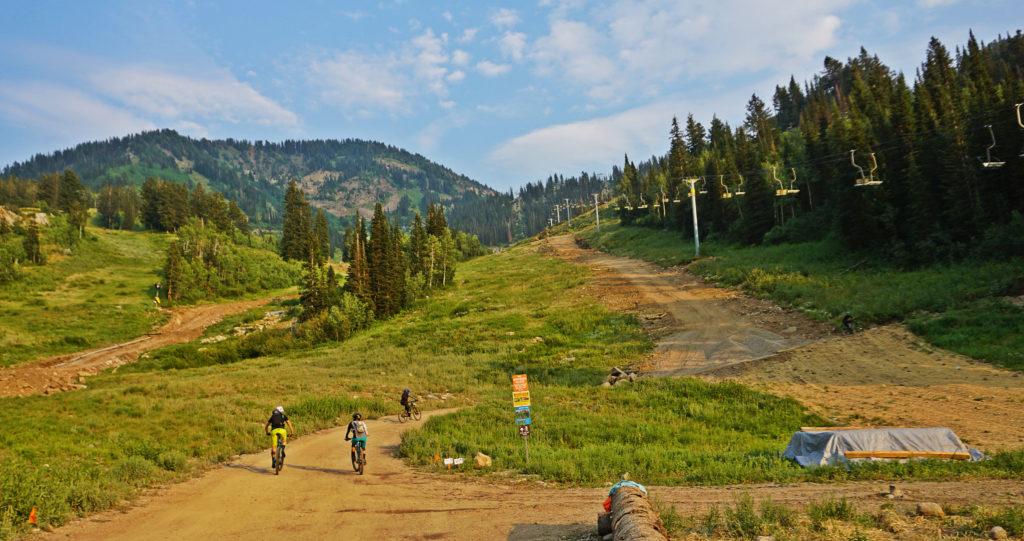 This past season, the Mid-week MTB series consisted of three stops, starting with the well-known Corner Canyon trails in Draper downhill (Maple Hollow and Rattler trails served as the downhill stages). For the second race, bikers of all ages and abilities made their way to Solitude Mountain Resort in late June in order to beat the heat. The final stop of the tour brought riders from all corners of the Wasatch to the base of Snowbird ski resort, where I made my way to the start gates with a camera and my trusty bike, in hopes to check out the action and better understand the race.
The first thing I noticed when arriving at the race was that this event is truly for everyone. Fathers were racing with their sons in the same beginner skill categories, and sounds from kids hooting and hollering together in the thirteen and under category filled the base area. All the while, serious racers were riding the same stages in the men's sport and pro categories, pushing their physical limits in order to attain the best race times just for the fun of the sport.
Before the registration check-in tent was swarmed with riders, I snuck in for a quick interview with Phil Sarnoff from Bike Utah. Phil explained to me that in combination with youth programs and trail building efforts, Bike Utah utilizes events like these races to help thousands of people to get on their bikes every year, and effectively make Utah a better place for cycling. Phil explained to me that the Mid-week MTB races are more approachable than other enduro races because it's only a one-day time commitment. Less experienced riders are more likely to sign up, and it's also easier for more competitive riders to commit to a one day race if they are juggling other races or events.
After chatting with Phil I decided to bike up to the top of the stages and ride stage one to get a feel for the event. After a fairly mild climb up a dirt service road, I made it to the top where I met a participant in the men's sports class, twenty-six-year old Bryce from Ogden who was happy to help me out with an interview.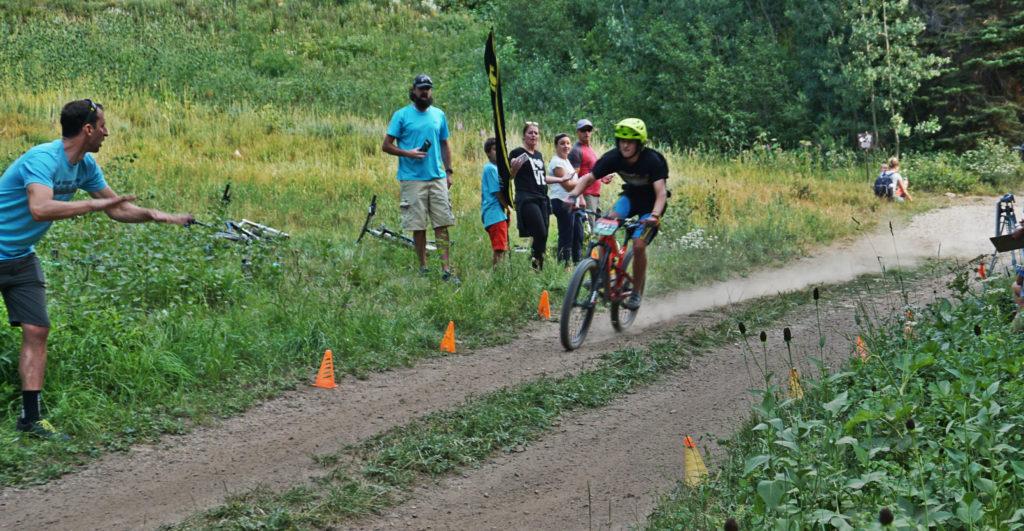 Me: Which race has been the most exciting to ride this season?
Bryce: I'd have to say the race in Corner Canyon, the first of the series. After riding the whole series the year before, I felt well prepared for the first stop this year mostly from the experience I had the year before.
Me: How do you think the big mountain trail will compare to the other tracks from the series?
Bryce: The track here at Snowbird seems steeper on the uphill and the downhill. It also seems pretty dusty, which will affect the riders riding later in the day, like me. (The beginner classes for men and women go first.)
Me: What's the key to success at an Enduro race like this one?
Bryce: Well just being a badass! The physical and mental strength it takes to climb yourself up and then ride down on a timed run is the most important part. Cornering well is also important.
Me: Did you do anything to prepare for this race specifically?
Bryce: No.. kind of the opposite actually. I just came back from a four-day backpacking trip in Zion last night!
Me: Do you wish they scheduled the race at a time when Oktoberfest was going on?
Bryce: I don't actually drink, but I love German festivities so I think it would be pretty fun to have Oktoberfest going on for race day. We'd also have cooler weather if they waited another month or so, which would be nice.
Bryce went on to finish 21st in his class, congrats Bryce!
After the interview, I rode the track, which was quite dusty and rocky but I was feeling comfortable after a few corners and rode my way to the bottom where I got some pictures.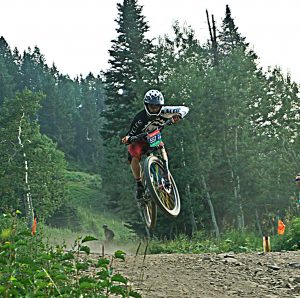 Information for Mid-week MTB can be found here and Bike Utah here!
Registration for next year's races begins in the spring and a package of all three races will be available. Check it out- it could be right for you!
Kendall Zylstra ([email protected])
View Comments (3)