Modern Day Expeditions
Today it's near impossible to step foot where no human has before. It seems that the golden age of exploration has been trickling out since the last fur trappers and government surveyors found desk jobs. While expeditions on the scale of Lewis and Clark are few and far between, that does not mean there aren't still people out there exploring wild places. Here are three modern day expeditions that you can follow from your computer screen this year.

Everest No Filter
Adrian Ballinger and Cory Richards are no strangers to Everest or mountaineering. Two years ago they launched #EverestNoFilter to document their first attempt to reach the top of the world with no supplemental oxygen. Cory succeeded while hypothermia forced Adrian to turn around. A year later, however, Adrian shattered the record for the fastest ascent of an 8,000 m. peak. It took him exactly two weeks from the time he stepped foot out of his home in Tahoe to the time he stepped back in. This year, he switched his training and diet and is ready to reach the top without supplemental oxygen.
Both Cory and Adrian will be posting snaps to the main @EverestNoFilter account. With constant posts thanks to satellite technology, you'll get a near live view of what it's like to live in base camp, climb the mountain, and (hopefully) reach the summit.

Pole2Pole
Mike Horn is one of the rare modern day explorers. He sets out on his expeditions with the goal of completing something nobody else has done. He's racked up a list of the most ridiculously impressive feats, like swimming the entire Amazon River, following the Arctic Circle across the Earth during winter, and circumnavigating the world using only human power. Now, he intends to once again circumnavigate the globe solo, this time vertically. He will cross both the north and south pole on his expedition, using a combination of off-roading, sailing, and skiing to reach his destinations. He set off about 150 days ago, and has already crossed the south pole, but is headed through New Zealand on his way up north.
Instagram is the best traditional social media to follow Horn on. He posts daily when possible. His website, mikehorn.com, has an interactive map that shows where Mike currently is, where his support boat is, and every location he uploaded.

Riding Wild
Aniela Gottwald grew up with a love of the wilderness. Her father routinely took her on seven hour hikes through the forests and mountains and her mother taught her everything there is to know about horses. Starting this Spring, she plans to traverse over 4,000 miles accompanied only by her two recently broken mustangs and one wolfdog. Her route follows the Pacific Crest Trail through the U.S. and continues two to three months past the trail's end to the Sacred Headwaters in Canada.
Her goal is to raise awareness for wild mustangs in the U.S., whose populations and habitats have been steadily declining since Americans first settled the West, and the Sacred Headwaters, which lack any governmental protection and are being developed for mining. Ultimately, Aniela hopes to make a documentary of her travels in order to raise the most awareness for her cause. Follow her on social media or check out her website at ridingwild.com.
Leave a Comment
About the Contributor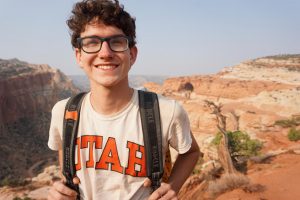 Nick Halberg, Editor
Nick is a senior studying philosophy and economics. He started with Wasatch Mag three years ago, and now is happy to be co-leading the publication as the Print Editor. He is passionate about environmental issues, especially ones regarding resource use. On weekends, he likes to explore new places in the desert.