Mother Earth's Hot Tubs: A Short Guide to Utah's Hot Springs
Hot springs are like treasures; their sources are buried deep in the Earth with steam rising from the water like mother earth's hot tub. But where the heck are these things? Utah is teeming with these natural gems, but more often than not, they're difficult to find. Not to mention that the well-known locations are overcrowded. Finding awesome spots to enjoy hot springs doesn't have to be that difficult. Hopefully, the following suggestions will aid you in your next adventure.
There are a few hot springs scattered about Utah that are privately owned and operated and require payment, but many are free of charge and open to the public. The following hot springs are free to visit and can be easily navigated to via a search engine or map app:
Ogden Hot Springs
Located one hour from Salt Lake City, Ogden Hot Springs is one of the coolest spots in the area. Embedded in the breathtaking Ogden Canyon situated alongside the Ogden River, this man-made spring has a very natural aesthetic. Although they are currently listed online as being closed, fear not! The springs are up and running.
Saratoga Hot Springs
Saratoga Hot Springs, located in Lehi, provides a beautiful escape from the bustling city. Situated among reeds and golden grass, the pools have a stunning view of the Wasatch front. It is 40 minutes from Salt Lake.
Meadow Hot Springs
A quiet and gorgeous spot, Meadow Hot Springs consists of three small pools of crystal-clear water and rock-lined rims. The naturally-occurring hot spring is a mellow walk from the parking lot located just south of Fillmore. This spring is slightly further away from Salt Lake City, with a two hour and 20 minute travel time.
Red Hill Hot Springs
Red Hill Hot Springs is nestled within vibrant red rocks with a rusted appearance due to the minerals oozing from the rocks. These pools are of differing temperatures, some more comfortable than others. The spring is located in Monroe, about 2 hours and 40 minutes away.
Baker Hot Springs
Baker Hot Springs is easily accessible — once you find them, that is. These springs are located in Delta, and are far less popular, making them a little more difficult to find. The Baker location is famous for its "miracle healing water" and a popular spot for nudist bathers, so beware!
The locations listed above are great spots to escape, but being mindful of these spaces is imperative to their preservation. What does this mean? Well, on my most recent visit to Fifth Water Hot Springs, an awesome but particularly busy spot, I noticed cans, bags, and remnants of bonfires scattered along the trail. It was seriously disappointing. When visiting these hot springs, it's always important to pick up after yourself and, if necessary, those around you.
Be sure to recreate safely and responsibly and most of all, enjoy!
Leave a Comment
About the Contributor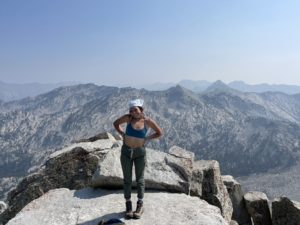 Lauren Shields, Writer
Lauren Shields is from Salt Lake City, Utah. She is a sophomore studying Environmental Science and Psychology. Lauren is an avid explorer: a lover of animals big and small, the desert, bodies of water, especially a cold mountain lake in the summer time, and her friends and family who partake in most of these adventures alongside her. Lauren spends her summers outside, and this upcoming summer, she will be working as a full time river guide in Idaho. In the winter she skis as much as possible and loves to ice skate. Lauren gains most of her peace and fulfillment from being in nature. Its way of healing the body and soul was addicting for Lauren and from a young age, she craved more of that peace that outdoors brought her. These cravings manifested themselves in a passion for climbing, skiing, trail running, yoga, backpacking and river running. Lauren joined the Wasatch to share this feeling of fulfillment and balance with other outdoor enthusiasts or perspective recreators alike.