Non-Technical Slot Canyons for the Adventurous Day Hiker
Utah is home to some of the most unique and amazing geological features in the American West. Nearly every other license plate in the state has a picture of Delicate Arch on it, and the hoodoos of Bryce Canyon and Goblin Valley are famous enough to warrant millions of Instagram posts. Perhaps most unique of all, and most seldom explored, are the thousands of slot canyons specific to Utah. While many require rappels and pothole escape techniques, there are still some that will take your breath away without requiring any technical skills. Here are a few of my favorites.
Little Wild Horse
Located six miles west of Goblin Valley State Park, this canyon separates you from the crowds of people swarming around the hoodoos next door. The hike is an 8-mile (four hour) loop. It occasionally has water running through it, but the water rarely rises above knee deep, so a good pair a wading shoes are all that is needed. Any major obstacles are avoidable and down climbs are easy. Overall, this is a sandy bottomed, mostly dry, kid-friendly slot canyon perfect for beginners or day hikers.
Beta: http://climb-utah.com/SRS/lwh.htm
Peek a Boo and Spooky
Due to their popularity, hiking these canyons feels more like an adult Disneyland than traversing around southern Utah's desert. Nevertheless, the slots are absolutely stunning and the hikes are not long. While Peek a Boo and Spooky can be done separately, the best way is to loop them. Hike up Peek a Boo and, upon exiting, follow the cairned route east to the top of Spooky. Scramble down Spooky and return to the main concourse area where both the trailheads meet. The canyons are located about 26 miles down Hole-in-the-Rock road near Escalante, UT. Take the 4WD, high clearance Dry Fork Turnoff and follow it left to Dry Fork Overlook where the trails begin.
Beta: https://utah.com/hiking/peek-a-boo-slot-canyon
Moonshine Wash
Back in the days of prohibition, this canyon was used to hide an illegal distillery, remains of which are easily located in the canyon. Thus, the name Moonshine Wash. The canyon itself is a classic, tall slot. It's located in the San Rafael Swell near Green River, so expect some solitude. At times, it requires deep wading, but all the down climbs are secure and simple. A competent hiker should have few problems completing this canyon. An old sheep bridges spans the top of one section of the canyon, making for an iconic photo op, and plenty of primitive camping is close by.
Beta: https://www.roadtripryan.com/go/t/utah/robbers-roost/moonshine
Egypt 3
This canyon pushes the "non-technical" description. It has potholes that require partner escapes, exposed down climbs, and advanced route finding. A GPS is highly recommended for this canyon. Yet, the rewards of completing Egypt 3 make it worth it. As soon as the hike begins, you are greeted by a stunning cliff drop-off of a few hundred feet. Traversing left, you see the massive Egypt Canyon begin to form. Eventually, you'll drop into it via a bonus side canyon and begin to experience huge slotted walls and long, tight squeezes. This is an extremely narrow canyon, often needing 100-150 yard squeezes with packs held in front. There is a single rappel at the very end of the canyon, but it is optional and can be avoided. Unless you have experience canyoneering, do not do the rappel. The exit hike is very exposed and extremely hot. It would be easy to get lost walking back. Bring beta, a map, compass, and GPS with way-points to safely and enjoyably complete the canyon.
Beta: http://www.canyoneeringusa.com/images/stories/PDFs/Escalante/HoleInRock/Egypt.pdf
*Canyoneering is a dangerous sport, even for non-technical routes. Many canyons are remote and not often traveled. An accident could mean serious trouble. Nearly all require exposed hikes in/out in hot desert sun. Bring lots of water, usually at least three liters each. Have plenty of options for route finding. A GPS is preferred, but a map, compass, and good beta should be brought every time. Be careful, well prepared, and practice good LNT.
Photo by Carolyn Webber
Leave a Comment
About the Contributor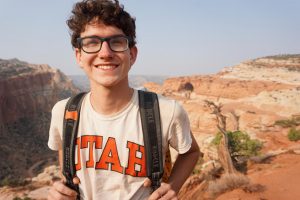 Nick Halberg, Editor
Nick is a senior studying philosophy and economics. He started with Wasatch Mag three years ago, and now is happy to be co-leading the publication as the Print Editor. He is passionate about environmental issues, especially ones regarding resource use. On weekends, he likes to explore new places in the desert.