Nothing Yet- An Optimist's Ski Preview
March 13, 2020. Spring break in Moab, Utah. I checked my phone early one morning, awaiting the University of Utah's decision on whether to suspend classes or shift to an online format. At this point, COVID-19 was really not a big deal in my mind, and I was willing to bet that the U would press on as normal — believing a change that drastic to be unachievable. I felt that a virus with this impact only existed in history textbooks and post-apocalyptic movies. However, when the news broke that all classes would shift online for the remainder of that semester, I wasn't disappointed. While a bit surprised, I was hopeful — pretty near optimistic. I mean, it was the middle of ski season, and I had been doing far too much schoolwork and not nearly enough snowboarding. Honestly, I was kinda pumped. I was day-dreaming of spending the rest of the semester at Snowbird and trying to squeeze in my schoolwork while stuck in traffic on the way down the canyon.
Obviously, that's not how things played out. Instead, I slogged through the rest of that semester back in my parent's basement sitting through zoom classes and online quizzes. The ski season I was so looking forward to was over the moment that the announcement from the U was sent out — even if I didn't want to believe it. Thankfully, Alta offered its slopes to those who were willing to skin up, so not all was lost. Regardless, I was left yearning for the season that never came to be.
That brings us to the present. Fall, 2020. COVID-19 hasn't really gotten too much better — we as a student body have simply gotten used to it. We still are still slogging through our zoom classes, turning on our laptop cameras for exams and pinky-swearing we aren't cheating. One thing has changed, though — The Snowbird Tram is running again, and summer activities at the resort are in full-ish swing, bringing on a new wave of optimism for ski-season hopefuls everywhere. Regardless, the disappointment of last season still lingers, leaving me curious as to what these resorts have planned to be able to house the thousands of skiers and snowboarders who visit their slopes every year. 
I went up to Snowbird recently to try to get an indication of their strategy, and it was clear they are already doing their part to stay safe. Signs are posted in the parking lot — at least 100 yards away from the actual Snowbird Center — telling patrons to wear a mask, sanitize and social distance. Ticket lines snake back and forth, with customers standing on stickers six feet apart from each other. The tram is limited to 25 people per trip, with staff swooping in after every arrival to sanitize all surfaces before letting the next group aboard.
I tracked down a group of tram operators, fresh off their most recent scrubbing of the tramcar, and I inquired about the approaching season. The operator closest to me gave me a seemingly rehearsed answer, with nods of agreement echoing from his peers. 
"As far as I know, there is no plan yet."
To be honest, I don't really know what I expected his answer to be. It's unfairly optimistic to expect such high-traffic operations such as ski resorts to have a plan put together to predict the impact of one of the most unprecedented events of the 21st century. However, the fact that there is no plan set should spark hope for skiers, not dread. It shows that resorts are doing everything they can to provide the safest possible version of a normal season to all of us come wintertime — there is just too much left to be decided for resorts to tell us anything concrete. 
The tram operator directed me next to a public safety office, saying that they might be able to better answer my questions. I traveled down the stairs, past empty restaurants and gift shops and sitting areas — places that any other year would have been packed with customers — to find that the office was empty. I left the resort largely empty-handed, staring up at the dry slopes that in a month or two may be at the center of a hugely difficult decision. 
Unfortunately, these times of empty-handedness are the times we are living in right now, times of hopeless uncertainty, and the status of a ski resort may be the furthest thing from some peoples' minds. I'm trying my best to stay positive through it all, though — I'm way too excited for ski season not to be.   
Leave a Comment
About the Writer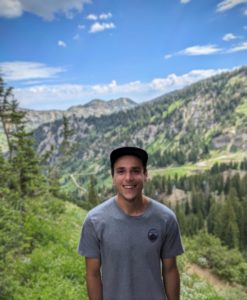 Will Ginsburg, Editor
Will Ginsburg grew up in Salt Lake City, and spent two years as a staff writer for Wasatch before becoming Editor this summer. He will be starting his fourth year at the U this fall, majoring in Writing and Rhetoric Studies. Outside of academics, he is a member of the men's Ultimate Frisbee team and a lover of the outdoors, with his main passions being snowboarding, skiing, and hiking.