Arguably, there is no recreational activity more simple than walking outside. There's no money, skills, or gear required besides a pair of shoes and maybe a walking stick and water bottle. That's why I'm a tad bit flustered when my simple human activity of walking is cut short by bureaucracy.
Maybe it's just me, but lately I've had some bad luck on my hiking excursions. I have a history of bagging little knolls and obscure neighborhood mountains that I can see from the valley, usually looking at the mountain from the ground, picking a route, and simply walking out from my front door. If there's a fence in the way, I'll hop it. If there's a "No Trespassing" sign, I'll falter for a second to make sure nobody's around before hopping that one too. Only once have I been kicked off of private property for trespassing: a caretaker on a ranch in Montana intercepted me on my way down from the top of a little butte to escort me back to the fence. Fortunately, I was able to enjoy the view at the top before being run off.
This is a crazy concept to me in the U.S. Everyone wants their own little piece of land and threatening to protect it with guns is the norm. This isn't the case in many other countries. Sweden has a general public idea called "allemansrätten" or "every man's right" to roam on both public and private lands for recreational walking as long as it's not destructive and is fairly respectful to privacy. This is an idea I can get behind. Not all of us can afford to buy up our own piece of land, and as there become more and more of us we need to be willing to reasonably share. Because of increasing private property, long public trails like the North Country Trail, for example, are becoming increasingly harder to build as land is constantly subdivided, limiting accessibility to wild places to previously established trails. The days of freely wandering the west are not the same anymore.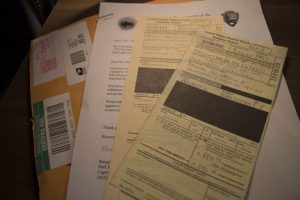 Here's where I'm really irked, though: I was fined $280 for walking in a National Park, on public land. This reignited an ongoing thought of mine: U.S. National Parks, like protective private property, are not a reasonable way to share. In general, National Parks are based around tourists driving their cars through and pumping revenue into the area through pass purchases, gift shop sales, ritzy lodge resorts, boat tours, and expensive campgrounds. In National Parks, everything's a competition from campsite reservations to permit lotteries to lines to read a sign at the visitor centers. There's no parking at trailheads. You can't mountain bike, paraglide, or fly drones. Oh yeah, and don't forget you need a permit to walk.
I know it's standard protocol to acquire a permit for backcountry camping in national parks. So, for our visit to Capitol Reef National Park, we planned to get our free permit from a visitor center in Glen Canyon Recreation Area.  Going to this visitor center avoided a five-hour detour to the out-of-the-way Capitol Reef Visitor Center. But, after 12 hours of driving,  we arrived at the beautiful (and brand new) expensive Bullfrog Visitor Center, only to be greeted by a locked door. After stressing about getting all of our backpacking gear, food, maps, and car logistics figured out, we failed to double check if a national park visitor center we were recommended to visit would actually be open midday on a busy spring weekend. There were no hours listed on the door, and after a call to the local dispatch and Capitol Reef, nobody could say when it would open next. The voicemail for the Bullfrog Visitor Center informatively stated it will open "as personnel become available." For some odd reason the government can't afford to pay someone to staff this brand-new million-dollar-plus visitor center to permit me to go on my walk. On top of that, the only ranger in the area that could possibly issue us a permit was more than three hours away on a boat on Lake Powell.
But wait, the bureaucratic mess gets worse. I asked the dispatch operator if Bullfrog had been open or a ranger available, we could have even obtained a permit from Glen Canyon in the first place. The definitive answer, after five minutes of cogs turning asking around in the government office system, was no. Contrary to what was stated online, told to us by Capitol Reef staff, and displayed at the trailhead, under no circumstance could we obtain a backcountry permit for Capitol Reef in Glen Canyon, a glaring miscommunication between the parks. So, I'm angry, because, after all of this effort on my side to follow the rules, I still received a $280 fine from the National Park Service for a "failure to obtain a backcountry permit." The issuing NPS ranger only knew we were there because of our courtesy call as good people to let Capitol Reef know when and where we were going—more or less the entire purpose of a permit. Keep in mind, this was for hiking from of a trailhead with no other cars for three days, only seeing one other group of three the entire time.
There has to be a better way to all get along and be able to just go for a walk. The National Forest Service and Bureau of Land Management have it right. You can camp and hike just about anywhere in their jurisdiction and I think that's how it should be on our wild lands. As long as we all maintain a mutual respect for each other and leave no trace during our excursions, let's just keep it simple when we want to take a walk.
Photos by Chris Hammock