Packrafting: Take the Weight Off Your Feet!
Water creates a path through landscapes that may otherwise be uncrossable. Following a river can take you through dense forest, and crossing a lake can save you the process of  walking around the perimeter. The consensus about packrafting is consistent, everyone says that the sport allows access to places otherwise unreachable. How is this possible? The packraft weighs approximately nine pounds, and it packs down to about 18×8 inches. It's extremely portable, thus the name, packraft. It's completely inflatable. Generally, it uses an inflation bag system, which is also very lightweight and packable. It maneuvers like a kayak, and the possibilities for adventure suggest themselves. Instead of carrying an awkward boat to the water, this type of raft is easy to bring, well, anywhere! It fits in most backpacks, whether that's a day pack or a 70L multi day backpack. There's potential for day trips, such as hiking to a remote alpine lake, and then putting rafts on the water to paddle around. Try this in the Uintas, and bring the fishing poles! On a longer trip, these small rafts open up travel options. Backpackers can carry them easily, and they can use them to cross lakes, float down rivers, and in general cover miles over water where before they would have had to walk around or turn around. This is the type of packrafting experience I've been fortunate enough to try for myself.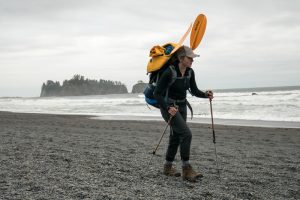 In 2018, I traveled to the northern Washington coast for a two week backpacking trip. My group and I started the trip on Rialto Beach, hiking along a strip of rocky coastline. For miles, we had the Pacific Ocean to our left, and an enormous old growth rainforest to the right. We hiked with packrafts in the bottom of our packs, paddles disconnected and strapped to the sides. After a few days of this, we had reached the landmark that indicated our proximity to Ozette Lake. Ozette is the largest unaltered natural lake in Washington state. It's about 8 miles long and 3 miles wide. After cutting inland through dense rainforest, we came to the edge of this big and beautiful body of water.
It would have been a lot of walking to make it around the shoreline, but instead we got out the rafts and paddled to a different bank to camp. The next morning, we got back in the boats to paddle the rest of the way across, where we could finally hike back to civilization. This area is actually very close to Forks, Washington, from the fantasy series, Twilight. It's also very near Olympic National Park, which is where we spent the second week of the trip. The coastal portion was one of the more amazing backpacks I've been on, and the packrafts added another awesome element of adventure. It demonstrated what becomes possible when you can carry a boat easily on your back.
So you're ready to get your own packraft. There's good and bad news. The bad news is that they cost, well, too much for most students to justify. The good news? Anyone can rent one from our very own outdoor equipment rental service in the Life Center on campus for a daily (or weekend) fee. All my packraft experiences have been on rented rafts. There's no excuse! OA rentals has rafts from an awesome company called Alpacka Raft. They're based in Colorado, and every raft is handmade in Colorado. The company started after the head designer's son completed a 160-mile hike and packraft traverse of an Alaska Range traverse in 1998, and a similar 600-mile traverse of the Brooks Range in 2000. The rafts they used were old and unsuitable, and so Alpacka Raft began. Through honest and sustainable labor they have created a line of small but functional rafts. They turned a vision into a reality that anyone can now experience. In the words of their website's story, "We continue to build tiny, little boats for those who demand something unreasonable from them." 
Leave a Comment
About the Contributor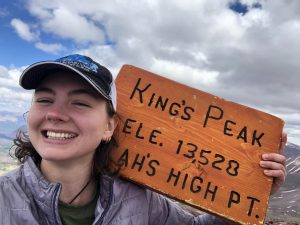 Katie Riley, Assistant Editor
Katie is in her third and final year at the U studying a Bachelor of Arts in English along with her yoga teacher certification. Previously a staff writer, she is now the Assistant Editor for Wasatch Mag. She is a Salt Lake Valley local and passionate about skiing in and out of bounds, as well as a frequent hiker and climber. Katie loves language and especially poetry. Once she completes her degree, she hopes to complete the thru-hiking triple crown in the years to come.