"I've made the mistakes so you don't have to," Jason Stevenson, writer of The Complete Idiot's Guide to Backpacking and Hiking, said. We've all been in those situations where the temperature is pushing 90 degrees, our sunscreen melted off hours ago, and our water bottles are empty, but still we are determined to continue onward. The last few miles can't end in vain.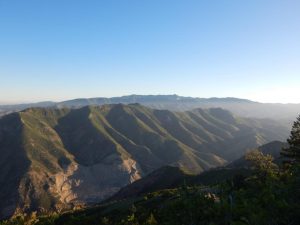 Here in Utah, serious hiking and peak bagging are huge outdoor sports once late spring and early summer start to roll around. Peaks such as Olympus, located on the east side of the Salt Lake Valley, draw tourists and visitors from all around. Last summer, on the straddle, I met a young couple on a road trip from Wisconsin, who were facetiming their parents, exclaiming that they could see the whole Utah valley because they were 9,000 feet up in the air.
The University of Utah especially has a huge outdoor presence, especially including the students who are from out of state or out of the country. Even so, for both those who are first time peak baggers, and serious climbers, it can be easy to underestimate the amount of supplies you'll need to bring along, and potentially end up in a very dangerous situation. Like Stevenson, I have made my own mistakes as well. Here is a guide to things you should keep in mind once you start planning your summer hiking trips, so you don't have to copy the mistakes I am familiar with making.
Water
Absolutely and most importantly, always bring enough water. Dehydration is one of the most common, and also most dangerous, risks of outdoor activities. I cannot exaggerate the number of times I have heard someone tell me they attempted to climb Mount Olympus and had to turn around because they didn't have enough water. If you know you won't be able to carry all the water you are going to need, purchase a water purifier from any outdoors store so you can replenish as you go.
Snacks
Even if you had a good breakfast, or plan to stop at In and Out on your way down from the canyon, you should always bring some kind of snack with you. Granola bars, gummy bears, an apple, or anything that will keep your blood sugar up should suffice.
Sunscreen
Unfortunately I am very guilty of saying, "I don't need to wear sunscreen…" I have learned the hard way that I absolutely do. When packing your bag, always include a bottle of sunscreen. Additionally, always wear some kind of hat or sunglasses to protect your eyes if you can. Many popular trails in Utah, such as Grandeur Peak, are almost completely exposed and many hikers underestimate just how easy it is to burn, even on a cloudy day.
Clothing
Nobody likes chafing, blisters, or too much or too little clothing. Make sure that you wear good socks, appropriate clothing based on the weather, and good shoes. I once wore a pair of Nike Frees when I attempted to scale Pfeifferhorn, a peak up Little Cottonwood, and I was lucky not to fall off the side of the mountain and become mountain goat food. Traction is important!
Toilet paper
If you are on a multiple mile hike, and you don't need to go pee at least once, then you definitely aren't drinking enough water. Stuff a little toilet paper in your backpack for potential emergencies and good hygiene.
First aid
No matter how experienced you are, a small first aid kit is always a good idea. In fact, it is when you think that you will be fine, and come unprepared, that you end up being not so fine.
Backpack
A good backpack is imperative. String backpacks are terrible, and carrying your water bottle for 5 miles is also terrible. Good backpacks can be purchased from REI, Cotopaxi, and even Walmart. Backpacks with water bladders are also great at eliminating the need to carry around a water bottle and the annoyance of having to get it out of your backpack every time you need a drink. You're also more likely to drink enough water if you can just stick a tube in your mouth and suck.
Navigation tool
Some kind of navigation tool is highly suggested. There are many great apps out there, such as All Trails and Gaia, which can pinpoint your exact location and show you the maps of a trail. Even a GPS watch can be useful, because it can help you estimate how far you've gone and how far you've got left. It is important to know your destination and be aware of possible turn offs. Even taking a wrong turn in Big Cottonwood can have you accidentally end up in Mill Creek Canyon unknowingly.
Weather prep
Last but not least, always make sure that you prepare for weather conditions. Starting a hike an hour later than the predetermined time can be detrimental, and potentially put you in the heat of the day. You shouldn't be starting a 10 a.m. hike at 2 p.m., for example. Utah weather especially can change on the dot, so always be prepared for temperature changes, rain, and snow.
Camera
Always have a way to capture the moment. Whether it's snapping a picture, or bringing a pen to sign the book of finishers in the shack on the top of Timpanogos, you won't want to forget how hard you physically exerted yourself for that view.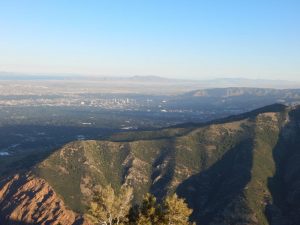 Hiking is by far one of the most engaging and beautiful things you can do in Utah because of the many different landscapes in our state. Safety and preparedness are very important in making sure that your hiking experience results in those engaging and beautiful memories. One thing to never forget is that you should never be afraid to turn around if you run out of water hours before the destination, if it starts to get dark, or if someone in your group gets injured. Peak climbing in Utah is a challenge, but the 10,000 foot views are worth everything. Make sure to prioritize the prep.