Peakbagging
Devil's Castle
At a glance:
Jet black limestone in an imposing jagged configuration, Devil's Castle is an outdoor execution unsuitable for the faint of heart. This ascent is located within Little Cottonwood Canyon's Albion Basin near Alta Ski resort. At 10,920 ft., this peak rests at a comparatively lower elevation than many of the larger fixture's in the Wasatch Range. But don't let that fool you, this hike is not to be underestimated.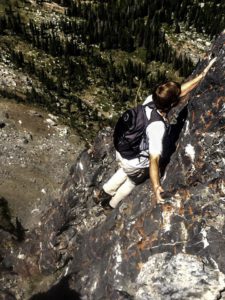 What to expect:
Devil's Castle is constituted by three overlying peaks — the middle of which houses a summit register mailbox —  and can be traversed by a number of distinct routes, each varied in difficulty and with relative degrees of exposure. Even the easiest approach contains compulsory stretches of lower class five free climbing and scrambling along exposed knife-edge ridges from which a single misstep could be fatal. Despite its apparent difficulty and notoriety, Devil's Castle is considered by many locals to be one of the best scrambles on the Wasatch and, for truly audacious outdoorsmen, an experience nothing short of sublime. From the saddle, the 11,051 ft. Sugarloaf Peak is accessible by an approximately half-hour detour west and is difficult to resist for the imperious peakbaggers among us.
Getting there:
The trailhead is located within Albion Basin Campground, at the very end of Little Cottonwood Canyon — the unpaved inlet road is typically closed during the winter.
Lone Peak
At a glance:
A renowned peak and prominent feature easily distinguishable from both the Salt Lake and Utah valleys, Lone Peak is a formidable alpine ascent to scratch off your list before the snow falls. At 11,253 ft., Lone Peak is among the highest mountains along the Wasatch Front and is widely regarded as the most strenuous due to its considerable elevation gain and daunting class four scrambling along the summit ridge. This climb is worth every drop of sweat as one stands upon the apex of the peak's glacial cirque and overlooks the high desert landscape.
What to expect:
The average hiking time from trailhead to summit is approximately five to seven hours, depending on the route. There are numerous ascents, but the two most popular and heavily recommended are Jacob's Ladder Trail and the relatively new Cherry Canyon Logging Trail. Jacob's Ladder is the fastest ascent to the summit but is poorly maintained and steep through minor stretches (though it does enable access to the rustic Outlaw Cabin). The second is slightly longer, but passes a reliable perennial spring and is considered to be more scenic. Upon entering the glacial cirque and scrambling onto the mountain's jagged spine, you'll traverse the heavily-exposed, precarious ridge to summit.
Getting there:
Dependent on your route, yourhikingguide.com is a great resource and offers valuable information. "From Salt Lake City or from the south take Interstate 15 to exit for 12300 South, and head east to 2000 East. You'll go straight through a roundabout at 1300 East and continue to 2000 East. Turn right on 2000 East for about 0.2 miles and turn in the Orson Smith parking area. The Bear Canyon Trailhead/Cherry Canyon Logging Trail starts here. To continue to the Jacob's Ladder trailhead, follow the dirt road for about 2.6 miles and park at the parking area on the right" (yourhikeguide.com).
Leave a Comment