Pedaling with Purpose: A Novice Bikepacker's 1,145 Mile Tour Through Alaska
A thousand-mile bikepacking trip is an ambitious goal. A thousand-mile, month-long, mostly solo, bikepacking trip through remote regions of Alaska is an even more ambitious goal. In July 2021, University of Utah Alum and redrock activist, Olivia Juarez, set out pedaling with a purpose and did just that.
Juarez spent weeks planning the trip's logistics. The tour would take 29 nights and 30 days. They laid out routes from Nome, exploring over 300 miles of the Seward Peninsula, and planned how they would then transport their new bike from Nome to Anchorage. Hours of research helped to narrow down sections of the Glenn, Richardson, and Parks highways that travel through places straight out of a dream. Juarez would maximize their time on the Denali Highway, of course, and visit hot springs throughout the state. Their itinerary laid out where they could camp and restock food, and how many meals would be needed for days between. Juarez accounted for just about everything that they could control, with the exception of the weather and the slightly daunting reality that they had never been bikepacking before.
This bike tour was inspired by and ultimately made possible through a scholarship hosted by cyclist Lael Wilcox. Helping turn a dream into reality for women wanting to explore their home state is what inspired the professional cyclist to host the "Lael Rides Alaska" scholarship. Applicants were vaguely prompted to design a 1000-mile route through Alaska. The scholarship was open to women (including trans and non-binary) of any age, with any level of cycling experience. 
Wilcox burst into the cycling scene in 2017 by biking all of Alaska's major roads, totaling 4,500 miles of mixed gravel and asphalt, in just two months. Her scholarship, first made available in 2018 and again in 2021, encourages women to dream of doing something huge, plan out the intricacies, and get handed the financial means to make it happen.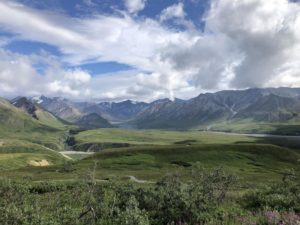 "I spend most of my time thinking about the desert," Juarez explains, "Going to Alaska wasn't really something on my bucket list, at least not for any time soon. A friend and former scholarship recipient told me about the opportunity and from that point, I couldn't stop thinking about it." Beyond planning the adventure of a lifetime, Juarez realized they could make a difference.
In researching where to ride from Nome, Juarez came across a news article discussing the issues of case mismanagement for survivors of sexual assault in that community, particularly for Indigenous women. This became the last puzzle piece of their application: the why. For every kilometer pedaled, they would raise a dollar for organizations benefiting survivors of sexual assault in both Nome and Salt Lake City. In their application essay, Juarez elaborates on this desire to support the community as their motivation; "I am not a tribe member nor am I a sexual assault survivor; yet where I choose to explore public land, how I do it, and who I am with is majorly affected by assault experiences of my family members."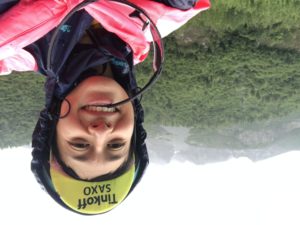 To go outside as a femme person comes with a weight. Women carry the burden of their loved ones' worst fears for them just by going for a jog in the park. Hiking, biking, and outdoor adventure already come with risks and fears for many, before even considering the threat of another person creating an unsafe situation. Go alone, the fear doubles. Ride a bike on some of the most remote roads in the country in the state with the highest rate of violence against women, alone, and it is hard to fathom how that fear multiplies. The fear is only magnified for those who have experienced sexual violence firsthand. For Juarez's family, it was difficult to conceptualize how this could possibly be safe. 
"I had to have a lot of tough conversations with my mom about what is in my realm of control and what I can do to manage my safety versus what is outside of my control," Juarez explains, "I'm not going to not go on an Alaskan bike tour because I can't control whether or not somebody is going to rape me." To calm the family's nerves (and to some degree, their own) Juarez agreed to find a partner for the trip and recruited their lifelong friend Helani Krysten. 
After months of planning and an overnight trial run up Millcreek Canyon, Juarez and Krysten were as ready as they could be. On July 4th, they hopped on bikes in Nome, Alaska and cranked out 40 miles. As a Salt Lake Local, Juarez is well accustomed to riding uphill. Commuting by bicycle to work every day served as training, although Juarez pointed out that they do that every day anyway. The trip would be grueling at times, but physical fitness was not the biggest concern.
Besides relentless wind and rain, one of their greatest struggles was just packing their bike. "I had no idea what I was doing at first. Sometimes it would take me almost three hours from when I woke up to when I could have everything strapped to my bike to start my ride for the day." Relatively inexperienced in backcountry travel, Juarez quickly learned the ins and outs of minimalist camping.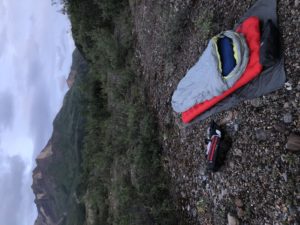 Another unexpected challenge arrived when Krysten got so sick that she had to bail on the trip just nine days in. "Telling my family I was alone and would be continuing the trip solo was really difficult. A lot of my mom's fears and my own contrasting beliefs about safety came to a head." In addition to accepting that they would now be riding alone, Juarez had to handle the reactions of loved ones without internalizing them.
Slightly ironically, they found that they really weren't all that alone. "I camped out with amazing ladies also riding the Denali highway and frequently had friendly people to stay with through organizations like Warm Showers. People were endlessly kind to me." The contrast between the kinds of people Juarez got to meet on their trip and the kinds of people that family feared they would meet was dramatic. 
Juarez's struggles were matched by even greater rewards. One of their favorite days was when they rode 85 miles on the Denali Highway. In the land of the endless summer sun, Juarez was able to ride until after 10 p.m. Chuckling, they recall, "I mixed protein powder and water together in my mouth for dinner. No dishes and no worries about bears being attracted to my cooking!". Their culinary masterpiece was only second in greatness to the pride they felt having ridden so many miles in one day. "The weather, the road, the views, the sunset — it was all perfect."
The cherry on top of it all came late in Juarez's trip when they ran, or rather, biked, into Lael Wilcox and her wife who were training for a gravel race. "It was pretty insane that I ran into her, but at the same time, of course that's where she was!" Juarez remarks.
For Juarez, bikepacking through Alaska was about pedaling past their family's trauma that had been so deeply engraved in them. They acknowledged just how real that trauma is by choosing to do it all to support survivors of sexual violence and domestic abuse. But they also affirmed that they are capable; In 29 days and over 1,145 miles they found "joy, confidence, and validation that somebody in their body has the right to adventure and opportunity to connect with nature."
*While Juarez technically did raise a dollar for every kilometer they rode, the original fundraising objective (based on two people riding a total of 4,123 km) has not been met. They plan to close fundraising efforts through Go-Fund me sometime this fall. Riding a centennial will be the final fundraising push. Please consider donating to the Go-FundMe hosted by Olivia Juarez or directly to the Bearing Sea Women's Group in Nome, Alaska or a sexual assault recovery center in your community. 
Leave a Comment
About the Contributor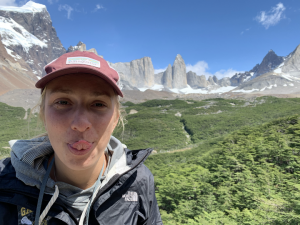 Melissa Paulsen, Writer
Melissa Paulsen, a Reno, NV native, is a senior double-majoring in Environmental Sustainability Studies and Geography. This is her second semester writing for Wasatch and she is stoked to be able to squeeze it into her college experience. The outdoors have provided Melissa with endless space for growth in her life, and she loves to share these experiences with others. Melissa believes that embracing how others find joy in nature is a crucial step in fostering more inclusive outdoor spaces. She is happy doing almost anything when the sun is out, but some of her favorite ways to spend time outside include backpacking, exploring red rock wilderness, skiing, slacklining at the park and gardening.