Peek-A-Boo and Spooky Gulch
Since July 2021, I've been living and working as a housekeeper in Southern Utah at Zion National Park. Recently, I was able to plan a road trip through the surrounding areas before heading home for the winter holidays with my friend, Shane. The most memorable stop was down a desert road named Hole in the Rock Road outside Escalante, Utah, where we hiked through Peek-a-Boo and Spooky Gulch. It was my first time exploring land cared for by the Bureau of Land Management (BLM). 
I've always loved hiking, and my time spent in Zion improved my stamina and confidence, but I had never attempted a slot canyon before. I'd placed the Peek-A-Boo and Spooky slot canyons in the area on my list to explore after I spoke with a few of my friends who had completed it during the previous summer. Though Shane and I were novice explorers, we both felt relatively confident in our ability to traverse the slot canyons, even if our pace would be slow.
The drive out to the slot canyons on Hole in the Rock Road was beautiful. Since I had started working at Zion, my friends and I had been in the habit of turning up the heat in my little Jeep Renegade and rolling down the windows even as winter crept in and the desert heat dissipated. We never stopped needing to feel the canyon rush by us. I couldn't help but continue the tradition as Shane and I drove down the dirt road, fields of December grass and herds of cattle on both sides of us, a line of mountains to our right. 
The trailhead for Peek-a-Boo and Spooky Gulch is easy to find. There is a fenced parking area with bathroom facilities. There is also a register in which visitors can write down their information in order to help emergency responders if they need to be rescued — this includes their name, where they're from, their vehicle description, and their estimated time on the trail. Right before hitting the trail, we encountered a sign stressing the importance of bringing adequate food and water. Even when hiking during the first week of December, water is vital. The weather was chilly, but there is very little shade on the trail out to the slot canyons.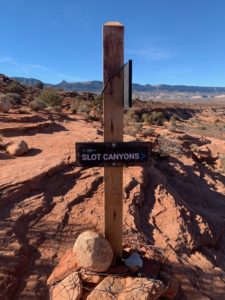 On this trail, hikers are expected to follow small cairns. Shane and I only lost the trail once when we were supposed to venture off the dirt path for the first time and begin a slanted descent down rock and loose sand. The cairns veered left to a place where we could safely traverse the edge of the small cliff we were walking along, and — well — we took a right. Eventually, we retraced our steps, found the trail again, and continued to the entrance to Peek-a-Boo — an opening on top of a small canyon wall that we needed to climb. Many people on AllTrails said this part of the hike was the most challenging, and I'm inclined to agree. 
I entered the canyon to face my first-ever rock climb. I admit I psyched myself out a bit, but I eventually found my footing, tossed my backpack up over my head and into the canyon, and shimmied myself upward. Shane, with his longer legs, basically walked into the canyon without any trouble. Cool. 
As soon as we set foot in the slot canyon and took a peek around the corner, we were immediately struck by the curve of the rock, smoothed by water, wind, and time. Never once during our time in the canyons did I find myself no longer in awe. Deep browns, earth-yellows, and quiet reds coasted along the waves of rock we followed. Aside from assisting one another through more difficult sections of the canyon, Shane and I preferred the comfortable silence. We could hear the skid of our boots along the rock path and the swish of kicked-up sand. We traced the lines along the wall and held our palms to the silent stone. It was a one-of-a-kind experience.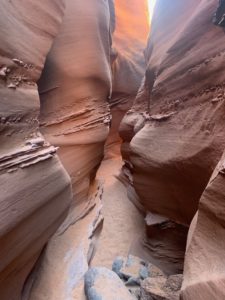 Nearly every step through the canyon required some thought, if not careful consideration. In one section, we had to climb down a large boulder and a short rope to reach the ground again. Shane, more athletic than me, was able to position himself between the walls, his back on one side and feet on the other, and lower himself down. I managed the same maneuver, albeit much slower. 
There are many areas in which visitors will have to wedge themselves through narrow paths without a clear view of the sky, which might be difficult for people who are claustrophobic or who are a larger size. I was concerned about being able to fit through the more narrow parts of the canyon. I found myself on edge in anticipation of this hike, but I was more than ready to try. Near the end of Spooky, only one spot was a little too narrow for my chest. I had to lower myself a little bit to a wider part of the path, backpack held above my head as it had been through many other sections, and move between the walls for a few feet in that position. Fortunately, we made it through. 
Just before this section, we ran into the only other people we saw during the entire hike, and we talked about how lovely the isolation was. They were doing the loop counterclockwise, climbing up into Spooky and down out of Peek-a-Boo. Most advice I have read says to do it clockwise, but I've heard counterclockwise is fun and challenging as well.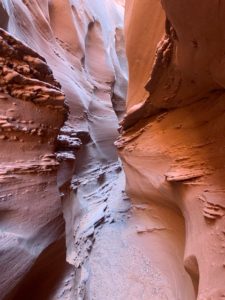 Peek-a-Boo and Spooky Gulch might have been a little more advanced than I was prepared for. If you have never done a slot canyon before and you are anxious about what to expect, I suggest searching around the Southern Utah area for other spots to explore before you attempt these two. However, I'm happy with my decision to try them, and I made sure to do it as responsibly as I could. If you're familiar with slot canyons, these two are doable alone. If not, bring a buddy. I usually hike alone, but I'm thankful I had Shane with me. 
The entire loop is about 5.5 miles and usually takes four hours to complete. I did not bring my dog, but it is possible to do so. I have friends who brought their dog but had to help her navigate and even carry her through some of the more difficult sections. Many people online have also said that it's possible to bring children, though some say it is too long and difficult for young kids. Hikers should be aware that there are parts of the canyon that require teamwork and communication. And of course, always leave the trail better than you found it.
Completing these slot canyons was a huge personal accomplishment for me, and I left truly knowing that I had improved as a hiker and explorer. This incredible place is only a small portion of what Utah has to offer.
Leave a Comment