Product Review: The Bear Bowl
The Bear Bowl, from start-up company The Bear Minimum, is a lightweight, compact portable cooking pot designed for backpackers and campers. The pot is flexible and foldable, weighing in at 6.3 oz. with an aluminum base (4.5" x 4.5" x 1"), and PTF3 coated fiberglass making up the four sides of the pot. It folds up neatly and can easily be stored away, which is great for backpackers who want to save space. I brought it into the elements to test it out.
In the wind and rain on a pocket-sized stove, I was unable to bring the water to a boil even after 18 minutes. The metal takes time to heat the water because of the fiberglass walls. Cooking eggs, bacon, and asparagus with the Bear Bowl on a basic two-burner stove was a success. It only took six minutes to fully cook everything, and when it came time to transfer the eggs from the pot to a plate, I had no problems with the food sticking. After dinner, I unfolded the pot and easily wiped it down.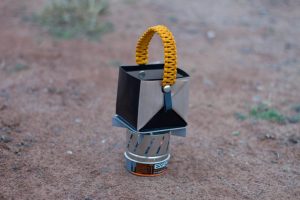 The last test I conducted was in my home on my kitchen stove. In this controlled environment, it still took quite a long time to bring water to a boil in the pot. While waiting for the water to boil, I set my teapot on the stove for comparison. My teapot was ready and whistled at me in under 5 minutes, but the Bear Bowl took another 10 to turn from simmer to a rolling boil. Then came the difficult part. Pouring water from the pot without burning myself with hot water or steam was a struggle. The flexible handle and plastic walls filled with boiling water complicated things.  I spilled quite a bit of water as I struggled to direct the stream of scalding water into my cup.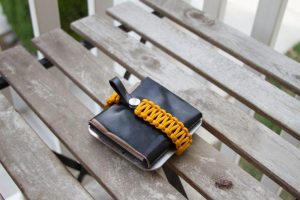 The Bear Bowl is a good concept, but it needs a few more tweaks before it's useful in every camping and backpacking situation. The size and weight is great for backpacking and the removable paracord-wrapped handle can come in handy in  emergencies. If you have hopes of cooking cup-o-noodles, oatmeal, or making a hot cup of tea while camping, boil a small amount of water and take precautions so you don't accidentally spill hot liquid on yourself or others. This is not a perfect product by any means, but as a prototype is works well and I could see myself buying one in the future. I'll definitely plan on packing the Bear Bowl for future camping or backpacking trips.
Pros:
-Compact design, lightweight, and packs flat for portability.
-Plastic is high quality, does not melt even when subjected to extreme high heat.
-Non-stick surface makes it very easy to clean.
-Great for cooking/heating up food directly.
Cons:
-Because heat is only conducted through the base plate, it can take 10-15 minutes to bring water to a rapid boil.
-No pour spout, so it's difficult to pour hot liquids without accidentally burning yourself.
-Paracord handle seems like a good idea, but the pot would benefit from a sturdier handle that doesn't bend as much.
Buy it here: http://bearminimum.org
Leave a Comment