Program Spotlight: Wasatch Adaptive Sports
Last winter, I learned about Wasatch Adaptive Sports through a series of coincidences. Needing volunteer hours for a class in the spring semester, I had investigated a series of options, none of which truly sparked my interest. Soon after, at Snowbird, I happened to hop on a chairlift with a stranger I had ridden up with a few weeks before. After initially recognizing one another and the customary small talk, he shared with me that he had spent the morning assisting a ski lesson with Wasatch Adaptive Sports. It was perfect; I needed volunteer hours, and here was a program that combined skiing (and other outdoor recreation) with increasing the mobility and confidence of individuals with adaptive needs.
It was relatively easy to sign up for both training and volunteer sessions through their website, so I started participating the very next week. The instructors are awesome individuals. They had impressive people and skiing skills, and every session was a highly positive experience. The clients I worked with were happy to share their stories and excited to be participating in sports they may have not thought would be possible for their ability. A large part of the lessons is about encouragement and empowerment. As a volunteer, you offer support in whatever way is needed; it could be giving a student a hand when they fall, helping load a sit ski onto a chairlift, or volunteering tips and advice where applicable to the sport. Primarily you provide friendship and assistance.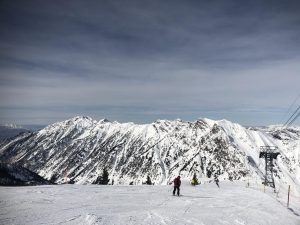 More than anything, the sessions are fun. I got to meet people I would never have crossed paths with normally, and it was in the context of a sport I already know and love. I worked with people who had once been expert skiers and then suffered devastating accidents that caused them to forget or alter their technique, so they had to relearn, as well as folks who had never skied before.
WAS provides access to and instruction for sit skis and all other kinds of adaptive equipment. It provides inclusion in the outdoors that is otherwise difficult to facilitate. Their biggest event, developed in 1986, is the Steve Young Ski Classic. WAS students have the chance to race against olympic athletes and NFL players, usually leaving them in the dust. The support for the program is huge, and the energy is electric. I love the concept of outdoor recreation truly being for everyone. The chance to experience the beauty and power of the mountains should not be dependent on a person's physical or financial capabilities. Nature offers healing and confidence to everyone. WAS actively works against the stigma of what a skier, cyclist, or athlete "should" look like. As with all activities this year, volunteering will likely be postponed and limited. Nonetheless, WAS has been in operation for over forty years, and I'm sure they will continue in the spirit of their mission to provide a social, supportive environment for students to recognize their potential and increase their independence.