Prosperity 2030 to Improve Utah's Air
Toward the end of 2021, I had the pleasure of speaking with Alexa Swanstrom about her involvement in o2 Utah, a non-profit environmental organization that promotes clean air along the Wasatch front. Swanstrom graduated from the University of Utah in the spring of 2021 with a degree in political science. Upon graduating, she hoped to find an environmental or social justice organization she could get involved with. During her summer internship campaigning for Amy Fowler, Swanstrom connected with o2 Utah's director David Garbett. Swanstrom wound up being the non-profit's policy fellow.
Part of o2 Utah's strategy is getting involved in elections and supporting candidates running on environmental platforms. In the most recent municipal election cycle, o2 Utah supported 27 candidates. "We helped them with everything from fundraising, to knocking on doors, to designing their website, to just general community outreach," Swanstrom said.
Swanstrom stressed that while election involvement has been important, their current most important project has been to pass Prosperity 2030 — Utah's clean air bill. Swanstrom explained that the bill is unique to Utah and that its primary goal is "to reduce Utah's emissions by 50 percent by 2030, in hopes of improving Utah's air quality." Prosperity 2030 is focused on limiting or reducing emissions across three fields: housing, transportation, and industry. Garbett has been collaborating with Republican State Senator Kirk Cullimore to pass the bill.
In October of 2021, the organization held a press release for the bill in order to spark awareness and conversations. Cullimore, along with researchers, scientists, doctors, business people, and activists spoke, sharing their unique perspectives about air pollution. One of the speakers was a graduate student from Brigham Young University who performed a study and discovered that Utah's air quality is taking an average of two years off of every Utahn's life and can shorten one's life up to 10 years in some cases. "We've used a couple studies to kind of help shape this bill," Alexa said, "and [hers was] the main one." Bryson Garbett spoke on behalf of Garbett Homes, a company working on homes that run on renewable energy. Another notable speaker was Caroline Gleich. Swanstrom described her as "one of the faces of Prosperity 2030." She used her platform as a well-known professional ski mountaineer and activist to promote the importance of finding a solution to Utah's air pollution problem. "It was cool to see her take a stance for something that affects everybody — whether you regularly recreate outside or not," said Swanstrom.
The bill has recently entered the public eye, but o2 Utah has been in the works for a while. Garbett and Cullimore spent the past year drafting the bill and contemplating what would realistically pass congress and be effective. Perhaps the biggest obstacle moving forward is ensuring that Prosperity 2030 continues to gain traction and popularity. "In my own opinion, we are very small," Swanstrom said. o2 Utah has only existed since 2019, and the team currently consists of six people, excluding a handful of volunteers. Swanstrom believes the organization's youth may hinder the bill from getting the attention it needs. On the bright side, Swanstrom thinks there is plenty of potential for continued expansion. "Volunteering, or donations, or giving in any way … allows the organization to grow going forward," she said.
You can support o2 Utah by following their Instagram @o2Utah, as well as by staying up to date with their progress. More importantly, follow the bill and contact your legislators about it. Reaching out can remind them of how important the bill is and add to the collective voice asking for cleaner air.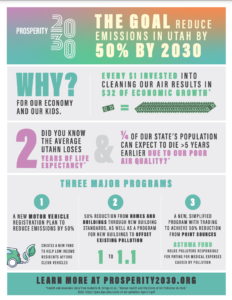 Leave a Comment
About the Contributors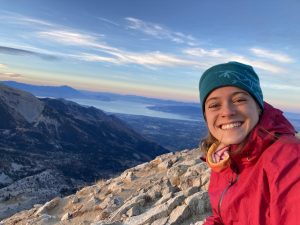 Sofia Sant'Anna Skites, Writer
Sofia is studying modern dance and English and is completing her final semester at the U. After serving as co-editor of Wasatch for a year, she is excited to return to writing. Sofia enjoys connecting with natural landscapes via a multitude of outdoor activities and always in good company. She strives to spread her love for the outdoors and to make these spaces more inclusive and welcoming of all people.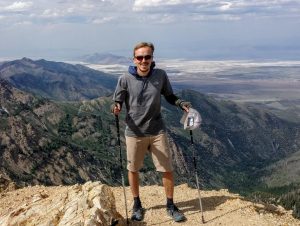 Colby Child, Editor
Colby is a senior from Ogden, UT studying Geography and Philosophy of Science. He is excited to continue with Wasatch as the Editor for the 2021-22 school year. He believes that our engagement in outdoor recreation, and appreciation of wild places, should inspire greater care for our local ecosystems and the planet. His time in the backcountry is spent backpacking, peak bagging, skiing, climbing, and mountain biking. Colby loves the solitude, adventure, and beauty that wilderness provides.