Puffy Season
It's puffy season, and the way you dress says a lot about you. With temperatures dropping below freezing, and everyone wanting to show that they might occasionally hike on the weekends, Patagonia and North Face puffy jackets can be found draped across every other chair at the library. You can't walk more than 30 seconds without seeing someone walking around campus with one.
The "puffer" jacket was created out of necessity by Eddie Bauer after he nearly died of hypothermia on a fishing trip in the 1930's. The coat has gone through many iterations since then, but the quilted pattern came about in the 1970's when designer Norma Kamali redesigned the coat after a camping trip, where she was inspired to start creating the jacket out of sleeping bag fabric. Kamali's intention was for practicality, rather than fashion, to be at the forefront of the design. The shift from function to fashion occurred in the late 1980's when Milanese youth started wearing these puffer jackets around Milan's night scene. Puffers shifted from being a tool to combat harsh weather conditions to a fashion statement. Just look at the crazy colors adorning puffers back then. They were worn in Italy more as fashion statements than to keep their wearers warm. Currently, puffy jackets have morphed into a way to broadcast "outdoorsyness" and keep people warm on their electric scooter rides across campus.
Today, the amount of work and thought that goes into designing and creating a puffy is excessive for a five minute walk to a lecture. I'm kept extremely warm, but my puffy was designed for sub zero ice climbing, not a 40 degree walk through a light breeze. Many of the down coats on the current market have some serious technology behind them. Mountain Hardware's new design patterns, which evenly disperse down across the coat, increase durability and stretch while minimizing heat loss. Companies like Patagonia have developed technology that mimic the heat trapping properties of duck and goose down, but are ethically and sustainably sourced. Duck and goose down are and were used because of their great insulatory and lightweight properties. The same feathers that allow these birds to both swim in freezing cold water and fly now line the inside of your class commuting jacket.
These jackets were built for seriously cold outdoor conditions, not a stroll across lower campus. When the death of a down jacket comes from a spilled Starbucks coffee instead of the slip of an ice pick cutting open the front chest, there is a real loss of potential. Next time you put on your puffy, know how it really got there.
Leave a Comment
About the Contributor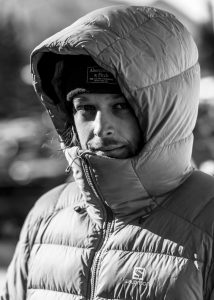 Peter Creveling, Photographer
Peter Creveling is currently a Ph.D. student at the U studying mechanical engineering and has been on the Wasatch team since 2015. His favorite outdoor activities include skiing and rock climbing, and he can be commonly spotted on the slopes of Big and Little Cottonwood Canyon year round