Quick Escape to the Foothills: The Triple-Tower Loop
In the midst of these final weeks of the semester, you may crave a bit of decompression in the beautiful wilderness surrounding us. You probably lack an entire day you can expend on a long excursion, so why not get your nature fix with something local, accessible, and doable in a single morning? Something like the Bonneville Shoreline Triple-Tower Loop.
In two to three and a half hours, the average hiker can reach each of the three large radio towers overlooking the Salt Lake Valley. Entirely visible from the valley, these towers stand directly over the capitol building and the iconic Ensign Peak. From atop these sloping green hills reminiscent of the Scottish Highlands, ambitious hikers are met with an expansive view of the city, Oquirrh Mountains, and Great Salt Lake. Plus, it's dog-friendly.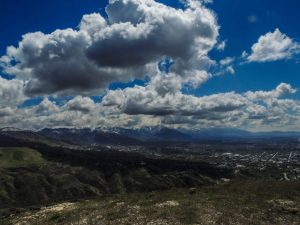 Getting there:
Begin this hike at the Ensign Peak trailhead on Capitol Hill and park along the street (prohibited between 10 p.m. and 6 a.m.). While there are alternative routes, it's best to follow the regular trail leading to Ensign. Once atop the ridge, you'll see a fork in the trail and a monumental plaque: left towards Ensign Peak, and right towards the Bonneville Shoreline. Go right. From this spot, two of the towers and the underlying basin are visible, the last remains obscured by the ridge that the trail is soon to guide you up.
Once you've followed the trail up the ridge, you will enter a small scrub oak forest. Continue toward the Bonneville Shoreline Trail, but before you are directly connected along the basin, you'll run into a steep, unmarked trail leading to the first, southernmost tower. This trail is essentially at the very end of the scrub oak forest. Upon this next ridge, the route to Tower 1 is obvious, particularly since the tower is in sight for most of the traverse. Caution, this ridge gets very windy, especially in inclement weather.
After reaching the first tower, simply follow the beaten trail toward the remaining two. At the last tower, you'll find an access road. Follow this down about a half-mile until you reach the Bonneville Shoreline trail to the left, which is clearly marked with a large sign. Follow the trail along the lower part of the basin until you're reconnected with the original trail. Retrace your steps back to the car. Note: don't be fooled by the subsidiary trail to the left on the way back. If Ensign Peak isn't visible, don't start hiking down the hill or you will end up in the backyard of a home in a gated community (yes, this comes from experience).
This hike isn't difficult, but it's still important to wear good boots and remain hydrated. Take a break from your studies and head to these lookouts for some inspiring views.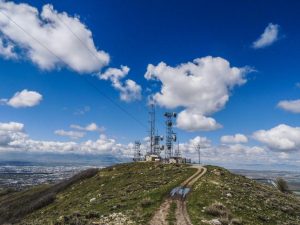 [email protected]
Photo by Dalton Rees
Leave a Comment