Rack up on Secondhand Gear
One thing we all wonder when taking on outdoor activities: where am I going to find cheap gear? Gear is an expensive part of outdoor recreation, and the most valuable. Ever tried mountain biking without a bike or skiing without skis? Not possible. Online shopping is good enough for getting the random bits and bobs you need and can offer some competitive prices, but for those important purchases, like new bindings or a different pair of climbing shoes, nothing can beat in-store service.
Feeling and interacting with your gear is critical for checking the fit and functionality. Also, having an expert consult you on which style they prefer, or which brands to avoid is beyond helpful especially for new buyers. While major stores like REI have big selections and helpful staff, they have only brand new, full retail price equipment. Those of you not wanting to sell an organ or skip meals for a year to pay for that new kayak may want to start looking at gear consignment stores.
These are places where people, usually professionals in the industry, sell their gear through a third party. The store takes a cut and the seller gets the rest. This means that almost all the gear will be used, albeit in pretty good condition, and much cheaper. The selections fluctuate based on what the store receives at that time so it's worth checking in a few times if they don't currently have what you're looking for.
Around Salt Lake there are a couple gear consignment stores worth visiting:
2ND TRACKS SPORTS
2927 E 3300 S, Salt Lake City, UT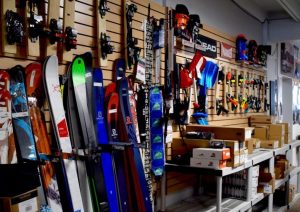 2nd Tracks Sports, as the name might imply, specializes in used ski gear. They have enough boots to outfit an army of centipedes and an entire room designated to skis. The workers are very informed and can help you find what kind of skis you're going to need. Depending on what style you get, prices for skis and binding can range from just under $100 to $700. They also offer services like waxing and mounting bindings. If you don't want to buy skis, you can rent a pair for $130 for the season or $25 for the day. Racks on racks of parkas and snow pants take up the left side of the store. Sprinkled throughout are beacons, probes, and snow shovels for your backcountry set up. This is definitely the place to go if you're looking to add a cheap pair of skis to your collection or just get started in the sport.
INTERNATIONAL MOUNTAIN EQUIPMENT
3265 E 3300 S, Salt Lake City, UT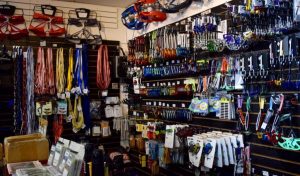 Although IME is not a gear consignment store, it is niche enough to warrant mentioning. Packed into a single room strip mall store is everything you could need for climbing or mountaineering. As you walk in, you'll immediately see coils of brightly colored rope lined around the top of the front desk area. To the left, a wall of climbing shoes. To the right of that a small collection of canyoneering specific packs and rope bags, which are hard to come by. The back counter blocks a display wall chock full of every kind of climbing anchor, crampon, and miscellaneous technical gear you could ever reasonably need. Finally, the right wall of the store is dominated by extreme cold weather gear for high elevation camps. The staff is incredibly knowledgeable and friendly.
THE GEAR ROOM
2258 E Fort Union Blvd, Salt Lake City, UT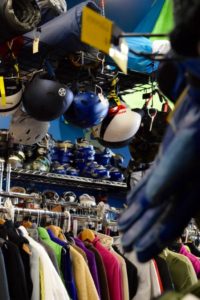 The Gear Room is a local shop opened up by two brothers who love the Wasatch. The store lies on the spectrum somewhere between IME and 2nd Tracks. It is a consignment/used gear retailer so the prices remain relatively low. The selection circulates pretty regularly so you can either score a great deal or strikeout completely. Getting a deal here takes persistence, but new climbers can definitely score. $100 will get you shoes, a harness, a carabiner, and an ATC; everything needed to start hitting the gym. For more experienced climbers, used carabiners, quick draws, and climbing anchors dot the wall. Just make sure to double check the security before climbing on them. The whole left wall is covered in packs and skis. While the ski selection isn't as big as 2nd Tracks, they still have a decent amount and the prices are competitive.
Leave a Comment
About the Contributor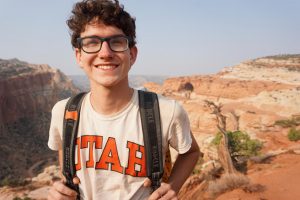 Nick Halberg, Editor
Nick is a senior studying philosophy and economics. He started with Wasatch Mag three years ago, and now is happy to be co-leading the publication as the Print Editor. He is passionate about environmental issues, especially ones regarding resource use. On weekends, he likes to explore new places in the desert.