Raft through Southern Utah
Southern Utah is home to famous rock climbs, backpacking, and world-class canyoneering. It's destination Red Rock. But it's not all sandstone slabs — it's also a place for epic whitewater rafting. On a stretch of the Colorado River called Westwater, in a little Utah town called Cisco,  adventure is waiting. Here is your itinerary:
Two months to 10 Days from Launch: Call the Bureau of Land Management at 435. 259. 7012. to get a permit for Westwater Canyon. Permits are issued on a first-come, first-serve basis, so depending on the time of year, call as early as possible. Your permit includes a $10 fee per person that must be paid 30 days in advance or at the time you make your reservation. You can check the reservation calendar through the BLM website in order to see availability for your planned trip dates.
Day 1: Drive to Cisco (four hours from Salt Lake City). If you arrive at the Westwater put-in a day early, camp for $10 a night. Bathrooms and potable water are available.
Day 2: If you are floating Westwater Canyon in a single day, start as early as possible. If not, you can put in around noon or later without much difficulty. Seeing as the first day is mostly flat water, plenty of snacks, along with your best songs, jokes and games, are a must. There is a class II rapid, Wild Horse, at mile 4.7 and a class III- rapid, Little Dolores, or "Little D" at mile 7.7.
If you are floating Westwater early in the season, bring warm clothing. Water is frigid and requires at least a wetsuit — preferably a dry suit — to comfortably navigate.
There are 10 campsites in Westwater Canyon, assigned at the ranger station at the put-in. If the Canyon isn't crowded and you have your pick of sites, the Lower Little D site is beautiful, and has easy access to a kitchen area by the river with scads of secluded tent sites higher up the canyon wall. Look for the glowing canyon walls and red rock features illuminated by the sunset.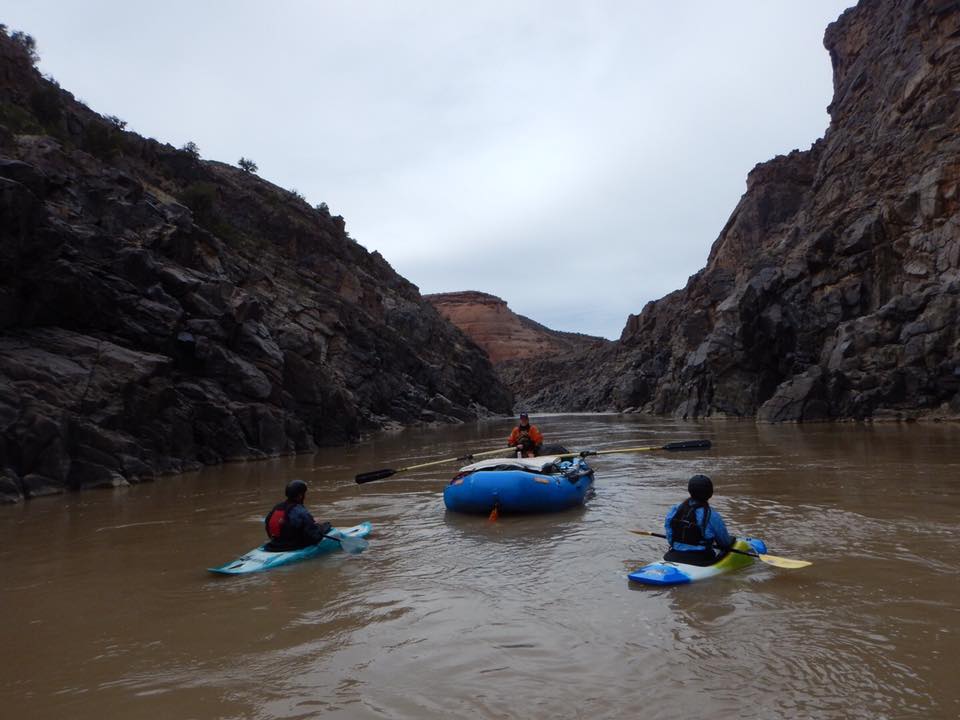 A fire-pan is required for each float group on the river, so make good use of your's with a roaring fire at night. You will also need to bring your own groover or wag bags to dispose of waste.
Day 3: Explore Outlaw Cave. Approximately 100 yards down and across the river from the Lower Little D campsite is Outlaw Cave, a fun little stop filled with "outlaw" artifacts like old pioneer shoes and a wood-burning stove.
Then, get ready for rapids. Beginning less than a mile below the Lower Little D camp, Marble Canyon, Big Hummer, Staircase, Funnel Falls, Skull, Bowling Alley, Sock-it-to-me, and Last Chance are all notable rapids in a four-mile stretch in the canyon. These rapids range from class III to IV depending on flow levels. Skull Rapid specifically deserves special attention, as Skull Hole near the end of the rapid on river right and  Room of Doom further down on river right have been known to trap boaters. At higher flows, you don't want to take a swim in the Room of Doom. Note that the rapids are largely constant in this stretch of the canyon, and are best navigated by someone with previous experience in the canyon. If you do have a mishap in one of the rapids, get back into your boat as quickly as possible to be prepared for upcoming features.
You might want to stop for lunch at some point when the canyon opens up after Last Chance Rapid. Also, keep an eye out for cliff-jumping opportunities as the canyon widens. A couple miles' worth of flat water paddling will bring you to the Cisco take-out.
As you are driving out of Cisco, a ghost town on the road back to Highway 6 offers some spooky scenic views and photo opportunities.
Resources for guided and private trips:
https://www.blm.gov/programs/recreation/passes-and-permits/lotteries/utah/westwatercanyon
For permit information:
http://www.americanwhitewater.org/content/River/detail/id/1840#main
For river flows and features information:
https://www.oars.com/adventures/westwater-canyon-rafting/
For professional guiding services:
http://redriveradventures.com/utah-rafting/westwater-canyon/
Photo courtesy of Ruth Eipper
Leave a Comment