Reaching Heights in the Uintas
The high alpine is an environment so sodden with life and beauty that it has drawn words of praise from everyone, including the likes of John Muir and beyond. Truly, "the mountains are [always] calling," but with classes and busy schedules, it is sometimes harder than that famous line makes it seem. Nevertheless, a bit of tedious time management can free up a weekend to head out and connect with the most spiritual and uplifting of natural places. In Utah, this means a trip to our tallest range, the Uintas. Here are a few of the best mountains to stand atop, triumphant and graceful, in our state's most dominating range.
King's Peak
King's undoubtedly lands at the top of anyone's list. If the stunning 6,000+ feet of prominence (how high the actual peak separates from the ground) doesn't take your breath away, and if the beautifully exposed final ridge walk can't do so either, then at least you can say you've stood on the tallest point in Utah. The most popular route to sack this peak is Henry's Fork. From there, the trip is a little over 12 miles one way, and it gains about 5,200 feet of elevation, making it possible to ascend in one day. It's more typical to take two days or a long weekend and split up the mileage a bit. Other approaches include one from Yellowstone Creek Trail (17 miles one way) or Uinta River Trail (50 miles round trip). All routes will eventually end at Anderson's Pass which is just an hour ridge walk away from the summit of King's Peak.
Mount Emmons
Although three peaks in Utah tower just a little higher than Emmons, this mountain is massive and visible from far away. It practically draws you to its peak. There are two approaches to get to the top. The Uinta River Route covers 27 miles round trip and 5,600 feet of elevation, while the Swift Creek Route notches just below it at 25 miles and 5,400 feet of elevation. Emmons itself rises to a sturdy 13,440 feet, but it only flashes 930 feet of prominence. Regardless, the route is far less trafficked than King's, and it can offer an incredible rewarding outing if enough effort is put forth.
Mount Powell
Acclaimed as the most beautiful of Utah's 13ers — or 13,000 foot mountains — Powell can offer one of the most pleasant winter ascents anywhere in Utah. It sits nearby maintained and plowed facilities, meaning the roads should be passable year round. Almost every face of the mountain can be ascended without much difficulty, and the mellow slopes mean prime backcountry skiing is plentiful. If you do try to attempt a winter ascent, be well prepared and up to date on avalanche dangers and safety. In the summer, however, no special skills are required — just determination to battle through the mosquitoes and a good judgment when it comes to thunderstorms.
Tokewanna Peak
If solitude and remoteness are what you're searching for, Tokewanna is where you'll find it. The trails are poorly marked, especially towards the summit, and although it is the closest Utah 13er to a road, it is still a 15 mile roundtrip journey. If you're good with a map and compass, and a little bit lucky, you're almost certain to be one of the few to experience standing on the peak of a 13,000 foot mountain with no one else in sight. Middle Fork Blacks Fork is the most used trail to ascend the peak, meaning it should be the easiest to follow. Still, there are no promises of an easy route find to the top. This adventure is one you have to work for yourself.
Leave a Comment
About the Contributor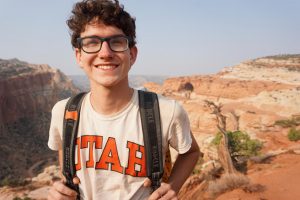 Nick Halberg, Editor
Nick is a senior studying philosophy and economics. He started with Wasatch Mag three years ago, and now is happy to be co-leading the publication as the Print Editor. He is passionate about environmental issues, especially ones regarding resource use. On weekends, he likes to explore new places in the desert.