Contributor story by Michael Polei, of the U Collegiate Cycling Club, who can be reached at [email protected] or 720.210.4740. 
The University of Utah Collegiate Cycling Club placed 4th at the USA Cycling Collegiate Mountain Bike National Championship in Missoula, Montana on Oct. 31 of this year.  Seven racers from the U travelled to Missoula to compete in Downhill, Dual Slalom, Cross-country (XC), and Short Track XC events.  Racing occurred at a former ski resort—Marshal Mountain—under grey skies and plenty of snow.  This has become the expectation for Collegiate Mountain Biking National events, as they typically occur in late October due to a race season that doesn't start until September.  
The IMCCC is a regional conference that covers the Utah/Nevada area.  At these races Category A, B and C races are held in each discipline (DH, XC, STXC, DS).  It takes a handful of races at Cat C to work up to Cat B, then a handful of podium spots in Cat B races to qualify for Cat A.  Typically it takes racers 2+ seasons to work though the ranks towards Cat A.  Cat A racers qualify for nationals if they race in 3 Cat A races throughout the season and are top 5 on their team.  The Nationals race is held by USACycling, which overseas all of the various leagues (such as IMCCC or colorado's RMCCC, etc.).  So, in short, we qualified for Nationals via the IMCCC league races.
Celebrating its 20th year this year, the U's club had its largest mountain bike club season ever, with 63 registered mountain bike members.  The U competed in regular season races during the Fall Semester with the Intermountain Collegiate Cycling Conference, which hosted three races at Sundance Resort, Nordic Valley, and Brian Head Ski Resort, involving participants from    Westminster College, Utah State University, Southern Utah University, Utah Valley University, and Dixie State.  The U team claimed the conference title this year, winning all three events, largely due to the team's high turnout for the racing season.  
Cross-country racing occurred early Friday morning, with racers lining up at the start in sub-freezing conditions half an hour before sun crept into the valley.  The U's' Zach Calton finished 5th in the grueling XC race that covered 14.5 miles and 4,500' vertical with an overall 3-lap time of 1 hour 44 minutes.  Snow persisted through the event, with over an inch of accumulation by the last lap.
Friday afternoon the dual slalom racing kicked-off what would become a long and muddy battle. In this race format, riders pair head-to-head on 2 side-by-side courses that wind down the mountain, with average lap times around 20 seconds.  U racers Team President, Dakota Janes and Calton finished 12th and 13th respectively.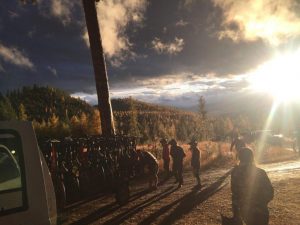 Saturday morning, heavy snow and rain postponed the short track XC race, and gave racers a chance to warm up on the newly constructed downhill trail.  With over 130 downhill racers competing, the conditions of this newly built trail varied from run-to-run during practice, with the course getting more packed in, firmer and faster as the day wore on.  Utah racer Michael Polei finished 6th in the Downhill race, followed closely by teammates Calton, David Dickerson, and Janes, securing four Top 20 finishes for the team.  Strong finishes came from racers Josh Graber and Danny Fendler in the downhill event.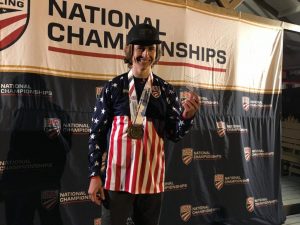 Saturday evening the U's XC racers lined up for possibly the toughest event of the week, short-track XC.  The 1.1 mile course was lined with fans and spectators as racers competed in a 20-minute plus 3-lap format.  Calton, a Business major, competed in all 4 events and placed highest combined score to secure the Individual Omnium National Title.  
Representing the women's team at nationals, Freshman Ellise Shuman had a stellar first season of collegiate racing, finishing 14th in both the XC and short-track XC races.  An experienced racer with 4 years experience in the National Interscholastic Cycling Association (NICA) high-school league, racing for Alta High School and the competitive ProXCT series, Shuman dominated the regular season, securing the Intermountain Club D1 Endurance Omnium Leader award before travelling to Missoula.  Shuman compared collegiate to high-school or pro level racing, saying, "[Collegiate racing is] more fun!  Everyone is pushing each other to go a little faster, or try a downhill race, and there's less pressure than the other races."  
The IMCCC expects to see collegiate mountain biking grow substantially over the next few years, as Utah's NICA high-school racing program (utahmtb.org) is one of the largest growing leagues in the country.  Students and Alumni interested in racing or supporting their team are encouraged to reach out to their respective clubs. Contact info for each team can be found at IMCCC.org.