Respect Our Parks
Peace and serenity, that's what most people expect to find when they step out of their home's threshold and into the wild. For over a hundred years now, the National Parks Service has stewarded millions of people from the geysers of Yellowstone to the big walls of Yosemite. While this is a great thing—public lands are meant for the whole public to enjoy—it comes at a cost.
Our parks cannot sustain this huge number of visitors without some serious infrastructure. Roads, buildings, bridges and any number of other such structures dot the entrances to nearly every popular park across the nation.
All these markers of man's influence naturally detract from the main attraction of the park itself: unspoiled wilderness. Visitors don't drive from Maine for food in Springdale. They come to see the inspiring cliffs towering over them in Zion Canyon, or to get their feet wet walking through The Narrows. The Grand Canyon is not famous because the lodge is the epitome of luxury. It's famous because the view right outside the window will water your eyes and steal the words out of your mouth.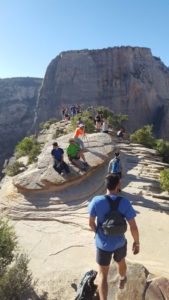 Of course, there is a balance here. We want our parks to be as accessible to everyone as they can be, but we must not forget what it is that has made them so splendid in the first place. So far, we have done a nice job maintaining this dynamic. Every year millions of people are able to come see the beauty these places bring.
As citizens of this country, we have a stake and ownership in these most awe-inspiring places. They are our public lands, a part of our identity as a nation and our heritage as a people. Protecting them is not merely the job of the green shirted men and women who work there, but the responsibility of every visitor who enters the gate.
Sadly, this is not always the case. Some of the most iconic spots in our parks are marked with ugly remains of thoughtless visitors. Atop one of the most pristine and famous lookouts in Zion, Angel's Landing, a visitor will find names carved into the sandstone at their feet. They would be hard-pressed to walk three feet without being greeted by a pack of eager, and incredibly adorable, chipmunks begging for food, now dependent on humans for life as they have been trained not to forage on their own.
While these may seem small and trivial, the intent behind them and the sum of their effects is what is most troubling. If every hundredth visitor had carved their name on the summit of that most stunning Zion hike, there would be tons of marks distracting us from the beauty of what's in front of our eyes.
Many years ago, our white predecessors walked into Zion Canyon and decided it to be a sacred place after it had been lived in by Native Peoples for years prior. For years since it has been protected. Our parents have visited and enjoyed the same landscapes that we now see today. As visitors to these parks, we too have an obligation to ensure our children can one day walk into Zion, or Yosemite, or Yellowstone and feel the emotional uplift of these stunning natural cathedrals. It comes down to every individual and our small actions. Do we respect our parks enough to not leave that soda tab on the ground or avoid carving our name into an Aspen?
Leave a Comment
About the Writer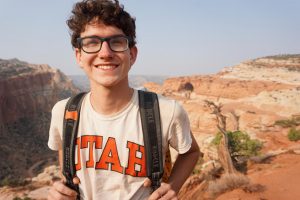 Nick Halberg, Editor
Nick is a senior studying philosophy and economics. He started with Wasatch Mag three years ago, and now is happy to be co-leading the publication as the Print Editor. He is passionate about environmental issues, especially ones regarding resource use. On weekends, he likes to explore new places in the desert.