Review: Beaver Mountain Ski Resort
Two hours from Salt Lake City, just past Utah State University, sits Beaver Mountain Ski Resort. Though of modest size, it has a significant history as the oldest continuously family-owned ski resort in the US. Opened first by Harold and Luella Seeholzer, the resort is run today by Marge Seeholzer, who joined the family when she married Harold's son, Ted, as well as their daughter Annette West, son Travis, and her husband and his wife.
At a total of 828 acres accessible via 48 different runs, which can be used by skiers and boarders, Beaver Mountain might initially seem easy to overlook for its smaller size when compared to the big players in Utah's ski resort industry.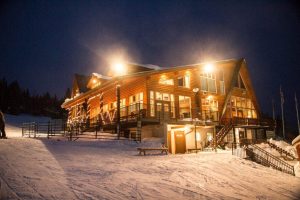 While it is small, it's well cared for, and the size gives the resort a friendly intimacy harder to find in other settings. This year of strange snow patterns, Beaver Mountain is an especially good option, having received more snow this season than any other resort in Utah, according to Ski Utah.
Beaver Mountain boasts both groomed and mogul runs. An intermediate skier myself—I've skied from the time I was eight years old to now, but never enough each season to improve all that much—the green and blue groomed runs I tried when I visited on Wednesday, Jan. 24 were all enjoyable and doable.
The greens were, as seems common, more like the skiing approximation of a walk in the park, with plenty of time to slow down and enjoy the scenery and less emphasis on having skill. Since the scenery is stunning on these runs, it's not hard to relax moving at a calmer pace.
After a few greens to warm up, I started to try the blues to challenge my skill at not dying when trying to reach the bottom of steeply angled slopes. Every blue I tried posed enough challenge to keep me careful, but not so difficult that I was constantly terrified of falling hard enough to break something. In the end, I avoided falling at all.
I took some time in between runs to eat in the resort's lodge where a fresh-cooked meal was available for under $10 and made right in front of me. The gardenburger I ate, after deliberating over their fairly extensive menu, was perfectly cooked and delicious in flavor. I'm already craving another one.
By the end of the day, I had spent just over three hours on the mountain, managed to get five of my slow-fall runs in and wished I could stay just a little longer to get a few more.
Despite its small size and the regrettably long drive, it takes to get there, Beaver Mountain Ski Resort has a lot to offer. Cheap prices are one of those things, with day passes at just $50 for the whole mountain from its operating hours of 9 a.m. to 4 p.m.
Photo credit Beaver Mountain Resort.
SaveSave
View Comments (1)