Salt Lake Speed Riders
Some sports are interesting. Some sports are exciting. However, every once in awhile, you see a sport that makes your jaw drop and say, "That's possible?" Welcome to the world of speed riding, where the limits of what is possible are redefined every run. The sport originated around the year 2000 and has remained small in its participation ever since. While still very much in its youth, the sport has many large opportunities in its future.
Speed riding is a sport that combines the winter fun of skiing with the exhilaration of free-flight. The skiing aspect of the sport does not require anything unique. A small, lightweight canopy is used to allow the pilot to touch down along the run and also glide into the air at will. The sport has a brief but interesting history and remains unique at its roots. In the United States, there are approximately 5,000 active canopy pilots. Of those 5,000, only about 200 fly small speed wings. Among those 200, only 100 have flown with skis on. Approximately half of those 100 live and are active in Salt Lake City. So what is this sport and why does nobody know about it?
To find the origins of this sport, one can look to Steve Mayer, one of the founders of this sport and a pioneer of speed riding in America. Mayer, a Utah resident, has been flying and instructing at Point of the Mountain in Draper for more than 25 years. He says that he and his friends began flying small wings in the 90's to allow them to be able to fly in stronger conditions. At this time, there were no wings specifically designed for this purpose. To solve this problem, they would order extra-extra small wings for which they were high above the weight limit. In 2000, they began using BASE jumping canopies to fly in strong conditions. BASE canopies are smaller and more resistant to collapse than a standard paragliding canopy. During the winter, they began flying these canopies with skis on.
At approximately this same time, pilots in France were using skydiving canopies to ski launch resorts. When Mayer heard this was happening, he immediately flew to France to check it out. The year was 2005. He found that he had been doing many of the same things as the pilots in France who were also attempting to develop the sport. Upon seeing that a company had designed specific canopies for this sport overseas, he purchased 10 wings to bring back to the United States to sell to others back home. American speed riding began when those wings made it back to Utah. Mayer and his friends starred in a film produced by Matt Sheridan called "It's Fantastic" about the speed flying scene in France and brought it back in hopes of spreading the word of the sport. The film was a finalist for People's Choice in the Banff Film Festival in 2008. Speed riding had finally gotten some attention and the general public began to understand what the sport was.
There are many different types of wings made for this sport. Speed wings are small, made for going fast and staying close to the ground. A mini wing is essentially a small paraglider. It flies fast because of the high wing loading, but it has a better glide and does not stay as close to the ground. A hybrid wing is a combination of those two and creates a middle point. Harnesses for speed flying are very simple. They are essentially chairs made out of lightweight fabric with two carabiners to clip into the wing. Harnesses for speed flying commonly weigh less than 1 kilogram and wings usually weigh less than 5 kilograms. These two components pack down very small and can fit in nearly any backcountry skiing backpack. These lightweight kits allow pilots to attempt ambitious goals in the mountains and their skis allow them the security of skiing down if wind conditions aren't good for flying.
However, not everyone in Salt Lake loved the sport. It was foreign to the resorts here and the administrations at their respective mountains began to misclassify the sport. They saw it as reckless and dangerous to the guests at their resorts. Locals began to fly at locations such as Snowbird and Alta. Favorite runs included launches on Regulator Johnson, Mineral Basin and Little Cloud. Mayer says that Snowbird was one of the more tolerant locations, and that resorts such as Solitude kicked them out immediately. "They even blocked in our cars at Solitude to make sure we couldn't leave, so that was the end of that," said Mayer. By 2013, all Salt Lake resorts had banned speed flying.
Some resorts in the American West still allow flying, but not many. Sun Valley is a resort that lies in a gray area on the issue of ski launching. Pilots ski launch there, but it is not technically in the rules. Mayer has been trying to persuade ski resorts to allow pilots back at their resorts for many years. Among those who have been attempted are resorts such as Powder Mountain. Resorts are not open to this because they fear that it will hurt their business by scaring the guests. Since they are extremely unfamiliar with the sport, they feel no reason to allow it to occur. However, many pilots believe that this is the reason that the sport remains so small in the United States. In Europe, many ski resorts allow open access to speed riders and paragliders. Pilots are allowed easy access to flying terrain and can easily practice their sport. This also offers easy training areas for new pilots to join the sport. In Salt Lake City, speed rideable terrain can only be accessed by hiking or touring up a backcountry slope.
The last time speed riding was allowed at a resort was in 2014. Under strict regulations, Mayer and friends were allowed to fly during ski competitions at Snowbird. Whenever there was a pause in the skiing action, they would fly down and entertain the crowd that was watching. This was a far cry from the freedom they once had at the resort, but they were still having a blast. In an attempt to persuade resorts, Mayer and other locals created a certification system for speed wing pilots. They wanted a way to let the resorts know that these pilots were certified and would not cause any problems. Yet, the vast majority of resorts still did not bite. Pilots are still hard-pressed to find freedom at resorts in America.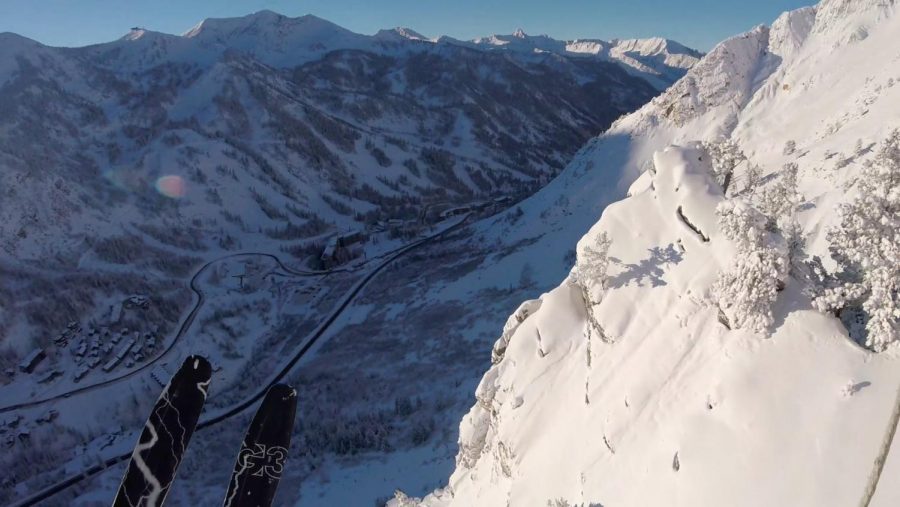 If you ask any active pilot, they will say the sport is misunderstood. The small number of accidents that have occurred has given the sport a bad reputation in the public eye. For this reason, the Salt Lake Speed Riders are limited to the slopes of the Wasatch Backcountry. Backcountry Speed Riding is not easy. It is tricky for conditions to line up exactly right in terrain that is so steep and tight. One of the most common locations for Salt Lake speed riding is Little Cottonwood Canyon. Located close to the city with many established backcountry ski lines, it is an obvious choice for those looking to participate. However, it is not for the faint of heart. Launches are very steep, and landings are narrow. Pilots must be very skilled and well-trained to fly safely and make good choices flying in this area. For this reason, local pilots have a reputation of being tough and getting after it.
One of the most active speed wing pilots in the area is Arash Farhang. A University of Utah graduate and research engineer in optical nanotechnology by day, he can often be found trekking uphill before the sun comes up. "About 3 years ago I did my first launch with a snowboard on my 14 meter up on Two Trees in Little Cottonwood Canyon. I tried touching down, but it was next to impossible with the hips twisting and leaning the wing. I learned to ski starting then and ski launching as well," Farhang said. "It's basically not only using skis to launch and land a speed wing, but also making a big effort to stay down on the snow as much as possible. I'm still trying to get a hang of speed riding and honestly most of my flights have really been speed flying, even with skis on. It is just hard in the Wasatch to really get much practice or a ton of good quality terrain for proper speed riding." He describes the local scene as still in its infancy. A combination of low pilot numbers and low-speed rideable terrain make the growth difficult.
"It's still pretty infant compared to speed flying where people there tend to tear up much more cool terrain way more often. A result of the combination of limited terrain, and especially lift accessible terrain compared to the alps, means it really does not attract too many people. It requires ski touring, which is a lot more effort, time, logistics, and cost than just hiking. What would be magical would be if snowbird allowed pilots again and we could spin laps in mineral basin all day," Farhang says. Many of those who already own speed wings do not have the time or money to join in on backcountry skiing. Many pilots repeatedly point out how the growth could be so much greater in America if it was permitted at the resorts here. "This season I'm going to Europe for two weeks and really improving my speed riding game by spinning endless ski lift laps on big terrain," he says. For many, traveling to Europe is the only way to significantly improve their skill in this sport quickly.
"For terrain in the Wasatch that I have done on skis, Superior South Face, Monte Christo South Facing Gully, and Hellgate Back Bowl are all pretty darn sweet. Toledo bowl is great for staying down on the ground. Bonkers is a great one to stay on the ground as well as Broads Fork north-facing run. Probably my favorite I have done though is Tanners Gulch, which is a committing launch right in a chute and then the landing is right at the apron of the gulch where you really need to stick it in and avoid the bushes and trees on the side. You need to fly through the gulch staying down low with walls on either side of you, so you don't overshoot the landing, which is slightly downslope and rolling. What a thrill!" Farhang flies a wing that is approximately seven square meters in order to help him stay on the ground. For reference, this is about double the size of a wingsuit. Wingsuits typically travel through the air at around 100 miles per hour. One can imagine the speed that a person has when flying through the air and touching down on the snow.
So why is the sport still such a mystery to most of the public? To most pilots, there is no clear answer. Many argue that most people are scared of it — they become uninterested when they assume the risk of the sport is too high. Others argue it is too expensive. A setup and lessons can easily cost a person around $7,000. Further, many say it is too time-consuming. It can be years to get to a point in your flying career where you are comfortable launching a steep slope on skis. Most people want the instant gratification that a day of ski lessons can give you, or that riding a bike downhill gives. And who can blame them? It is unfortunate that this sport has the reputation that it does in the public eye. A huge number of people have the dream of combining skiing powder with soaring through the air. A fraction of a percent will ever put in the effort that is needed to do so.
Many say it is the best thing they have ever done with their lives. Others say it jokingly ruined their life and made them forget about everything else. Some, such as Farhang, make it a part of their everyday lives before work. Others, such as Mayer, have made a career out of it. Whatever it is, this sport brings people from all walks of life together. The clear passion for this sport defines its boundaries and will continue on because of those who are pushing the limits.