Saving Our Zion from Ourselves
Half a century ago, American author and essayist Edward Abbey laid forth a description, in his classically cynical style, of the forces pushing the National Park Service and ultimately shaping our public lands. In his mind, there were "The Developers," the ones who wanted to see as many cars crammed into Yosemite valley as possible, and "The Preservers," the ones who wished to see none. As Abbey put it, "the most important issue and perhaps the only issue [between these two factions] is the one called accessibility."
Fast forward 49 years, and this issue is no longer just the ramblings of a grumpy man living alone in the desert, but the central concern of many popular national parks. No park is more worried about it than the fifth most visited park, directly four hours south of Salt Lake City.
Zion has been experiencing massive growth since its founding nearly a century ago. In my lifetime alone — 19 years — park visitation has increased by about two million people annually (from 2.3 million to 4.3 million). From 2015 to 2016, the jump was a little under 700,000. Those are numbers nearly on par with Disney World, something that would make anyone batting for "The Preservers" shiver in their goretex boots.
It bears noting that increased park traffic is good, to a degree. As John Marciano, the public affairs spokesman for Zion National Park, said, "Every person or vehicle that pays the admission fee and enters the park is a vote for the park." Lawmakers and influencers see these "votes" and realize how valued places like Zion are both as an economic resource and a part of Utah's unique identity. Zion played a huge role in generating the $8.15 billion tourists spent in Utah in 2016.
The fact remains though, too many visitors can lead to a degradation of Zion as a natural place.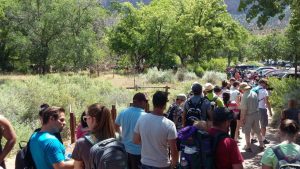 Because of Zion's special configuration, most of the park's 10,000 daily visitors stay within a narrow seven mile corridor along the Virgin River. Even there, the visitation is compounded to just three trailheads: Angel's Landing, Emerald Pools, and The Narrows. This quickly leads to issues. In the main canyon there are only 12 designated trails, but over 800 social trails, totalling 35 miles. The animals in the park, especially the chipmunks on Angel's Landing and the squirrels in The Narrows, are so tame they'll roll over and play dead for a piece of your Clif Bar. Sure it's cute, but it's not natural or how a healthy, protected ecosystem should function.
None of this even mentions the incredible lack of infrastructure that exists in the park. Inside Zion, there are perhaps 1,000 parking spots, enough to cover a 10th of the visitors on an average day. Lines for the shuttle can frequently back up to the bathrooms or parking lot and run multiple hours. Throughout the main canyon there are maybe 40 toilet systems — 40 for what is sometimes, on a holiday weekend or busy day, 30,000 people.
"We have to do something," Marciano says. "The visitor experience is diminished and the resource is being trampled."
This begs the question, what can be done? How do you add accessibility to a place already so highly visited? If you're one of Abbey's "Developers," the answer is easy: develop.
"There's an empty space here, or there" Marciano says, motioning across the fence in front of us to a field, sarcastically embodying a "Developer." "Build a big parking lot."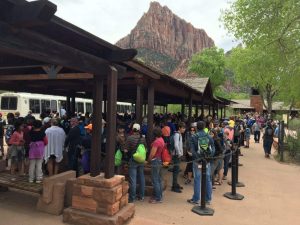 Fortunately for Zion, and us, this is not an option. Legally, the park is mandated by Congress to "protect [their] resource in perpetuity as it is." Slathering the ground in fresh slabs of tar and concrete certainly would violate this. Ethically, neither Marciano or Jeff Bradybaugh, Zion NP superintendent, want to see the park become any more degraded by adding more parking lots. One point to the "Preservers."
The trouble is, Zion is not getting less popular; something still needs to be done that can fix both of these problems while still preserving the park. Luckily, we have some inventive people in the office down south. They've put their heads together and have begun creating the Visitor Use Management Plan, or VUMP, which aims to do two things: First, maintain accessibility, and secondly, protect the park. Creating and implementing this VUMP will be a long road — an estimated five years — and requires intensive data collection to ensure the right solution is implemented. The park is confident that by the end of that time when a solution is reached, it will be the right one.
Part of this confidence derives from how much public input they are receiving. In mid-August, the Preliminary Alternative Concepts — the first "proposals" for how to mitigate overcrowding — closed their public comment period. These included ideas such as a reservation system to enter the main canyon, allocating time slots that certain groups could do certain trails, and changing nothing (an option that is looked upon poorly by the park). Well over 1,000 responses were received. Now, the park is sorting through all that data and will come out with a Preferred Alternative, which will have its own public comment period as well.
Zion is grateful for any and all ideas or comments the public has to make on this issue. By the time most of us graduate, these policies will be in place. If they are effective, other parks dealing with the same issue of accessibility and overcrowding could adopt whatever system Zion implements. This means that adding your voice now, while the park is encouraging you to do so, could not only affect the future of Zion, but the National Park System as a whole.
Leave a Comment
About the Contributor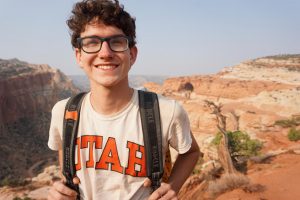 Nick Halberg, Editor
Nick is a senior studying philosophy and economics. He started with Wasatch Mag three years ago, and now is happy to be co-leading the publication as the Print Editor. He is passionate about environmental issues, especially ones regarding resource use. On weekends, he likes to explore new places in the desert.